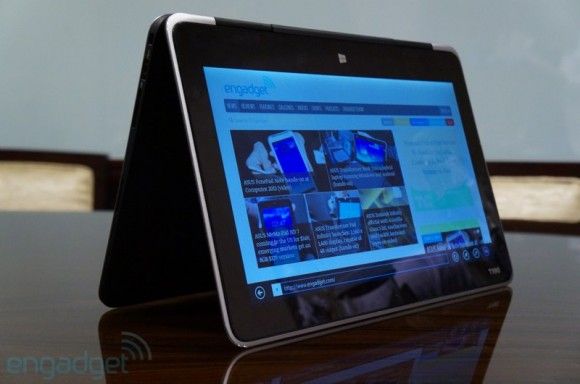 At Computex 2013, Dell is showing off their new XPS 11 Ultrabook — it's an impressive combination of many of the latest technologies. First is Haswell / 4th-gen Core, Intel's latest processor, then there's a high density 11-inch screen. On top of that, we're looking at a convertible Ultrabook that flips just like the Lenovo Yoga. Impressive as it may be, we see some early red flags.
First let's get to know the Dell XPS 11. Inside there's a Core i5 Haswell (4th gen) processor — probably the low-power 'Y' variant given the XPS 11's small size. For ports we're looking at 2x USB 3.0, full HDMI, full SD, and a 3.5mm headphone/mic combo jack. The weight is reportedly 1.13kg (2.5 pounds).  Then there's an impressive 11.6-inch 2,560 x 1,440 IPS touchscreen which comes in at 255 PPI. Engadget's hands-on says that they'll be including an active digitizer as well:
This is an Ultrabook convertible — directly positioned against the Lenovo Yoga 11 — which uses a similar method of conversion; the screen flips all the way back on the base until it's opposite the keyboard, leaving you with a tablet on one side. As we understand it, Lenovo patented the Yoga's unique hinge system, so presumably Dell has come up with a slightly different way to flip the screen back.
Then there's the keyboard, which could be the deal-breaker. In a decision that was likely made to reduce width (and eliminate the feeling of keys on the back of the device when in tablet mode), Dell has gone with a touch-keyboard that looks an awful lot like the Microsoft Surface Touch Cover. There's zero travel on these keys. Having used the Surface Touch Cover before, I'm downright afraid of what it could mean for the XPS 11.
But, I certainly can't jump to judgement before trying it. Engadget seems to indicate that there is some haptic feedback (perhaps vibration?) when pressing the keys. Maybe that will help?
The other deal-breaker could be the price. Given what's in this thing — a brand new processor, an innovative hinge design, a touchscreen with active digitizer, and a high-density IPS display — I can't imagine we'll see this starting anywhere under $2000, but I'd be happy to be proven wrong. I'm looking forward to seeing devices like this come down to mainstream prices. Engadget says that the unit is expected during the holidays.