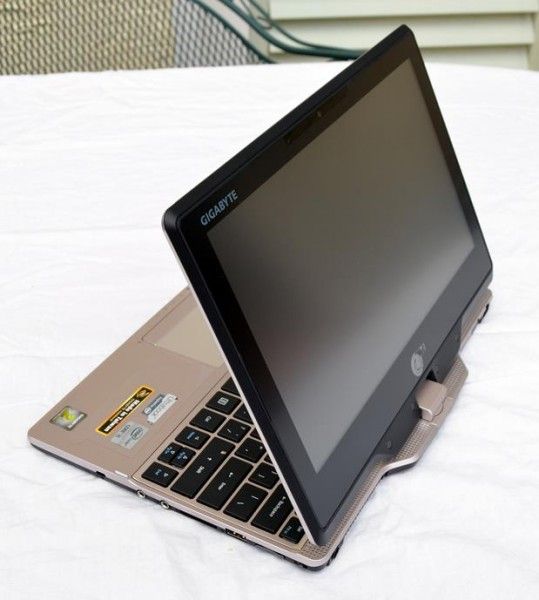 A few weeks back we brought you our unboxing and initial thoughts on Gigabyte's U2142 Ultrabook convertible. After getting to know the machine's ins and outs, we're ready to give you the full review. Is this port-packed Ultrabook worth your hard-earned cash? Find out inside!
Shout-out to our friends at Dynamism for making this review possible.
The Gigabyte U2142 is an 11.6-inch Ultrabook convertible with Windows 8. Here are the specs of the unit that we tested:
11.6-inch capacitive touchscreen @ 1366×768 (no active digitizer)

Intel Core i5-3317U (Ivy Bridge) processor @ 1.7GHz (turbo to 2.6GHz)
16GB of RAM
128GB SSD
Windows 8
Ports: 2x USB 3.0, 2x USB 2.0, full HDMI, full VGA, full SD, full ethernet/LAN (RJ45), 3.5mm headphone out, 3.5mm mic in, SIM slot
20mm thick
1.39kg weight
40Wh battery
Hardware Tour
The U2142 is not the thinnest or lightest Ultrabook in town (in fact, it's a bit heavy for an 11.6-inch unit). What sets it apart, however, is its convertible form-factor and ample port selection:
Design and Build Quality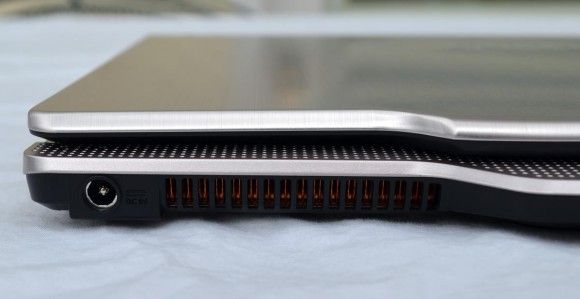 For a company more commonly associated with desktop PC parts (in the U.S. at least), Gigabyte's build quality is top-notch, as we've seen in many of their products over the years.
The U2142 has a fairly modern design, but it feels mostly like a means to an end. The touchscreen and screen-swivel hardware necessitate a big bezel and some extra bulk compared to a clamshell Ultrabook — in fact, the footprint is close to that of some 13.3-inch units.
The screen lid is silver brushed aluminium and opens to a black plastic bezel with a plastic silver keyboard deck.
The hinge-strength on the Gigabyte U2412 is quite high, meaning you'll need two hands to open it or to adjust the screen (which can be annoying).
Keyboard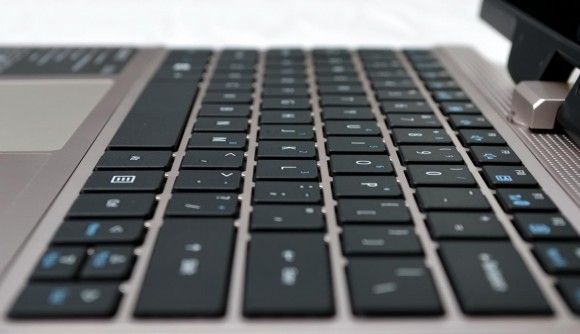 The spacious keyboard on the U2142 types very well. The feedback is great. There is ample travel without too much noise. The logically placed Home (on the left arrow), End (on the right arrow), and Pg Up/Dn keys (on the up and down arrows) are welcome, and aid in typing when moving the cursor with the trackpad would be slower.
There's more flex at the center of the keyboard than I'd prefer, but it's not a glaring issue and largely unnoticeable when typing.
A bevy of helpful hotkeys, initiated with the Fn key, are found along the F-key row. On the escape key there is an Fn eject symbol which, seeing as the U2142 doesn't have a disk drive, I'm at a loss to explain. Maybe it would eject an external disk drive if one were attached?
Display / Touchscreen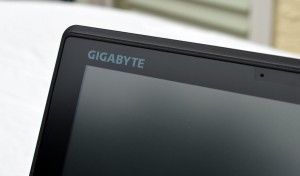 The Gigabyte U2142 has an 11.6-inch capacitive touchscreen display at 1366×768. While I'd prefer 1600×900 on an Ultrabook of this size, the screen will get you by in laptop mode with no major issues. The thick bezel and small resolution can give you the feeling of a cramped experience when you're away from an external monitor.
The capacitive touchscreen is very responsive and is a joy to use compared to Windows 7, thanks to significantly better touch support from Windows 8.
At a desk and with a mouse in-hand, you're unlikely to use the touchscreen much. That said, I've found the touchscreen to be useful when using the unit as a standalone laptop; it's often faster to tap buttons and other items on screen with your finger than it is moving the mouse with the trackpad.
There's no active digitizer on the U2142 which leaves out any accurate digital handwriting for those who like to take notes.
One unfortunate flaw on the U2142 is the poor viewing angles on the display. In laptop mode, it isn't a major problem, but it presents issues for tablet mode, which is discussed below.
Convertible Usage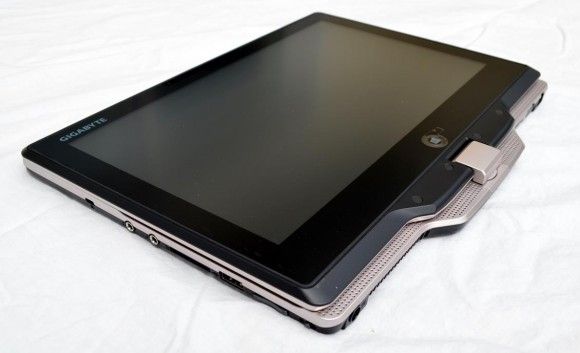 Windows 8 provides a decent (if confusing) tablet experience that takes advantage of the convertible nature of the U2142 and its capacitive touchscreen. As mentioned, the capacitive screen is very responsive. I was pretty surprised at the typing experience in Windows 8 — it was quite easy to tap away at the screen accurately and quickly.
From the desk, you'll need to unplug the power cable, at very least, before spinning the screen into tablet mode. Personally I hook up to a keyboard, mouse, and external monitor, so I've got to unplug all of that before going into tablet mode from the desk. This realization is starting to make me think that the 'dockable keyboard' form-factor might be better suited for convertible use (as I could just pop the screen off without plugging anything and be on my way).
As a dedicated tablet, the 11.6-inch U2142 is quite bulky. It feels like we've been saying this for years, but it's going to take until the next generation of processors to get PCs down to a comfortable tablet sizes. At this size, the tablet experience is relegated to your lap.
While you probably wouldn't want to use the U2142 as an every-day tablet, having the option to go to tablet mode can be handy — showing YouTube videos, photos, or maps to friends or family without having to crowd them around the computer or your smartphone. That said, Windows 8 is lacking a critical mass of popular apps at this point, so there isn't much to draw you into that side of the OS.
One of the biggest issues with the U2142 for tablet usage is poor viewing angles on the screen. It seems like a major oversight. There is a small 'sweet spot' when the screen looks good, but even 10 degrees or so outside of that range and you start to lose contrast and see washed-out colors. In tablet mode on your lap it's extremely unlikely that you're going to be looking straight down at the display, so the wash-out happens frequently. An IPS screen with much wider viewing angles would be a significant boon to the U2142's tablet functionality.
There's also the issue of auto-rotation. The accelerometer is housed in in the base of the U2142. In convertible mode, it mostly works as expected. However, when you have the screen in laptop mode, you'll end up with the screen flipping when you don't want it to (as the accelerometer has has no idea what the angle of the screen is and simply assumes that it is parallel to the base). There's an auto-rotate toggle switch on the right side of the unit (thankfully), but having to use it all the time to keep the screen from flipping when you don't want it to is the opposite of 'auto'. Back in the day (if I may), Windows Tablet PCs used to automatically rotate the screen by sensing that the screen was spun and laid down flat — that method would likely work much better here.
The Windows button below the display functions very inconsistently. If it isn't pressed near the center, it won't work — even if you feel a click.
Performance and Benchmarks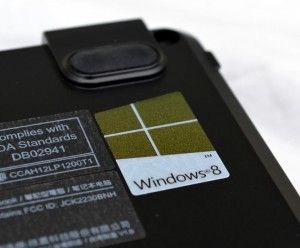 Through the clumsiness of Windows 8, the Gigabyte U2142 still manages to feel responsive. It handles Photoshop, Illustrator, and movie editing/rendering without pause. If you edit video, do yourself a favor and find something with support for Intel's Quick Sync (supported by all Ivy Bridge processors). You won't regret it.
Sleep and wake times are particularly impressive. Windows 8 and Intel Rapid Start are a potent combination:
Start Up: 12 seconds
Shut Down: 4 seconds
Restart: 17 seconds
Sleep: 1.7 seconds
Wake: 1.8 seconds
Here you can see how the Gigabyte U2142 stacks up in our usual slew of benchmarks (tests run on battery power and 'balanced' mode unless otherwise noted):
The U2142 performs admirably, beating out even some Core i7 Ivy Birdge units with its Core i5 Ivy Bridge processor. We'd attribute this to Intel HD graphics driver improvements (update yours here), the huge 16GB of RAM, and an impressive SSD: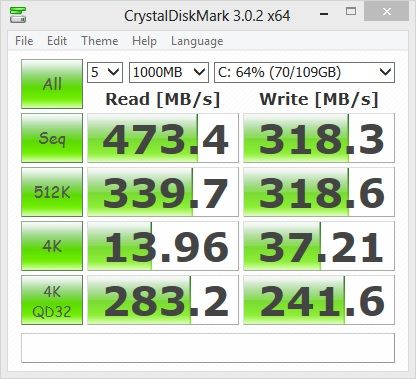 Battery Life
Battery life on the Gigabyte U2142 is decent but not stellar. You can expect to see between 4 and 5 hours of real desktop usage, which is enough to be quite productive through the day — though you'll be looking for an outlet by the end of it! The battery is not removable.
Conclusion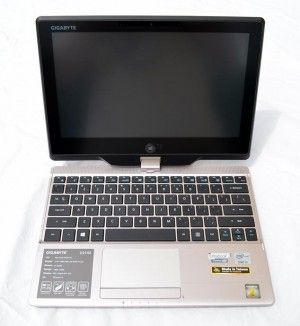 The Gigabyte U2142 Ultarbook convertible is a well-built device with a great keyboard. The plentiful ports are a major highlight of the U2142 — it's nice not to have to juggle between three USB devices when you've only got two ports (like on all too many Ultrabooks). Two full-size output options (HDMI and VGA) make it easy to use two external displays (along with the built-in display if you'd like) for serious desktop productivity. Performance is spot on in the U2142 and RAM is easily upgradable to extend unit life, thanks to a quick access hatch on the bottom of the device. Battery life is lower than some other options out there, but keep in mind that this is an 11.6-inch unit with a 40Wh battery.
The convertible functionality is nice to have, but you probably won't find the U2142 terribly useful as a dedicated tablet thanks to its size, weight, and poor display viewing angles. The capacitive touchscreen is highly responsive, though there's no active digitizer for those looking for digital note-taking.
At $999 from Dynamism, the Gigabyte U2142 is definitely worth taking a look at, especially if lots of ports are key for your usage.