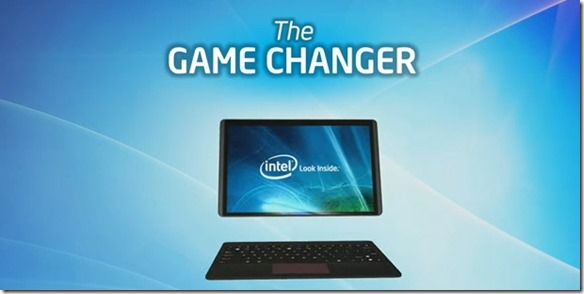 No surprise that 4th-Gen Core (codename Haswell) was the big news at the opening keynote at Computex today. It marks the coming of age of Ultrabooks as the silicon finally meets the requirements for making unique PCs around Ultrabook design methodologies. The Ultrabook now breaks out into 2-in-1's, Convertibles and Tablets, covers new ground and increases the range of usage scenarios for existing products. Ultrabooks with Haswell will start appearing in summer. Tablets built on the platform can potentially be fanless.
In the keynote today Tom Kilroy highlighted a lot of what we already know about Haswell and Ultrabooks built on it. GPU performance increases and Battery life increases were are at the forefront of this.
"The most seismic change ever"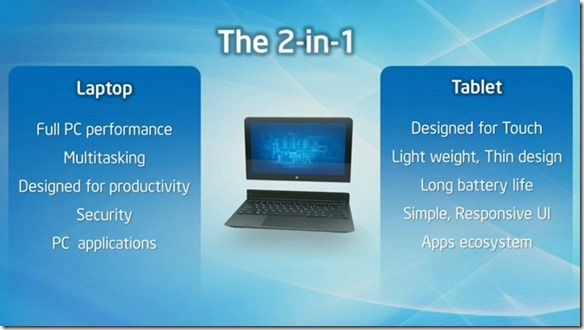 The 2-in-1 is something we've seen and used before. Ultrabook Convertibles, dockables and hybrids will come under this banner.
A highlight of the keynote for us was the presentation of a prototype fanless tablet built on 4th-Gen Core. We assume this is based on a Y-series processor using the 6W SDP (Scenario Design Power.) The possibility of fanless 4K delivery is something that should get home theatre fans excited, especially with the possibility of WiDi delivery. [In another report we hard that WiDi wil go to V4.1 with lower latency and new control software.]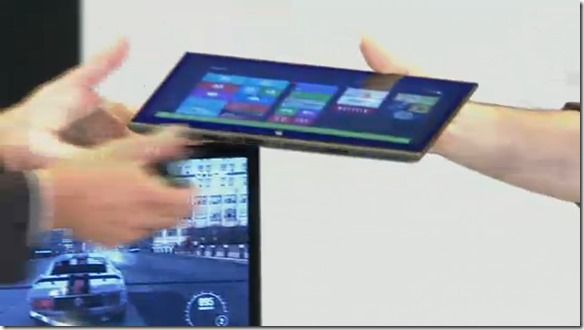 In an on-stage showcase we saw designs from Panasonic, Dell, Lenovo and others. Refreshes can also be expected. [Dell have already announced an XPS 12 refresh.]
Perceptual computing was highlighted and Intel thinks that depth cameras will be integrated into units in 2014. IN the meantime you can buy the new Creative Senz3D camera. We used a version of this in the recent Ultimate Coder challenge.
Connected Framework was used to demo an incoming SMS that went direct to the Ultrabook screen and this is something I'm sure we'll see more of in the future as Intel start linking up phone, laptop and tablet products.
BayTrail
New tablets systems based on BayTrail will be coming as early as "back-to-school" period. 2-in-1's based on the platform will start at prices as low as $399. An integrated HD4000 GPU has 4K video support and there will be LTE options.
Baytrail covers a very consumer-oriented segment but could overlap some of the less powerful, lower TDP Core models. We'll have to wait for test results to see just how close the two segments are. We suspect that price-sensitive consumer devices are likely to be built on BayTrail and according to a slide shown, it includes entry level laptops.
Summary
Ultrabooks built on Haswell won't be available immediately. "End of back-to-school' period could mean September which is slightly later than we had expected. Fanless tablets built on Haswell will be possible and BayTrail devices covering a wide range of product categories will come in much the same time period as next-gen Ultrabooks and 2-in-1 PCs.