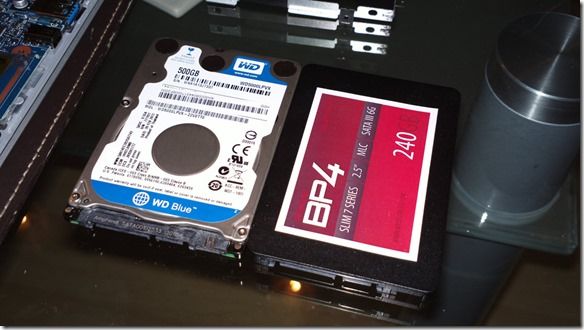 MyDigitalSSD sent over two of their BulletProof 4 SSDs for testing recently so I immediately took the opportunity to upgrade an  older Toshiba Z830 Ultrabook. The difference was noticeable, but not as noticeable as the upgrade on the Acer Aspire V5-122P– an AMD-based low-cost Windows 8 touchscreen sub-notebook which was running a 500GB spinning hard drive. The difference has been amazing! I also attempted to upgrade the Samsung Series 5 but had some problems with that due to the method I used. Details on that below along with performance tests, images, tips and videos.
Z830 SSD Upgrade (Windows 8)
Toshiba Z830 from 128GB Toshiba THNSNB128MCJ to MyDigitalSSD BP4, mSATA, 240GB.
Bios: 1.60
Age of OS build – approx. 6 months
SATA set to performance mode in BIOS.
We've already done this upgrade once with an older MyDigitalSSD product so I'll point you to this article for the details on how to do it. With Windows 8 the process is the same but the tools are hidden in the OS slightly. Press the Windows Key and search for "Windows 7 File Recovery."

For BIOS-based systems with a single drive, this is probably the easiest way to go. For other systems you will need to make a recovery disk which copies the recovery partition to the external drive (as with the Acer V5 example below.)
Before we started we took readings of the Toshiba SSD.
Boot from cold to log-in screen. 13.0 seconds
App Startup tests. After cold reboot. (wait 30 seconds)
Cyberlink Powerdirector 10: 6.95
After the upgrade, with MyDigitalSSD BP4
:
Boot from cold: 10.3 seconds
Cyberlink PowerDirector start: 5.08
Windows 8 does a good job of boot times and application boot-up so these figures aren't affected too much but look at the performance test results. The small-block (4K) write speeds are up by 10X which is something you'll notice and something that can really help Windows 8 get small jobs out of the way saving power and keeping things cool. Sequential write speeds improved a lot too although you'll only really notice that in file copies. The Z830 doesn't offer the best in terms of SATA bus so high-end figures are much lower than the theoretical limit for the MyDitigialSSD BP4.
Samsung Series 5 SSD Upgrade (Windows 7)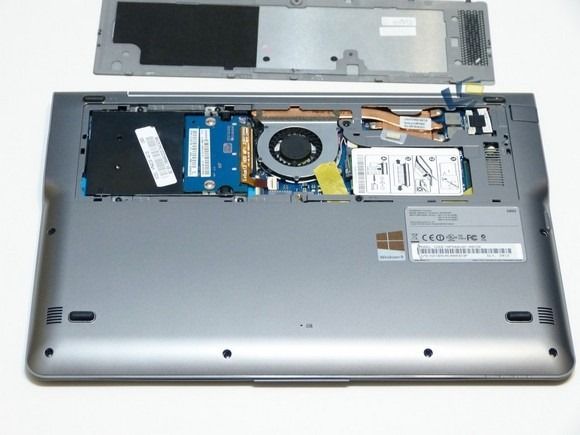 Unfortunately we failed to get the Samsung Series 5 upgraded due to the additional 24GB SSD that is installed in the system as a drive cache. We tried to use the standard Windows 7 imaging and recovery method but that didn't work. We didn't have time with this (in service) Ultrabook to try the Samsung imaging tools but we assume that route would have worked. This remains untested, however.
Acer Aspire V5 122P (Windows 8)
The Acer Aspire V5 122P is a budget touchscreen Windows 8 sub-notebook that isn't an Ultrabook due to having an AMD platform and rotating hard drive without acceleration. The results of the upgrade were exceptional and lifted the device into a new usage category where we were able to do 720P video editing – something that isn't possible on a low-end hard drive system.
Upgrading the Aspire V5-122P was simple. By using the built-in Acer recovery tools the recovery partition is written to the an external drive (I restored to a fresh build – I recommend you back up your personal files and do the same) but you can also take a snapshot of the current build if you wish.
Removal of cover and access to hard drive is easy and swapping the drive could not be much easier.
One small issue I had was that the recovery drive was not seen as a boot drive. I had to enable the Boot Options menu in the Acer BIOS and then I was able to use F12 on boot and select the recovery drive.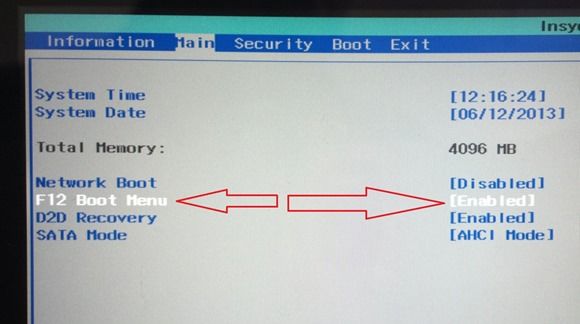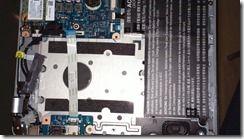 Results are fantastic…
In addition, the noise is reduced, the ruggedness is increased (my son accidentally knocked the Acer V5 from a shelf, after the SSD upgrade and everything was fine) and in theory you'll get little more battery life and a little less heat. Of course the main feature is that operations speeds are improved and that not only makes the process of using the V5 faster (very Ultrabook-like) but by getting things done more quickly, the system can idle more quickly and you get a battery life advantage.
Acer Aspire V5-122P SSD upgrade video.
Boot speed of the device wasn't improved dramatically but the 'time-to-settle' on Windows a was improved. It's that period of time after you've logged in when Windows does a lot of admin tasks in the background. SSD's really help here.
In editing videos we were expecting a good speed-up in editing operations but it wasn't the case. PowerDirector 10 works well with an Intel-based Ultrabooks through a combination of cached HDD (or SSD) and Intel Quick Sync acceleration for rendering and video decode while working on the timeline. While the AMD platform used here has a certain amount of hardware acceleration, it isn't as fast as an Ultrabook and although the file system is clearly faster, it's not good enough to enable smooth video editing with Cyberlink PowerDirector 10.
Idle drain (lowest possible, screen low, Wi-Fi off) 3.5W (2.7W with screen off)
Boot from cold. 11 Seconds
Cyberlink PowerDirector 10 start-up time. (First load after boot) 15 seconds. Subsequent start, 10 Seconds.
Summary
Upgrading from HDD to SSD makes sense. Apart from those who want to carry aroung ALL their files most people will be served well by 120GB SSD. The 240GB MyDigitalSSD BP4 offers room for expansion (and laziness!) When upgrading an exisitng SSD based system there are also cases where there are benefits. As always, systems vary, OS builds vary and your results may vary but even taking variations into consideration we can easily recommend the 240GB SSD. The 120GB at $99 makes a great-value option and can bring your recent HDD-based budget system up to Ultrabook-like snapiness.
---
The MyDigitalSSD is available in the USA from MyDigitalDiscount. The 240GB version we used in the tests is currently $179.99. A 120GB version is available now for $99. Reposit are selling BP4 7mm drives in Holland (and likely to other European countries) and in Australia, check out Dmavo. Thanks to MyDigitalSSD for sending the products for review.
---