Sure, we can all get an Ultrabook to run for 10hrs. I did it myself recently when I put a Samsung through a typing test but how about being online and running web apps? Running the web through a browser is one of the most taxing things you can do to a laptop so seeing 9.5hrs runtime in a MobileMark2012 test is something worth checking out, in 60 seconds with a timelapse video. Haswell is doing the business.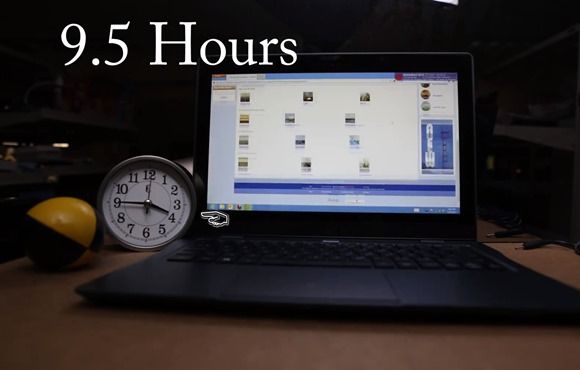 Before we can qualify this result though we need to know a few things.
1) What was the battery capacity?
2) Was it online?
It looks like it's an Intel reference design Ultrabook being used. I have the same one here (an Ivy Bridge version) that I'm not allowed to talk much about but inside that you'll find a  battery very similar in size to the one I did the 10-hour typing test on. It's average for the Ultrabook category. Looking at the video it appears that WiFi is on, connected to a hotspot but not connected to the internet.
I'll try and get confirmation on those two things but let's assume i'm right…
Update: The battery size in the test was 53Wh. That's about the same as I assumed.
Screen brightness varies through the test.
I estimate this scenario takes about 9W on most good Ivy Bridge Ultrabooks and I've seen some run at 11W in this test. The best Ivy Bridge Ultrabooks would give 5.5hrs of duration in the above test with the same battery. 9.5hrs is, therefore,  stunning!