Remember that Sony 13-inch slider we said would be based on Haswell? It is. It's just been made official at Computex.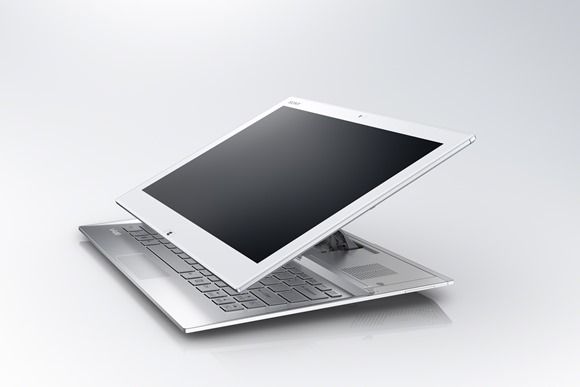 The Sony Vaio Duo 13 is official now and here are the specs…
Core i7-4500U CPU (1.8Ghz-3.0Ghz) or Core i5-4200U (1.6Ghz-2.6Ghz)
HD 4400 GPU
Triluminous 13″ 1920×1080 Digitizer display [More on Trilumnous here]
4GB RAM
2X USB 3.0 ports
SD/Duo card reader
HDMI port
Headset port
10 Hour battery life
802.11 a/b/g/n WiFi
Bluetoothh 4.0 +HS
Backlit keyboard
Trackpad
Exmor cameras 8MP rear, 2MP Front.
NFC and GPS
Weight 1.343KG
LTE option / 3G options
VGP-BPS36 battery
We'll try and get the battery capacity for you ASAP.
Update: New article on the Sony Vaio Duo 13 here. First reviews are in. Available 9th June.
Via Mobilegeeks.de