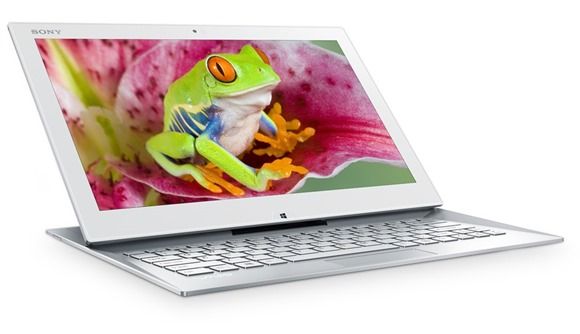 The first reviews of the Sony Vaio Duo 13 are in, the first product pages are up and availability of this not-quite-an-Ultrabook is said to be 9th June. Battery life tests look fantastic and it looks like Connected Standby, aka Active Sleep is on board. Oh, and the TRILUMINOS screen is said to be awesome. There's so much to talk about…
Before we move on, let's give a thought to Ultrabook availability. Intel says Ultrabooks based on Haswell will be available at end of 'back-to-school' period and yet here's an Ultrabook. Well actually it isn't an Ultrabook. Apart from no mention of WiDi and a mono microphone, the GPU is a GT2 model. GT3, dual-slice graphics are said to be going into Ultrabooks so maybe that's the reason for the delay? We'll keep a close eye on this availability story as it develops.
Moving on to reviews…
Engadget loves the new 'Surf Slider' mechanism, says that the keyboard has a low error rate and is impressed by the pen-wake function. They report good 3D mark scores – well above what we see with today's Ultrabooks.
Cnet have a basic review available and are adding benchmarks soon.
Let's talk about battery life. It looks like Sony have but the battery pack behind the screen and although there's no information on actual capacity the weight of the VGP-BPS36 is 279gm so it can't be much more than your average 50Wh battery pack. To see a working battery life of nearly 10 hours in Engadget's tests is very impressive indeed. (See another article on Haswell battery life here.)
What you also need to know is that under a JEITA test – one that would pull the best out of Haswell's power architecture, Sony are claiming 18 hours which shows just how much of the background power usage has been removed from the Core platform.
The battery life is 15 hours based on MobileMark® 2007. This is equal to 18 hours in JEITA-BAT1.0, 11 hours in JEITA-BAT1.0 (a) and 10 hours in MobileMark® 2012. The actual battery run time will vary depending on the settings and usage condition. (Source)
There's something else too…
Sony Active Sleep
I'm a big fan of Connected Standby because it requires the best mainboard engineering going. Microsoft have a fairly strict set of standards for it too so despite is sounding like an 'always on' feature you might not want, it's the mark of an efficient system that you do want. Sony doesn't mention Connected Standby but it looks like they're re-branding the feature as Active Sleep.
"…constant connection to the internet, even while in sleep mode, gives it the ability to continue updating applications and receiving emails when it's asleep"
That can only mean Connected Standby. It's certainly not Intel's Smart Connect system. The Skype background feature is the showcase Connected Standby app right now but audio streaming is also a good example…
We've got a few requests out for the required powerfg report.
The 8mp Exmor rear camera appears to be producing good shots and although you won't use it for family snapshots (and watch-out anyone that tries to hold up a Duo in front of me at a concert) you'll have the capability if you need it to scan a document. Estate agents are going to love it.
The digitizer layer has been retained from the Duo 11 and it's still NTrig, not Wacom, which will upset those used to having Photoshop support. The screen stability in this design can't be under-estimated for pen-lovers. Don't worry too much about the lack of screen angle adjustment because the IPS wide-viewing-angle screen will help a lot.
Sony have found space for a Mini Touchpad, have included NFC and 3G and LTE options will be available in some area. (source.)
On the downside, it appears that Sony have dropped the Ethernet port. You also need to consider that this baby still weighs nearly 3lb. While that's great for a 13-inch laptop, it's not good as a portable tablet for long-term use.
Sony have included Anti-Theft capability (which requires GPS as far as we know) but there's only a 90-day trial of that. You'll need to buy a license. Amazon have these for $9.99 per year at the moment but the normal costs is $25-$30 per year.
In summary, what an amazing bit of technology we're looking at here.  We'll get a tracking page up for you in the database ASAP.
Sony Germany. Vaio Duo 13 technical specs.