Ultrabooks. Copies of the MacBook Air. Expensive laptops. Bringing nothing new to the table. I've read it all and discussed it all but knew from day 1 that there would be something special coming. Having followed Atom from day 1 to the point where Moorestown finally got the architecture right I knew what Intel could achieve. Haswell was built with the next generation laptop in mind. It's HDR-Computing with Connected Standby, some of the best integrated graphics on the market, video engines that can process end-to-end 4K and TDP's that will allow manufacturers to design PCs you never thought were possible. With Haswell, Ultrabooks get meaning.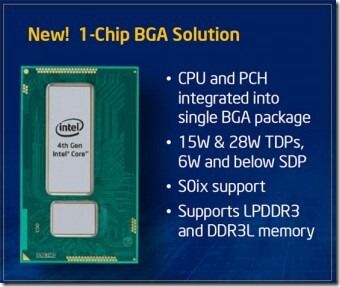 The 1-chip, dual package solution you see above is ugly. It's unique though and it's only for U and Y-Series Haswell parts which are almost exclusive to the Ultrabook, dockable and Windows tablet market. It's not only the look of the platform that's unique though.
It has dual-slice graphics which can be likened to dual-cores.  HD5000 and HD5200 (Intel Iris) will appear in Ultrabooks although the Iris Pro graphics isn't offered in this small package presumably because of thermal cooling requirements. It's too hot for ultra mobile designs. Within HD500 and HD5200 you'll find up to 2X GPU performance though and some unique features.
Mid-range laptops using Haswell won't get the dual-slice graphics. They won't get S0ix support either.
S0ix is a capability that indicates a brand new level of power management. It's the capability that is required to support Connected Standby (CS) and a completely new way of using the power button.
You might not want to have your PC on all the time but trust me, the engineering required to do it means you're getting the most advanced mainboard design you can possibly have. It's the mark of efficiency and should really be branded with a flashy name. You might see that happen over the next few days. "Intel HDR" wouldn't be far from the mark as a brand for CS-capable products.
Speaking of HDR, think about what you're getting here. A system that will idle for many days like a smartphone but can be ready to process a stream of 1080p videos for YouTube in 8x real-time. A system that could be powered by the sun in idle and then burn through a few hours of high-end gaming on a 1080p screen. This level of HDR computing has never been seen before and it will be unique to Ultrabooks.
Even without Connected Standby you're going to get some amazing improvements in battery life. I'm sometimes sceptical of huge battery life claims but given what Intel have already achieved with the Atom Clovetrail platform for Windows 8 I have no reason to doubt these figures. In fact, with the smaller and more efficient screens (screen backlight is a huge battery drain that ARM, Intel and everyone has to fight with) the advantages are going to be even greater.
Single-chip Intel 4th-Gen Core platforms will be available in 10W TDP designs too. Y-Series Core generates so little heat that it could fit into a netbook and yet offer processing power that is enough for all-day desktop work. There's a slim possibility that you'll get fanless designs too. A silent Ultrabook driving 4K content through a DP1.2 port, even if it was a bit larger than a normal Ultrabook, would be something special. These Y-Series parts won't be available immediately however but Intel appear to be promising them for sometime in 2013.
There are two SKUs  available initially but 19 are planned. That will include VPro+i3,i5,i7 variants at 15w TDP and then new 28W TDP versions with Iris Graphics. (which is also CS-capable for making the ultimate HDR PC.)  We've already seen an HD4500 and HD4558U mentioned in product announcements and leaks.
All Ultrabooks on 4th-Gen Cores will have touch. All will have Miracast and WiDi 4.1 support, all will have Intel Identity Protection Technology (IPT) and Anti Theft technology and all will ship with anti-malware and anti-virus software.
A list of Haswell Ultrabooks – We've broken out a new section of our product database to list Haswell Ultrabooks. As of today we only have two leaked models in the list but expect that to grow during Computex. (Starting June 2nd.)
Ultrabooks were always efficient, always used best engineering practices (well, at least on most Ultrabooks!) and were always the most mobile of laptops but there was no crystal-clear advantage for most people. With new power management comes amazing new battery life capability that will be head and shoulders above 'old' laptop designs. The GPU performance including 4K support, video transcoding power and true gaming capability is going to be stunning and the guarantee of touch, wireless display and security features is going to set them apart. Y-series Haswell will bring 10mm thick tablets and convertible designs that really can take on the battery life of ARM-based tablets. All of these features are things that customers can relate to and thus the Ultrabook now has real meaning.
Our Ultrabook 2013 market report is here. We predict 40 million sales during 2013.
Join us for news and discussion from Computex which starts as the sun rises next in Taipei.
Hat-tip: PCPer have a good summary of the Y and U-series features.