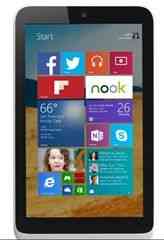 Microsoft have announced a focus on small Windows tablets, a Windows 8.1 preview download and have detailed changes for small screens. Changes include a new keyboard with gesture features, new Windowing for the Metro UI, layout changes (see right) and more. Here's a few of the key features that have just been announced.
Keyboard Gestures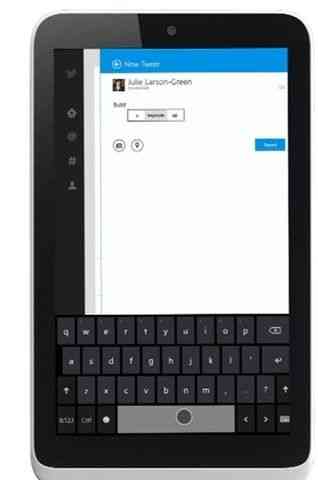 The Windows 8.1 keyboard now includes swipe gestures for selecting word predictions and inserting numerics and punctuation.
Personalization
New color features, tile sizes and flexible windowing options will be available. Multiple windowing options are also included in the Metro UI.
Other Features
Other features include a improved all-in-one Bing-branded search feature, new Xbox Music features, share-to-music from the browser which scrapes artist and track info from a web page to create a playlist.  There's a new lock-screen gallery slideshow feature and new pin-free unlock features for applications (for accepting Skype calls for example.) You can now swipe-up from the home-screen to access a list of all applications reducing the number of touchscreen apps. Image editing is now built into the photos app.
All Windows 8 apps have been updated and new apps have been made available. E.g. a food app that can be controlled using hand gestures in front of the webcam the first built-in perceptual computing feature in any PC operating system as far as we know.
The BUILD opening keynote continues (live and saved streams, info here.)
We're also downloading 8.1 on a touchscreen PC for testing so stay tuned. Note Intel Atom based tablets are not supported at present which is probably due to the very tight OS and firmware requirements for Connected Standby capable PCs.
Welcome back to the world of handheld Windows PCs;  Microsoft. NeUMPCs are here!