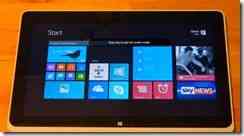 Windows 8.1 Preview was announced and released at Microsoft's BUILD event this week and I've been testing it on an Acer Iconia W5 Clovertrail based tablet similar to the W3, 8-inch devices that were given out to around 3000 people at the event. I've also upgraded an Ivy Bridge Ultrabook and an AMD Temash subnotebook, all with touch but it's the tablets that get the most out of the changes in the upgrade. Keyboard changes, windowing changes, 3G connected standby support, new Windows 8 applications and a range of application upgrades. If you're on a non-touch laptop and spend most of your time in Windows 8 desktop, don't bother with the upgrade yet as there are bugs but if you've got an Acer Iconia W5 or one of the other supported Windows 8 tablets or hybrids and you're not using it for production purposes I would definitely recommend upgrading.
Windows 8.1 Upgrade on the Acer Iconia W3
The process starts here if you're upgrading a Windows 8 PC [link] where you need to download and install the bootstrap program.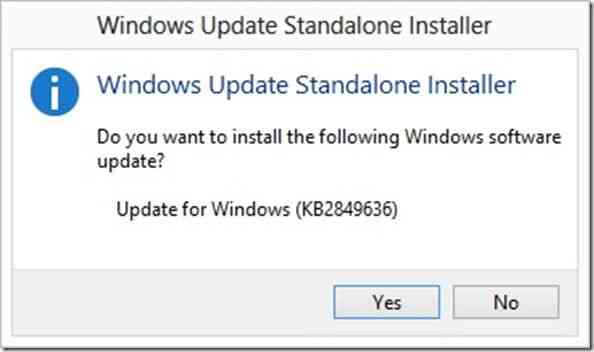 Following the install and reboot you'll get a banner on-screen telling you to go to the Windows Store. If not, just open the Windows Store and you should see the upgrade application immediately.

On the Acer W510 it took about 2 hours to download, check, install, reboot and setup the system with Windows 8.1
Major Changes
Windows 8 remains Windows 8. There are no major changes to the user interface, to the 'charms' system or desktop and in some respects it's a little disappointing given the launch and media coverage over the last week. There are important changes however.
Search has been changed to bring together results from Bing and results from your PC. Is it better? You be the judge. You can still hit the Windows key and start typing to match an application so at least that important function isn't broken. For some online results there are nicely formatted results pages. In some cases the app-specific search results are not available using Windows-F (charms search) and you have to use a search feature from within an application. The Store is one example.
Microsoft have improved a lot of apps and added a set of new apps. The Store gets a big overhaul with categories and personal recommendations getting shortcuts under the original swipe-up menu.  Apps will now automatically update unless you are connected via a 'metered' connection.
Internet Explorer 11 is the latest browser in both Metro and desktop and it offers improvements that only the sharp-eyed user will notice. SkyDrive is now the default location for saving documents according to Microsoft's marketing but it's easy to choose another location. Clearly this is a move to get people using the drive and heading towards revenue-generating subscriptions for more storage. SkyDrive integration is slightly more prominent in the File Explorer too.
New applications include a calculator, alarm/stopwatch/countdown timer, new health and food apps, a scanner application and a 'read it later' style application which syncs across devices via the cloud. There's a new Sound Recorder application.
Improvements in the Xbox Music app include setting up radio streaming stations. You get 10 hours of free music streaming per month (with ads.)  and you're allowed to skip tracks, see the up-coming playlist, jump ahead in the playlist and, of course, buy tracks. The Xbox Music app works in connected standby so you can expect days of streaming on the Acer W510 without charging. (My estimate: 2-4days.)
One of the more useful improvements is to the on-screen keyboard which now allows long-press to access numeric characters and includes a space-bar gesture to select predicted words. In some cases it can be useful, in others it's quicker to complete the word yourself and with the predictions appearing where the text is being entered and not where the keyboard is, you might find your eyes darting around a fair bit.
Internally there are some more important changes going on. Usefully for handheld Windows 8 devices there's support for Connected Standby (AOAC / InstantGo) via a 3G interface meaning that you can now use Skype over 3G in connected standby mode. You can also answer calls directly from a lock screen. In effect, a Windows 8 PC with 3G data and Connected Standby can now be a phone.  There are other small improvements with CS too. There are more application 'slots' available in Connected Standby, for example.
Finally, the 'Start' button. In effect nothing much has changed but maybe it's enough to shut up the moaning journalists. Rather than an invisible left and right-click area in the bottom left of the screen, there's now a Windows logo. More important is the fact that the Modern UI with its re-sizable Windows can be set as a secondary view. The primary view can be set to a list of all applications. Sliding up and down between them is now a feature meaning that swiping application tiles up to select them is no longer supported. A (longer) press is required to activate a tile in order to move it or make changes to it. For this user, it's a step back based on a lot of fuss and bother by bored journalists.
For more details on changes, see the Microsoft guide. (PDF)
In Action with the Acer Iconia W5
It's important that I tell you the most significant changes first and that means  I have to tell you that the Acer W510 with Windows 8.1 Preview is buggy. In fact on all three Windows 8.1 systems I've tested over 3 days I've seen application problems with File Explorer, Camera, Pictures, SkyDrive and even a system crash. DO NOT USE WINDOWS 8.1 ON YOUR MAIN SYSTEM. I may be looking to roll-back to Windows 8 after my testing is complete. Let's assume that all the bugs will get ironed out before launch though…
---
Update: It seems the libraries on upgraded systems get corrupted which means some apps. After deleting and recreating the libraries Music and Bilder (Pictures.) The image below shows a German OS. Open a File Explorer  (Windows-Key + E) and right-click in the left column. You should see an option to show the libraries (if they are not already there.)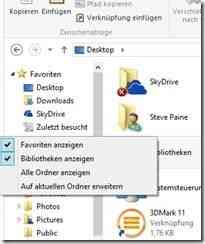 Right click on a library and if you see an error you'll have to delete the library, create a new one and set the content type. In the image below you can see a new library being set up. It's set to be a Music library and will get picked up by music apps.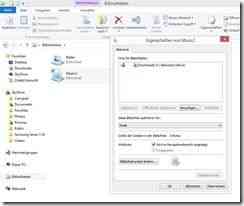 By re-creating the important libraries I have fixed problems with Xbox and Pictures on the Acer Iconia W510.
---
…continued.
The new apps, the new browser and the app improvements (including portrait mode support in many cases) are very welcome on the Acer W5. The OSK improvement is a real advantage for small-screen Windows devices and having more tile size options is great. The photo editor is very useful and really helps to clean up images before sharing to apps and services via the charm bar.
Being able to access the camera and other apps from the lock screen without having to enter a password is going to be very useful on the small Windows tablets. There's power, space and support now for some interesting photography-focused products. The updates in the Xbox music app bring interesting streaming radio possibilities.
Internally the changes pave the way for more mobile Windows 8 devices. Connected Standby (InstantGo) over 3G and more 'slots' will allow a more advanced standby system.
Combine the internal changes with the UI and app changes and it's a great step forward for Windows 8 handheld devices.
On the down-side I'm still missing a better notification system (one with viewable history) and it would have been nice to see a 'kiosk' mode where Windows 8 desktop could be frozen to leave just the Metro apps running. Google support for calendar sync is still not there (although mail, contacts, chat are supported) and of course, official apps from many major service providers although A Facebook app is said to be coming.
For an overview of some of the features, some thoughts and some demonstrations, see the video below.
Update 1: It's possible that Intel Quick Sync (Intel Media SDK) is broken in some cases. E.g. Video rendering on Cyberlink Power Director isn't working on one of my upgraded devices.
Note: There's no easy way to roll-back Windows 8.1 upgrades so please take an image of your system before testing.