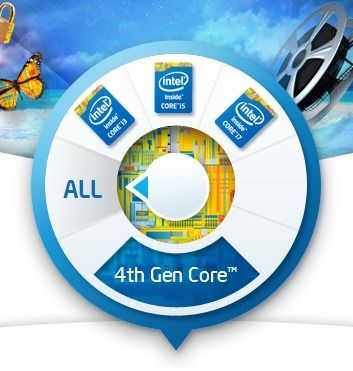 Intel have announced that they will be producing 4.5W SDP Core processors later this year that will enable thinner and fanless designs with all-day battery.
Following the announcement of 6W SDP (1..5W TDP) low-power Y-Series Core processors Intel will, in "limited volumes", make a 4.5W SDP part available.
For those not familiar with SDP (Scenario Design Power) it's a round-about way to say that the processor is designed for one major scenario – tablets. The idea is that in tablet mode you don't use a device like you would on a desktop and therefore you can design the thermals a little tighter than would normally be. In this case the target is fanless tablets of the Windows 8 variety.
Don't expect to see too many devices based on this processor as making Windows 8 tablets and detachable is still a risky business but as Windows 8.1 feeds in there are likely to be a few manufacturers that take that risk.
Performance is likely to be significantly capped compared to the Ultrabook-style Core processors but there's no doubt that detachables made with these could make much more usable (lighter, cooler, quieter) tablets in the 10-13" range and still offer enough performance for your daily PC routine.
Intel's developer forum is in September so we expect to see at least one prototype based on it at the event so stay tuned here, as we'll be there!
[Sidenote: A low power Intel Ultrabook Developer Platform –  Harris Beach – will be with us in the next few days. ]