Testing power usage on Haswell Ultrabooks is difficult due to the huge range of scenarios that the next generation Ultrabooks have. They'll stream music for days and yet if you try to do too much gaming on them, you might be out of juice in as little as two hours. What we can say though, without a shadow of a doubt, is that the battery life on Haswell Ultrabooks, compared to Ivy Bridge Ultrabooks is hugely improved. We've got a Dell XPS 12 with Haswell here that proves it.
Haswell processors for Ultrabook are a highly integrated combination of CPU, GPU, busses, interface controllers and power control. By bringing everything together under one roof, on just a few bits of integrated silicon, you get many advantages. Intel have implemented new power saving states on Haswell and combined with other refinements it brings the processor under control like never before. The next wave of highly integrated Connected-Standby Ultrabooks will be even better but even a relatively simple design refresh like the Dell XPS 12 here gets a massive advantage.
The Dell XPS 12 has been refreshed with the Core i7-4400 in this review sample and it also adds the Intel AC-capable 7260 wireless adapter. Presumably the motherboard design is smaller as the battery capacity has risen to 50Wh from 47Wh although that could be due to an improved battery design. The Core i7 4400 drops the base clockrate slightly to 1.7Ghz but adds the new HD 4400 graphics which should improve performance in some areas although it's not until you get to the HD 5xxx series that you'll see the best improvements there. Let's move straight on to the battery life testing though…
Dell XPS 12 (Haswell) Battery Life
The Dell XPS 12 has returned the lowest idle battery usage figure we've ever seen on an Ultrabook. At 2.9W with the 12.5″ 1080p screen on (everything else turned off. E.g. WiFi, BT, keyboard backlight, audio mute, power saving mode) it's 40% better than the lowest figure we measured on the Ivy Bridge version of the XPS 12. That's 2W stripped off before you even start.
Haswell is built to work in certain scenarios where it can lock down parts of a system that aren't being used. Video playback is one scenario, for example. In other situations, mainly mixed-usage ones that are often close to a standard users usage profile, won't get as much of an advantage. Web-based video playback operations, for example, may not benefit so much and in gaming scenarios where the CPU has no chance to idle, we can't expect much improvement; Certainly in percentages anyway.
We ran a number of detailed power usage tests on the original XPS12 so running these again shows up some interesting figures.
Dell XPS 12 (Haswell) power usage test results.
Usage Scenario
Power usage XPS 12 Ivy Bridge
Power usage XPS 12 Haswell
Idle, no Wi-Fi, sound off, power save profile
Screen low – min 4.9W
Screen High – min 9.5W
Screen Off – N/A
Min 2.9W, Ave 3.3W
Min 4.6W, Ave 5.8W
Min 1.5W, Ave 1.7W
Local MP3 playback (Using WMP, medium vol, low screen brightness
Average 7.5W
Ave 5W
Streaming MP3 playback (low screen brightness, 3 walls from hotspot)
Average 8.2W
Ave 5.9W
Web working – 50% screen, balanced power mode, 5 web applications tabs (1)
Average 9.2W
Ave 7.4W (Hootsuite replaced Tweetdeck)
HD Video (Full HD, H.264, 50fps, 30Mbps) playback (WiFi Off, WMP, 50% brightness)
Average 12.8W
Ave 8.2W
YouTube HD Video (Full HD, 40% vol, 50% bright)
Average N/A
Ave 14.6W (Chrome)
Ave 9.3W (IE Metro)
Ave 9.8 (IE Desktop)
(1) Chrome: Tweetdeck, Facebook, Google Plus, YouTube, Gmail
The first thing to note is that the screen low-to-high brightness power usage seems to be improved. Without taking the Dell XPS 12 apart there's no telling if it's a different screen but we doubt it very much on this refresh. Maybe panel self-refresh has been implemented but if our measurements are correct, the screen is responsible for some improvements in the battery life.
Background drain on desktop idle is down by about 2W with 1.5W screen off (desktop active) being the lowest figure we've ever measured on a X86 laptop or netbook (apart from Clovertrail-based Windows 8 devices) over the years of UMPCPortal and Ultrabooknews.
There are a couple of scenarios which show great improvements and the showcase figure is with video playback where the previous 12.8W figure (4hrs) is now 8.2W for over 6 hours of playback – a 50% improvement in video playback time.
The local MP3 playback figure improves from a normalised (50Wh battery) 6.1hrs to 10 hours – a 63% improvement in audio playback time.
Web-working power usage is one of the more interesting areas for the average user and it's interesting to see that the average power used has dropped from 9.2W to 7.4W – 20% less power consumption for 24% more (normalised, 50Wh) battery life in this scenario; Nearly 7 hours for a gentle web-based session. Given that mixed usage scenario, this is quite impressive for a Core i7 dual-core running up to 2.4Ghz with HD4400 GPU, 8GB of RAM and a 256GB SSD. This is not a netbook, this is a desktop-grade system.
YouTube video playback is another mixed-bag of processor usage. The system will be using audio, video, CPU, GPU and memory at the same time and the results show that this can be a very heavy scenario for a platform. Chrome 28.0 shows a shockingly high power usage of 14.6W. Metro IE, on the other hand, does it in 9.3W which is just 1W higher than the playback of a local media file and very impressive.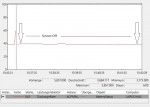 Audio stream over WiFi. Screen Off.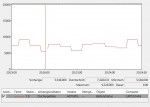 Advanced web usage, 50% screen, balanced power, 5 web apps
The battery life advantages don't come with any trade-off and in Cinebench tests we saw figures that were slightly better than the average Ivy Bridge Ultrabook. We'll report more about performance in a follow-up article.
Fan noise
Lower power usage means a cooler system which also means less need for a fan which brings improvements in noise levels. In our original Dell XPS 12 review we had the following to say about noise…
Dell have done a good job with noise-reduction and cooling. It's possible to work, carefully, without the fan coming on at all with the Dell XPS 12 making a totally silent machine. High-end video playback and extended web-working or even just warm environments could cause the fan to come on though.
We've been testing the Dell XPS 12 in a warm environment (ambient 26 degrees) and although it's impossible to say exactly how much harder the XPS 12 can be pushed before the fan comes on it does appear to be better. Certainly in balanced power mode the XPS 12 was silent for web-working, video playback, writing this article and idle scenarios but we did hear the fan when scrolling through Google Plus for a 5-minute period. Scrolling javascript-loaded pages like this can really put a load on a device. Don't expect a silent experience all the time but expect your average office set-up to be quieter than with the XPS 12.
Summary
The XPS 12 with Haswell is a 'simple' refresh that brings massive advantages.
Dell haven't taken the chance to re-design the system and make it smaller or lighter which is a shame because the tablet mode suffers somewhat due to the weight here but the advantages of the upgrade to Haswell mean that the XPS 12 is a more interesting purchase now, especially for those on the road. You'll get 10 hours typing out of the XPS 12 with no problem and if you're connected to the web, expect 7hrs of web working. As you go up the scale of workloads the advantages will get smaller so don't expect too much improvement in gaming battery life (which we haven't had a chance to test yet) or in video editing scenarios. The problem for the Dell XPS 13 is that all the manufacturers are likely to do the same to some of their Ultrabooks and there'll also be a set of new designs coming in that will be built from the ground-up around Haswell. In the future we'll see Connected Standby capable devices and the Y-series of Haswell processors for even smaller convertible designs. We expect the Dell XPS 12 with Haswell to be a popular choice though and because this is just a refreshed model, Dell should be able to keep the price competitive over the rest of 2013 and into 2014.