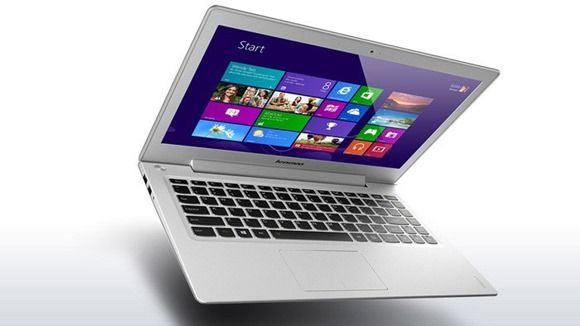 At 699 Euro, the Haswell-based Lenovo Ideapad U330 is the cheapest Haswell Ultrabook on the market right now. It's now available to order and shipping, at least in Germany. If you're not into touch, there's a non-touch version (not a true 2013 Ultrabook but up to 2012 Ultrabook specs) available for 599 Euro.
Let's get the rough stuff out of the way first. There's a 1366×768 screen and no keyboard backlighting. WiFi is a 2.4Ghz-only Intel Centrino Wireless-N 2230. Base clock frequency is 1.6Ghz although this is Haswell (Core™ i5-4200U with turbo to 2.6Ghz) we're talking about here. GPU is a HG44000, not the 5xxx series with higher-power graphics.
On the good side, you're getting 8GB RAM on this model (59372367), a 500GB hybrid hard drive, full SD card slot, 2xUSB3.0 ports, a USB2.0 port and an HDMI.
Compared to the previous generation Lenovo Ideapad Ultrabooks you'll be getting a huge improvement in battery life, assuming Lenovo have kept the same battery capacity. It's quoted for up to 9hrs.
If you don't want touch, the Lenovo U330P is available with Haswell and without a touchscreen, for 100 euro less. You'll only get 4GB of RAM but if you want a basic, long-battery life Ultrabook in about 1.6KG, this is the cheapest option right now. We'll be trying to get one in for test ASAP. We'll also get the details up in the database for you and track 3d-party news, videos and reviews.