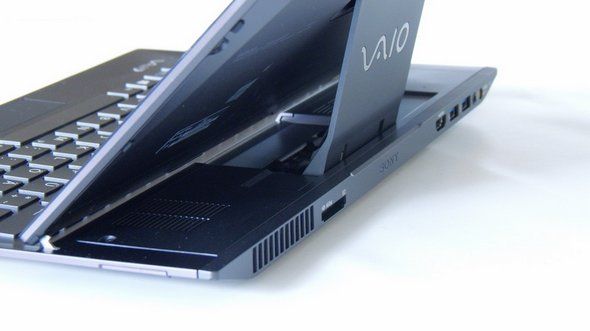 Unfortunately the Sony Vaio Duo 13 has to go back today and we didn't have time to get a full review together but we've had a reasonable amount of time testing and are now able to give you a relatively detailed overview. We're expecting a longer term loaner very soon and that one will be a retail model rather than the production sample we've got here.
In summary the Sony Vaio Duo 13 is a very impressive and advanced Ultrabook and a unique bit of engineering both inside and outside. Haswell shows all it's colors with the Duo 13 but there are one or two things to watch out for before you buy and of course, this isn't a cheap Ultrabook but read-on to find out why you're probably going to get value for your money.
Sony Vaio Duo 13 Specifications and information.
We've got a high-end version of the Sony Vaio Duo 13 here. It's running a 1.8Ghz Core i7 4500U with HD 4400 graphics, 8GB of RAM and 256GB of SSD. There's 3G inside this too. All models get the stunning full-HD Triluminous display and Connected Standby, a first for a Core-based PC.
Starting with the working fascia then we are happy to say that the keyboard is good. It's way better than the keyboard on the Vaio Duo 11 and the mouse pad works better than the optical mouse pointer on the Duo 11 too. It's not the keyboard you want for writing a book (see Dell 6430U, Lenovo Thinkpad Carbon X1 for that!) but for this blogger, it's acceptable, especially given the thin design. It's back-lit. The screen slides up and locks in one position which isn't a problem given the wide viewing angles. The stable fixing also brings a huge advantage for anyone using the digitizer (N-Trig) layer because it doesn't wobble. In that respect the Sony Vaio Duo 13 beats the already digitizer-optimized Duo 11 because it's simply got a bigger screen. We do hit one area of concern with the hinge though. It feels a little vulnerable and when you check out the small fixings and consider the potential leverage that could accidentally be placed on it you'll probably mark it down for ruggedness. Sony must have done their testing on this but we have to say that the design, with always-exposed screen, is less than rugged.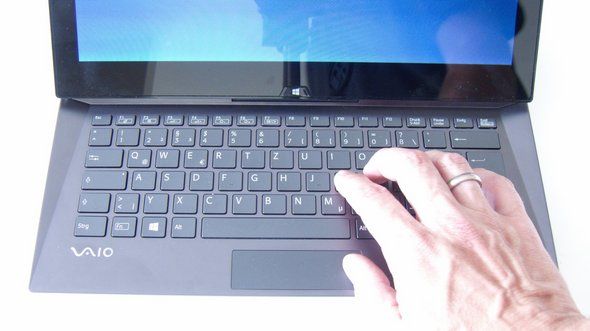 There's no Ethernet port on the Duo 13 which means you'll have to take the supplied dongle with you between your hot desks. If you have to fall back to WiFi in an office you may not be in the best position. The integrated Broadcom adaptor appears, on this production sample, very weak. It's 2.4Ghz only (not ideal for any busy area) and the signal drop-off in a test was one of the worst we've experienced. Again, wait for retail model reviews before you strike if from your list but even lack of 5Ghz support is worrying. In front of us right now is a Dell XPS 12 with an Intel 7260 AC-capable NGFF module and the difference is chalk and cheese.
Two USB3.0 ports, a headset port and an SD card slot are provided along with a SIM card slot on the rear of the screen. There's a pull-out digitizer holder , stereo speakers (good quality,) volume control buttons, NFC, an Exynos 8mp camera (good enough for some business card scanning and OCR with the supplied app, but not for photography) and a front-facing web cam. GPS, accelerometer and ambient light sensor.
Connected Standby means a number of things. Of course you're getting an always on part-of Windows 8 which works to provide internet access, notifications and other services for Windows 8 apps. (CS demo here.) but you're also getting the special component considerations that go along with it. (More about CS here.) Low power memory and that Broadcom WiFi are part of that. It means you get a system that's likely to be more efficient that other Ultrabooks even if they are running on Haswell. You can pretty much forget about hitting the power button on a CS-enabled Ultrabook. [Note: CS, Aka Instant Go, will only be available on selected Ultrabooks in 2013. It is not expected on other categories of laptop this year.]
Performance is great although don't expect too much more than high-end Ultrabooks of 2012/2013 and note that the old idea of user power profiles has gone. With the Sony Vaio Duo, very specific power profiles are triggered when the device is in different usage modes. For example, when closed and in use as a tablet the CPU is quickly capped down to 1.6Ghz (our measurement) and then if you open the screen up it boosts all the way up. We saw 2.6Ghz constantly on a multi-core load test. There may be other modes too. For example, if you've got the power plugged in you'll be generating more heat inside which might trigger thermal limits. In general the Vaio Duo 13 stays incredibly cool to the touch and is fanless for most of the time. When the fan is on, it's very quiet too. (Note that in CS mode, the fan will never come on and you won't need to worry about it overheating in a bag.)
In a Cinebench test we saw a maximum 22fps on the OPenGL test which is a big improvement over Ivy Bridge HD4000-based Ultrabooks that turn in 13-16fps on this test. Subsequent runs turned in about 20fps. The CPU test returned a good score too. 2.91 under mains power and in laptop mode, 1.67 which is lower than current Ultrabooks running in balanced mode.
3DMark tests failed to run on this review sample.
Battery life is a difficult thing to test right now. Initial findings were that it under-performed our expectations which could be related to this being a production sample and a device that's doing the rounds at presenations and shows. The battery is a 50Wh module though and the indications are that 10hrs+ of web working won't be a problem. In connected standby mode you'll be able to use it as an internet radio for weeks and we expect over 10hrs of video playback. It's a shame we can't bring you detailed battery life test results but while you're waiting, take a look at the tests we did with Haswell on the Dell XPS 12.
Video overview.
We spent some time in a live review session with the Sony Vaio Duo 13 and here's the recorded segment from that session showing the overview.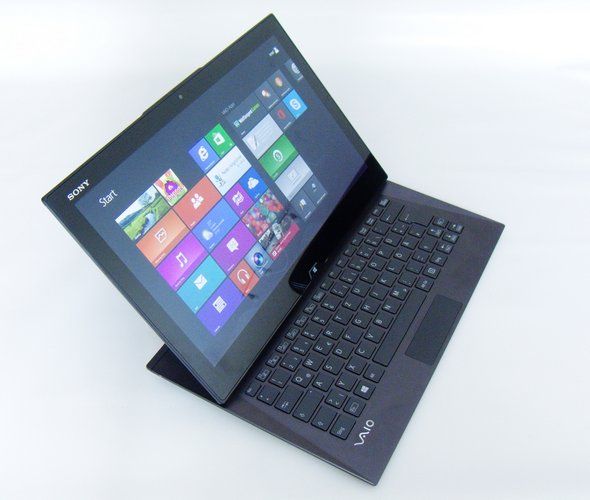 Sony Vaio Duo 13 Summary
A ground-breaking Ultrabook, laptop, tablet and PC in terms of technology. Battery life is going to be great and Connected Standby is something we hope to see on more Ultrabooks soon. The system works well as a table-top tablet and digitizer easel. Highest performance is above what you'll see on any Ivy-Bridge-based Ultrabook. The keyboard is very usable in laptop mode and the mouspad is better than you'd think. The screen? Wow!
Watch out for WiFi performance in other reviews (we've got a production sample here and can't be 100% sure what the status of the WiFi is) because this could be the only, but significant weak point. The lack of 5Ghz band coverage is going to be a deal-breaker for many. Apart from the that, the Sony Vaio Duo is probably the most desirable Ultrabook convertible we've ever tested and it's an impressive, ground-breaking showcase for both Sony and Intel.
We will be following up with a full review of a retail version of the Sony Vaio Duo 13 as soon as possible. If you have questions though, we'll try and answer them in the comments below.