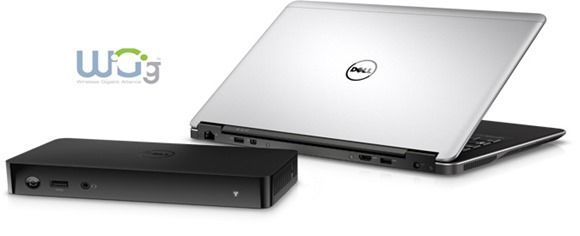 Dell have announced a Latitude 7000 series laptop that, in some configurations, will be an Ultrabook. It's aimed at business and education, offers VPro and other business features, a large set of options and comes in 12-inch and 14-inch versions, unlike the similar Latitude 6430U, Ivy Bridge Ultrabook that only came in a 14-inch version.
Using the same design style as the Latitude 6430U that we reviewed in May, the 7000 series looks smart and professional and comes with many of the options offered on the 6430U (these will vary per region of course.) For example you'll be able to choose a WiFi card that has WiGig support and in the image above we get our first glimpse of that WiGig docking station that we heard about back in 2012.
Screens will start with a matt 1366×768 and go up, eventually, to touchscreen-capable FullHD options.
MIL-STD 810G ruggedness is part of the deal.
As for battery, we see that the current models are shipping with a 34Wh battery and it's not clear if a 60Wh option is possible.
Storage options span the full range up to self-encrypting SSD drives.
As for prices, you'll be able to take this up into $2K territority we think but basic packages are being offered as low as $1049 for the 14-inch model.
Finally, for Linux fans, it looks like Dell are going to offer Ubuntu 12.04 but we can't confirm that yet.

Latitude e7440 – 14-inch
Latitude  e7240 – 12 inch
Update: Engadget have some hands-on.
We're at IFA next week and IDF the week after so we're expecting to be able to have hands-on with this new Ultrabook.