It looks like Pentium and Celeron branding will be used on Atom chips when Baytrail launches. And why not? As Haswell/Core reaches down into sub 10W territory, where Netbooks used to operate, and Baytrail reaches up into power bands above where Atom Netbooks were, there's a big overlap. Intel will slap the Pentium and Celeron brands on Atom products. It could be an attempt to re-brand Atom for Windows and Android based devices.
This session planned at Intel's Developer Forum in two weeks gives the game away.
ULBS007 – Next Generation Intel® Celeron® and Pentium® Processors (Bay Trail-M/D) for Entry Mobile and Desktop Designs
This session introduces a new set of platform features and innovations that will allow hardware manufacturers and developers the opportunity to build the next generation of exciting 2 in 1 mobile designs and entry desktop designs that will delight the consumer. In addition, attendees will get a first look at the next generation Intel® Celeron® and Pentium® Processor platforms code nameBay Trail-M/D.
Topics covered in this session:
Opportunities in this fast growing segment of the mobile and desktop market
Benefits and key advancements of Bay Trail-M/D System-on-Chip based platform and product roadmap
Design considerations for these platforms 
OS flexibility on Bay Trail platforms
BayTrail T, the tablet platform and Bay Trail I, the "embedded intelligent" platform are also in the product range although it looks like the latter will not get the Pentium or Celeron branding.
A move to Pentium and Celeron branding could elevate Atom into a higher, more desirable category in the eyes of the consumer. A Pentium-based Android tablet certainly has an interesting ring to it. A Pentium-based Chromebook with Connected Standby also carries appeal.
Bay Trail uses a new architecture (Silvermont) in a new SoC (Valleyview)  built on a 22nm manufacturing process. It includes Intel 'Gen7' graphics which are said to boost performance up to 3X over previous generations. 50%-100% performance improvement is also promised. TDP's are rumoured to be <3W for the tablet platform (dual and quad-core Android and Windows Connected Standby tablets), 4-6W for the mobile platform (see entry-level notebooks, Chromebooks, 2-in-1's, larger Windows tablets with and without CS) and less than 12W for a desktop platform.
These leaked slides add more detail…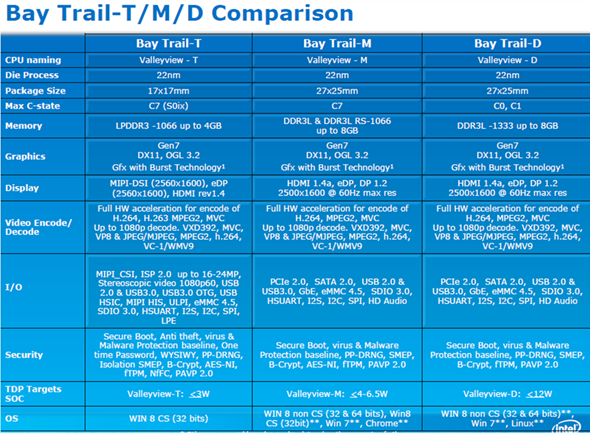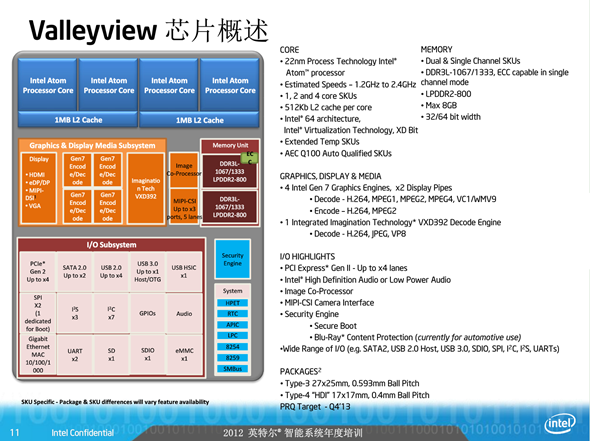 In a recent article at TechPowerUp the following parts were listed and said to be launching on Sept 11th. (That's the same time as Intel's Developer Forum.)
Z3770, Z3770D (both up to 2.4Ghz), Z3740, Z3740D (both up to 1.8Ghz)
In an article at it.21cn.com, the following Bay Trail-M parts are listed:
Celeron N2805?Bay Trail-M??dual-core 1.46GHz?TDP 4.5W
Celeron N2810?Bay Trail-M??dual-core 2.00GHz?TDP 7.5W
Celeron N2910?Bay Trail-M??quad core 1.60GHz?TDP 7.5W
Pentium N3510?Bay Trail-M??quad core 2.00GHz?TDP 7.5W
Celeron J1750?Bay Trail-M??dual-core 2.41GHz?TDP 10W
Celeron J1850?Bay Trail-M??quad-core 2.00GHz?TDP 10W
Pentium J2850?Bay Trail-M?, quad-core 2.41GHz?TDP 10W
We'll add more detail to this when we get it at IDF in a few weeks.