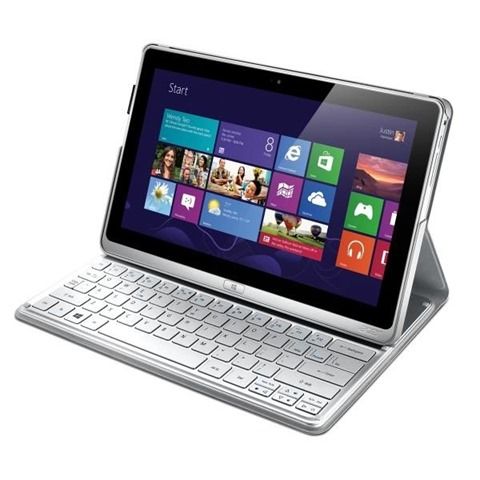 First it's the Acer W700, then it's re-specified as the Acer P3 and now it's the Acer TravelMate X313. Y and series and Pentium CPU's are offered and the dock and keyboard are included. Available for pre-order now. Could this be a better productivity device than the 10-inch Surface Pro 2? There are some issues…
The Acer TravelMate X313-M has an Intel Core i5-3339Y or Core i3-3229Y option but wait, it's last-gen Y-series. What are Acer playing at here?
The advantages in the 4th-gen Y-series CPU are to good to miss so I don't recommend anyone buy a Y-series 3rd-gen Core-based tablet. There's even an X313-E Pentium 2129Y version (1.1Ghz, No Turbo, No Hyperthreading) with 2GB RAM which, to  me, just seems like it's riding on the coattails of the Ultrabook.  Battery capacity: 40Wh which , in my book, means about 4hrs WiFi working.
With the latest Haswell Y-Series and a little re-design and a higher-res screen and this could be a real option to the Surface Pro 2 and Sony Tap 11. In its current form, it isn't, especially when we're seeing European street prices of €1349 (inclusive tax) for the Core i5 version. Slashgear are reporting a $999 entry price in the USA.
There's a PDF available from Acer US if you're interested in more specifications.
More images in the Acer X313 gallery.
Hat-tip: Slashgear.