We've seen Baytrail –T products in action. The tablet-focused processor, the Atom Z3000 range of parts, will enable products under the 'small screen' category; up to 11.6-inch Windows 8.1 or Android based tablets and 2-in-1's.
The most powerful SoC, the quad-core Z3770, will deliver short-term clock speeds up to 2.4GHz and support screen resolutions up to 2,560 x 1,600. The Z3470 variant run up to 1.8Ghz maximum clock. Both are quad-core. SDPs of 2-2.4W means you'll find these products in the thinnest and lightest tablets possible.
When it comes to larger devices though, 11.6" 2-in-1's, netbook-style laptops and even some Ultrabook-styled devices, the Baytrail-M range comes into play. The Pentium and Celeron-branded processors will offer more advanced interfaces (SATA-II for example) and support for 8GB DDR3 RAM (Baytrail-T supports 4GB LPDDR3 RAM) and on-board Gigabit Ethernet controller. It will come in 32 and 64-bit variants (32-bit to start with.) HDMI 1.4a and DisplayPort 1.2 are supported.
Baytrail-M Range
The processor range consist of four SKUs with the following specifications.
That range of parts translates into the following market categories which include 2-in-1 Detachable designs, 2-in-1 Convertible designs and notebooks with touch. In each category Intel also has a Haswell-based offering at higher TDP and higher processing power. Higher costs are also associated with the Haswell-based parts. There's a complete overlap between low-TDP Haswell processors and Baytrail-M. The slide was shown as part of a Baytrail-M presentation at IDF13 in San Francisco.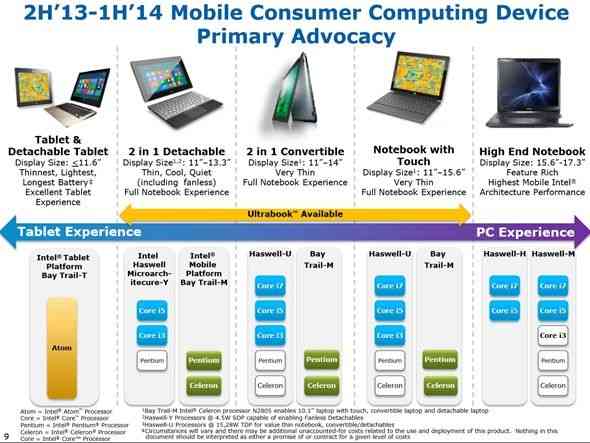 Clearly with the lower cost and smaller TDP you'll be looking at some interesting low-cost Ultrabook-style designs. Pricing could reach down to $399 for a 2-in-1 based on Baytrail-M. Here's how Intel sees the bill-of-materials (BOM) for low-costs 2-in-1s.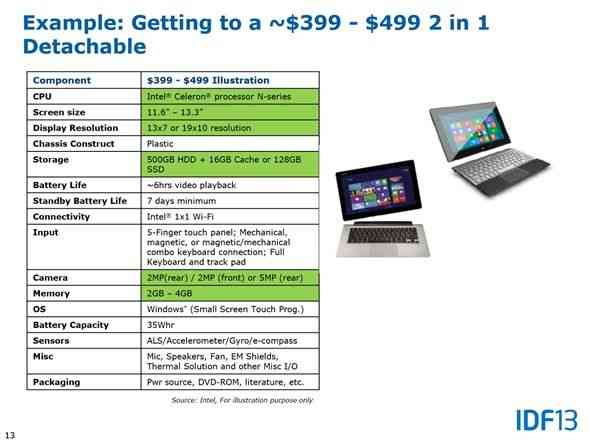 The slide outlines an interesting 2-in-1 PC that (if using an 11.6-inch screen) falls under the Microsoft Small Screen Touch program. SST provides a lower-cost Windows 8 license and includes Microsoft Office (Home and Student) license. Note that for the $399 target price you're unlikely to get a large battery but Baytrail efficiencies should help to keep battery life in the 'acceptable' range. Smaller batteries do reduce weight though. If one considers the price premium charged for Clovertrail detachable in the earlier part of this year, even a $499 price point is going to be attractive. ASUS has already proved it can build a 10-inch detachable on Baytrail-M for $349 so $399 is highly realistic.
Importantly, the tablet section of a Baytrail-M 2-in-1 is going to be far more consumer friendly (lighter!) than the Ultrabook equivalent. Given the price-point, the weight and the matching Windows 8 user interfaces there's real potential for sales here as the 2-in-1s become one of the most dynamic PC hardware and software builds ever. An HDRPC.
Baytrail-M vs Ultrabooks
Looking at performance figures for Baytrail-T that were revealed last week we can expect good performance increases over the Atom Clovertrail generation but performance will not get near that of Ultrabooks based on Core i3, i5 and i7 CPUs where the GPU and CPU architecture is better and clock-rates are higher. At this stage the figures indicate a differential of 2X – 3X performance on an Ultrabook versus a Baytrail-M device. In real-world terms the Baytrail-M based products should feel acceptable for most people. 720p video editing should be quick but 1080p editing could be too slow for productive use. Graphics performance will be similar to what we saw on the first generation of Ultrabooks in 2011 which just about covers some non-intensive games. The best, fast SSD-based Baytrail-M designs should make comfortable desktops for the home user.
The most confusing aspect of Baytrail-M designs will be that they will be slimmer, lighter and cheaper than low-cost 4th-Gen Core designs. Ultrabook branding will be important in order to differentiate the higher-power Core-based designs.
Overview
Baytrail-T allows OEMs and OEDs to make incredibly thin and light tablets and 2-in-1's. The ASUS T100 and Toshiba Encore are good examples. Baytrail-M adds higher clockrates, interfaces and memory support that allow a more productive device to be made. Although the focus could be to align with the Windows 8.1 Small Screen Touch program, there's no reason that Android can't be in the mix. Quick-switch BIOS' exist for multi-OS systems too.