We've seen the Dell Venue 8, the Toshiba Venue, heard about the Acer iconia A1 and had hands-on with the ASUS T100 but now it's HP's turn to launch a Windows 8.1 Tablet on Baytrail. The HP Omni 10 is a no-frills tablet, probably aimed at a professional market rather than a consumer one.
HP Omni 10 Specifications
Intel Baytrail-T (Z3000 series) processor
64Gb SSD (always eMMC for Z3000-series products)
2GB RAM
10" 1900×1200 IPS screen
Micro-HDMI
Micro-USB (USB3.0 ?)
Micro-SD card slot
SIM card slot
8MP (rear) 2MP (front) cams
Office 2013 license included
Bluetooth keyboard and dock available.
Digitizer: No (unconfirmed.)
Weight: Unknown
Price: Unknown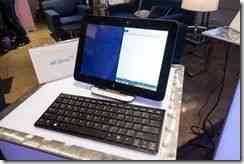 Availability: November
This should be a Connected Standby tablet meaning 300ms availability and always-on WiFi / Windows 8.1 apps.
Engadget mention Celeron or Pentium processor which would indicate Baytrail-M rather than Baytrail-T. The major difference being that the SSD could be a lot faster. We'll try and get confirmation for you but for now we're treating this as a Baytrail-T tablet.
Image Via TabletPC Review. Hat-Tip: Engadget.