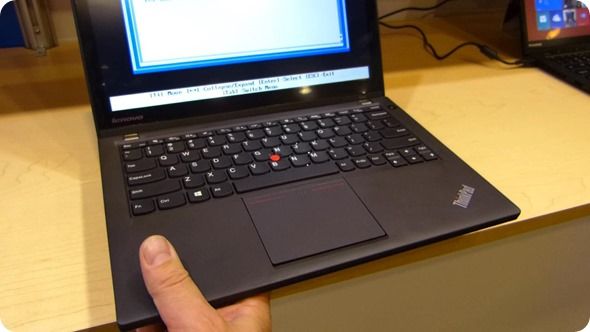 If you're looking for a solid business-focused 12.5-inch Ultrabook, there's only one choice. The Lenovo X240 comes in the usual wide range of screen resolutions, CPU's, memory and batteries but the KVM experience, that's the keyboard, video and mouse, are superb on all versions. I had some hands-on time at IDF this week.
The key feature here is battery life. Not only does Haswell proved a bug boost in battery life / Wh of battery, this Lenovo uses the Power-Bridge feature and offers a range of three external batteries which go up to 72Wh. Power-Bridge means you have a 27Wh battery inside the unit too so hot-swapping is possible. A total of nearly 100Wh will give you around 14 hours of Wi-Fi-On working time. Lenovo talk about up to 18 hours of battery life!
It weighs 1.6KG with the smallest battery option which isn't incredibly light (the Sony Vaio Pro comes in at 1KG with a 13.3" screen) but you're getting that Thinkpad ruggedness and build.
I take a look at some of the details and do the hot-swap trick in the video below.
The Lenovo Thinkpad X240 is a sensible choice for mobile workers needing huge battery life. It would be nice to see a little flair but if that's what you need, the Thinkpad Yoga is there for you!