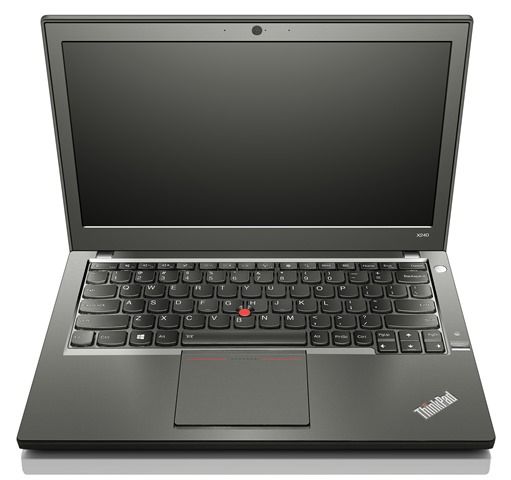 Lenovo launched five new Thinkpads today. We're taking a closer look at each one in turn. First-up is what we consider to be the one that embraces what we love about Ultrabooks. High mobility, long battery life and lots of technology that helps to 'get things done.' The Lenovo Thinkpad X240 will replace the X230 and offer Ultrabook builds on the 15W TDP Haswell processors.
The Lenovo Thinkpad X240 has been re-designed to replace the X230 and includes a smaller screen bezel, a larger trackpad and a hot-swap battery feature called power-bridge which, like the Panasonic AX, allows swapping of a replaceable battery while the internal battery takes the load. External batteries will be offered in various sizes up to an impressive 72Wh.
The X240 will have CPU and panel options that go outside the current Ultrabook standards (a confusing Ultrabook line-up that Dell has also achieved with the 7000 series) but as always, if you're in the right country or buying the right quantity, you'll probably find the combination that suits you. A full-HD panel is available, by the way.
As for storage, it's not clear if all the HDD options (up to 1TB) are SSD-boosted. A One-Link dock connector is included, as on all the new Thinkpads. Backlit keyboard included.
Weight: Under 3lbs. Thickness, 20.3mm.
A closer look at the trackpad shows a big change in the button design. Lovers of the Trackpoint hardware buttons could be disappointed.
Ports visible on the press images are:
VGA port
DisplayPort
USB 3.0 (x2)
Smart Card Reader
Ethernet
SIM Card slot
Docking Port
Fingerprint reader
Not visible on any images are an SD card slot although this is said to be one an external dock along with the HDMI port. This could be a problem for some. (source: PCPer)
The ThinkPad X240 is available starting end of October priced from $1099.
Overall, the move to Haswell is going to be interesting for anyone looking for a new business-level ultraportable. The Full-HD panel on a 12.5-incher could be productivity-boosting for some too. We'll get some hands-on with this at IFA next week and bring you more information and confirm the details on the docked ports. Until then, what do you think?