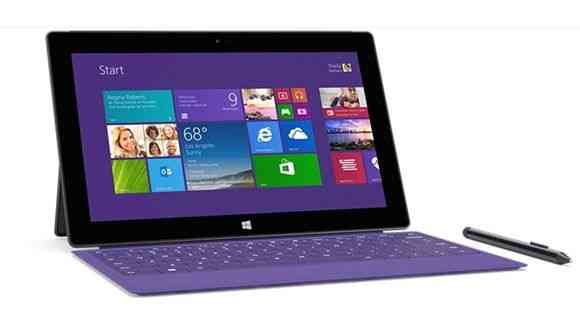 Surface Pro 2 has just been announced and, surprisingly, Microsoft haven't chosen to go with a Y-Series low-TDP Haswell CPU for a thinner design. For the time being the Tap 11 remains the thinnest and lightest Haswel-based tablet. What Microsoft have done is gone for processing power and lots more battery life, largely enabled by a keyboard cover with a 30Wh battery inside. There's a brand new docking station too which seals its position as a professional tablet. Size and weight doesn't change and price starts at $899.
Specifications…
Our Surface Pro 2 information page is now live and updating here.
Haswell Core i5 at 1.6Ghz (Early reports say Core i5 4200U with HD4400)
Weight: 2lb / 907 gram
Battery Life: Estimated 7hrs WiFi-On, Web working
Connected Standby – Confirmed NO.
Fan inside – Yes
Size: 27.45×17.29×1.34cm (As thick as previous: 0.53inches)
US Price starting at $899 (Euro pricing below)
10.6" 1080p Display 1920×1080
4GB or 8GB RAM
Storage: 64GB (37GB free) to 256GB
USB 3.0 on board
WiFI a/b/g/n. BT 4.0
Cams: 720p front and rear. (Not the same low-light cam as on Surface 2)
Dual channel LPDDR3 RAM supported
Microsoft noted that there are now 100,000 apps in the Windows Store
Flipboard and Facebook coming (still!)
Touch Cover 2 is Backlit, costs $119.99 and there's a version with a 30Wh inside. (Power Cover, early 2014 for $199.9, will work with original Surface Pro- Microsoft: "We expect around 50% improvement in battery life for 1st gen Surface Pro with Surface Power Cover.")
The new docking station contains the following ports…
3X USB 2.0
1 x USB 3.0
MiniDisplay Port (for 2x chained displays)
Ethernet
Audio In
Audio Out
Power
Docking station coming in "early 2014" (Will work with original Surface Pro. Ref. )
Pro 2  has 75% more battery life. (possibly only under certain conditions or with the battery cover.)
Speed increased by 20% (Microsoft)
Dual position kickstand
Graphics performance increased by 50% (Say Microsoft, it's a HD 4400 which in my opion won't be much more powerfull the HD 4000)
Dolby added to audio
46% more color accuracy on screen
Internal battery size: 46Wh
1-year of unlimited free calling to landlines on Skype. Free Skype WiFi.
200GB of storage, free for 2 years on SkyDrive.
The active pen on Pro will work on Pro2
Surface 2 will be launching with LTE early in 2014 (not Surface 2 Pro? Unconfirmed.)
Surface 2 Pro supports Miracast
Storage on Surface Pro 2 is via " low-power MSATA"
Display Brightness: 400 nits
No WIfi AC, No NFC
Pricing Germany. Euro
4 GB, 64 GB: 879,- €
4 GB, 128 GB: 979,- €
8 GB, 256 GB: 1279,- €
8 GB, 512 GB: 1779,- €
Pricing US, $
64 GB + Surface pen $899
128 GB + Surface pen $999
256 GB + Surface pen $1,299
512 GB + Surface pen $1,799
The 256GB and 512GB models have 8GB of RAM, the 64GB and 128GB models have 4GB of RAM
Update: Microsoft announced a Surface Remix Project.
Does it have two soundcards inside?
Via Microsoft ,Mobilegeeks and others.