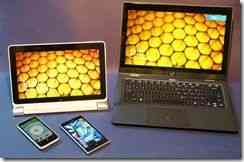 I've been using the Mobile Reporting Kit V12 over the last 5 days and it's been working well. The challenge was to work through a day without any cables. No charging! The Harris Beach Ultrabook, Nokia Lumia 925 plus a  backup phone (Nokia 808) and a camera (Lumix FZ150) worked together to give me my best mobile media studio yet.
Firstly I have to admit that I took one micro USB cable with me; I was too worried that the Lumia 925 would run out of juice during the event because I only had the Nokia 808 with me as a backup phone. Oh yes, there's that to admit too. In the end I left the Lumia 620 at home and replaced it with the Nokia 808 and it was all because of an audio interview I had planned. The Lumia and 808 worked side-by-side as good quality audio recording devices (although the 808 wins that by a long shot!)
On to the main challenge though. I can report that the Harris Beach Ultrabook did the business averaging well over 6hrs of screen-on working time in addition to 5-6 hours of connected standby time (connected) during the 8am-11pm period of an IFA day and a 100% charge.
The Ultrabook was connected to WiFi and 3G (sometimes both) and was used for, on average, 6 video edits, renders and uploads per day (10 on the first day.) about 4 articles, a lot of social activity,  photo editing and uploading, emails and the usual web distractions. Screen brightness was kept at comfortable levels in the brightly lit areas I was working in.
Video editing and rendering speed was impressive to the point that it was beating most solutions around me. No import shadow file time was needed and rendering was 6 times faster than real-time in my 720p YouTube case. Intel Quick Sync on Haswell is really fast!
It's interesting to look at the powercf report from Windows 8 (more info) too. Before I went to IFA I was averaging 9hrs usage per charge. At IFA, because of the work load and screen brightness that was down to about 6.5hrs.
| | | | |
| --- | --- | --- | --- |
| 2013-08-31 | 'On' Battery life. (Screen on, active) | | Connected Standby (Wifi on) |
| 2013-09-02 | 9:26:42 | | 8:29:19 |
| 2013-09-03 | N/A | | N/A |
| 2013-09-04 | 9:43:47 | | 8:44:40 |
| 2013-09-05 | 6:34:04 | | 5:54:09 |
| 2013-09-06 | 6:37:53 | | 5:57:36 |
| 2013-09-07 | 6:00:25 | | 5:23:55 |
Total weight for everything, including a fairly rugged backpack, was 5KG. (Glasses, wallet 2 phones, USB WiFi, SD cards, Lumix FZ150 camera and other bits and pieces.
I didn't take the W510 at all during the day (in fact I'm using it for the first time on the flight out of Berlin to San Francisco with 88% of last weeks original charge still available. )
12-hour Computing
I've proven that an Ultrabook can have all-day battery life with 6hrs hard working usage during that period. The challenge now would be to get the weight down. Hello Sony Vaio Pro 13 or Lenovo Yoga 2 Pro or even, and I'm very tempted, the amazing Sony Vaio Tap 11 with Y-Series Haswell at about 1KG total weight with a very compact size.
Reporting kit V12 will stay with me this week as I cover IDF in San Francisco where we're expecting Bay Trail news. We're also expecting to see the first devices from manufacturers. The Toshiba Encore could be one of them.
Video: Battery Life at IFA 2013