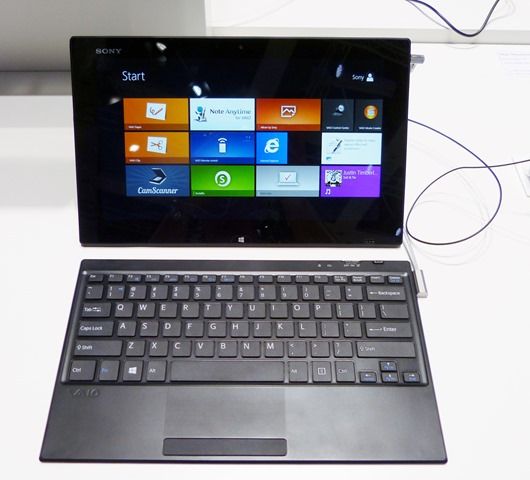 The Sony Vaio Tap 11 is, in my opinion, setting the engineering benchmark for Core-based Tablets for 2013 and most of 2014. It's 9.9mm thick and weighs 780gm. If it was running Atom, it wouldn't be anything new but a 1.5Ghz Core CPU is a different matter.  It's such a step forward that I wasn't sure whether to report this on UMPCPortal or Ultrabooknews.
I took the chance to dig into the device manager at IFA today, took some pics and put together a video for you.
Update: New Gallery added.
Firstly, lets talk abut the keyboard which is RF-driven (not BT) and has an internal battery that charges from the main unit when 'closed. The keys have extremely short throw but would be OK for a mini report, long email or a long session of social updates. The mousepad is rather basic. It fits nicely as a cover but isn't that stable. You'll see me slipt the cover off by accident in the video.
The main unit houses a 30Wh battery which, in my estimate, is going to be good for 4hrs of 'work.' I'm not sure what the marketing people are quoting but it's not that important. 5-6hrs of offline video playback should be expected. There's no indication that this is a Connected Standby-capable device at the moment and I see that there's an Intel NGFF format N-7260 Wifi card inside. Usually, the CS capable 'Ultrabooks' have a Broadcom chip. Let's hope Intel have got Centrino and CS working together though.
The SSD is a recent Toshiba 128GB model.  THNSNH128GMCT, an mSATA with max 534MB/s read rate (theoretical.)
CPU: Core i5-4210Y (1.5Ghz – 1.9Ghz) with 6W SDP (11.5W TDP) and Intel HD 4200 Graphics (to 850Mhz – relatively low-end.)
RAM:4GB
NFC
WiDi / WiUSB
Digitizer – N-Trig with Adobe Software support.
Ports: MicroSD, blanked port (looks like MicroSIM), USB3.0, Micro HDMI, Headset.
Battery capacity: 30Wh as reported by 'powrcfg'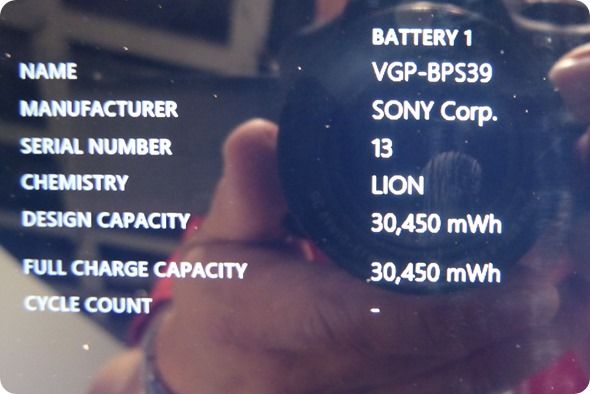 Sony Vaio Tap 11 Video Hands-On