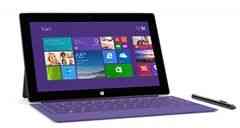 Now that a few days have passed since Microsoft announced the Surface Pro 2 it's time for me to give some thought to the product and its target market. Why?  Because it confuses me.
The Surface Pro 2 is a productive tablet with a detachable keyboard but at 10-inches it's not ideal for that. Maybe it's more focused on all-day mobility? Oh wait, there's a docking station so it's both? But it's damn expensive! Have Microsoft tried too hard to cover all bases and compromised on all of them? `Where exactly is Microsoft going with an expensive 10-incher and why haven't they addressed the small screen tablet market with Surface?
At 907 grams the Surface Pro 2 tablet is very light for a Core-based Haswell-U PC although it's heavier than the Sony Vaio Pro 11 which includes the keyboard. The 900gm, however, takes the tablet out of most consumer usage scenarios because it's too heavy. You'll need a lap, chair arm or table to get the most out of it. It's not the best way to use Modern UI.
With the two-position tablet-wide stand (landscape mode only) and a digitizer, docking station and battery-pack keyboard it's clear that Microsoft wants to make a pro device but that 10-inch sizing has always been a difficult one. Despite full-HD resolution there simply isn't enough screen space for major productivity. The 10-inch productivity market is a restricted one, especially when the entry-level product, with power-keyboard and docking station is going to cost around $1300.
Not only is the price am issue…
Whatever size the tablet, it needs to be under 800gm or less to become attractive for the vast majority of people for casual consumption; the requirement that's driving most of the tablet sales. Ask anyone to hold the first iPad and they'll be shocked at the weight. 600gm or less is the target weight for the 9-11-inch range.
Then there's the competition. The Sony Vaio Pro 11 and Pro 13, the Sony Tap 11 (which is a masterful bit of engineering) and even upcoming Baytrail-M tablets and 2-in-1s. While the ASUS T100 10-inch 2-in-1 might not cut it as a power-house, it has a far more consumer friendly tablet weight and it costs just $399 with 64GB storage. It meets a big market, head-on.
The question has to be asked – why didn't Microsoft take the opportunity to match markets where there are more customers? The 7-9 inch tablet market is hot and the 13.3-inch market matches mobile students and business perfectly. The 7-9-inch market is perfect for Modern UI, the 13.3-15.6-inch market is perfect for desktop. The Dell Venue 8-inch, launching at $299 in perfect for Windows Modern UI. The Samsung Series 9 is perfect for Windows Desktop UI. I'd argue that the 11.6-inch Sony Vaio Tap 11 is a better middle-ground and will be the better fit for people wanting both consumer and productivity use scenario. They've sacrificed a little power (by using the Y-series processors) but have got the tablet down to a much more usable 780 gram.
The Surface Pro 2 is one of the cheapest digitizer-equipped Haswell PCs around and if we are to believe the battery life claims, one of the most efficient. It's a smart bit of kit  that is likely to appeal to a lot of you reading this (let us know below!) but that's missing the point that there's a small market for this specification-set and it won't be a mass-market hit. It won't raise the profile of 'Surface' and it won't change the economics of developing for Windows 8 and that's really what Microsoft need to do.
Maybe Microsoft are happy to leave the consumer market open for the OEMs with Baytrail products though. They're coming, starting October 18th.