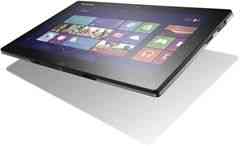 Baytrail-based tablets and 2-in-1s are our focus here for the time being. Baytrail-T products will be available next week and following that we'll see Baytrail-M products but while that's happening, Clovertrail-based devices are available at ever-improving prices. Baytrail doesn't mean that these 'old' products suddenly become useless and as prices drop, you can find some really nice bargains out there. Windows 8.1 will improve them, Windows Store will make them more useful over time.
What's Clovertrail good for?
Modern UI. Anything that runs in the modern UI runs well with Clovertrail. OK there are a few gaming exceptions but the point here is that the Windows 8 Store is improving all the time which means the Clovertrail tablets will become more and more useful over time. Don't ignore applications like Bing News which provides a really good newspaper experience. Skype, Explorer (it's great on a tablet), TuneIn, Weather, Kindle, Nextgen Reader, Wordament (I'm going nuts over this game!) Xbox Music, Nokia Music and lots more. Video playback on Modern is easy and efficient if you're using H.264-based files up to 1080p. Over 100,000 apps are in the Store now.
Desktop usage is more limited because some apps out there simply need too much CPU power or memory. These 32-bit 2GB Clovertrail devices can't handle many new desktop games, Office gets a bit slow. But there's a lot that does work and having that desktop 'backup' is comforting.
Don't forget that Clovertrail tablets are truly multi-user. As a family tablet/PC they're appealing.
Strike Price
Prices have come down a long way and are likely to drop further over the next months. I bough a Samsung ATIV 500T with 64GB storage, 3G for 900 Euro earlier in the year. It has a digitizer layer and a good keyboard and speakers. It's called the Samsung ATIV Tab 5 now and it's available for 600 Euros. With Baytrail-based 10-inch 2-in-1's starting at $350, prices for Clovertrail PCs should come down further. 10-inch 64GB tablets should go to $299 and 2-in-1's to $399 unless they have special features like digitizers, additional battery or 3G/4G.
Bargains Today
The question is, how long do you wait? There are some good bargains out there already and stock will be limited.
In general I'm not going to recommend anything with a 32GB storage module and that applies to Baytrail devices too unless you're only going to use Modern UI apps or are not planning to store much data on it. 32GB is a little too tight for most users though. I'm also not recommending the Acer Iconia W3 which was the first 8-inch Windows 8 device. There's much better coming for much the same price.
In the USA I haven't seen any stand-out, stock-dumping bargains yet although prices are dropping and there are a few interesting options.  These tablets stand out for me with the Lenovo Lynx being the bargain of the bunch.
Lenovo Ideatab Lynx (11.6-inch) – $349 or $369 from Amazon (Don't buy the keyboard for this. It's not good IMO.)
Vivotab Smart (10-inch) – $449 (With Office Home and Student)
Lenovo Ideapad Miix 10 – $449
If you're looking for something with a keyboard then check out these two…
We've spotted a great offer in the UK on the same Samsung. The ATIV 500T with WIn 8 Pro and the keyboard for 399 pounds. Update: The price just got hidden. Look at all the offers and you'll find the 399 offer from Amazon.
In Europe the Lenovo Ideatab Lynx with 64GB for 399 Euro. You can charge this via USB. No digitizer, no keyboard. I don't recommend the keyboard on this product.
What to watch for
On the 18th October the first of the new Baytrail products will be available. Windows 8.1 goes into the pot too and out comes a wave of publicity. Expect Intel , Microsoft and OEMs to start their advertising which means interest for the old stuff suddenly starts to drop. During the last week of October and the first weeks of November you could see one or two real bargains.
Tip: Watch out for HP Envy X2 prices as the new model feeds-in during November. It's a great bit of kit with the keyboard dock.
If you spot anything, let us know. Either contact us or drop a note in the comments here. Oh, and let us know what device you're holding out for and what your 'strike' price is.
For Sale…
[Germany/QWERTZ] I'm selling my Samsung ATIV 500T with 64GB storage, 3G for 499 Euro. It's in perfect condition as I've only used it for testing. QWERTZ keyboard. Contact me if you're interested.