Fujitsu announced a slew of new Windows 8 devices a few days ago and among them is what will probably be the poster boy for Bay Trail tablets – with an Atom Z3770, 4GB RAM and a 10.1-inch screen with a special touch.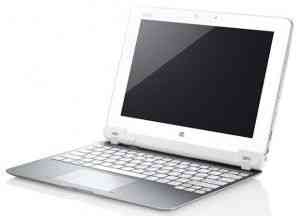 The spec sheet for the Q584 is long and so far looks to be the best specced Bay Trail tablet announced. That amounts to the Atom Z3770, 4GB RAM, USB 3.0 plus micro USB port, up to 128GB eMMC storage, micro SD card slot and the crown jewel, a 10.1-inch 2560 x 1600 (16:10 aspect ratio) multi touch display with a digitizer layer supporting pen input. And that's not all.
Also on board are dual band Wifi, Bluetooth 4.0, optional 3G/4G, NFC and GPS, front and rear webcams. The Q584 is also dust proof, water proof, has a strengthened display and is MIL-STD tested.
One option that is missing is an actual video output of any kind on the tablet itself but it appears that will be enabled by connecting via an accessory cable which will provide either HDMI or VGA output.
More options are available in the form of accessories which include a docking keyboard, desktop dock and what Fujitsu describes as "Shells", a Smartcard shell and a Functional shell that would allow mountable accessories. All this is available in a device promising 10 hour battery life from its lightweight chassis that starts at 640g and 9.9-16mm thin, depending on how its configured.
Pricing has not been disclosed but availability is expected at the end of November. So how do you think the Fujitsu STYLISTIC Q584 ranks against the likes of the buy paxil online Dell Venue 11 Pro, HP Omni 10 and others?