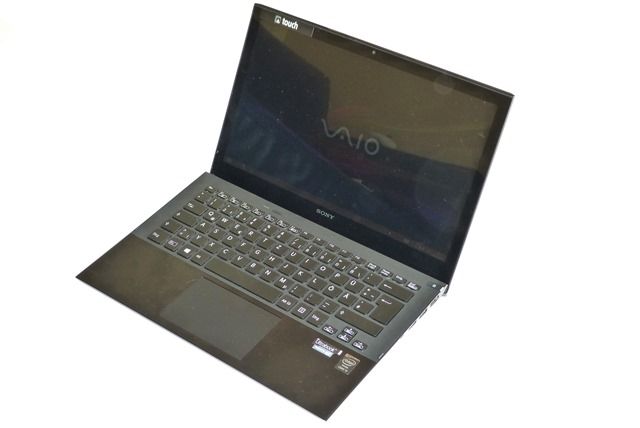 A 1KG Ultrabook is an engineering feat. The Toshiba Z830, at 1.1KG still surprises 2 years after launch. Since then though we haven't seen many attempt to break the 2.2 pound mark. Only the NEC Lavie Z, an expensive Asia-only model, and the almost unknown Inhon Blade Carbon have launched in the 13.3" bracket. The Sony Vaio Pro 13 is a far more globally available product though. It's not only lightweight, it offers a FullHD Sony Triluminous touchscreen, a good set of specifications and, although the battery is smaller than your average Ultrabook battery of 2012, good battery life.  The Haswell CPU is responsible for that, and some good performance figures. At the extremes of tight engineering one often finds a few issues of note and that's the case with the Sony Vaio Pro 13. You'll have to accept a few of those if you want the lightest 13.3-inch Haswell-based touch Ultrabook on the market. Read more in the full review below.
Highlight
Before we go into the standard review, let me give you this little bit of information. Here I am typing in LiveWriter with WiFi on and connected at 300Mbps, a good screen brightness (I'm near a Window.) It's silent as I work and the battery drain is showing that I'll be OK for over 9hours. You'll understand the significance of this statement as you read through this review.
Sony Vaio Pro 13 Test Device Specifications
Model SVP132A1CM (German keyboard layout)
CPU type: Intel Core i5-4200U (Haswell, 1.6Ghz nominal)
Graphics: Intel HD 4400
OS: Windows 8 Pro
Display Size:13.3-inch 1920×1080
Screen Type: LED-Backlit LCD. Glossy
Backlit keyboard. Mini cursor keys. Large trackpad.
RAM: 4GB
SSD: 128GB (Toshiba THNSNH128G8NT mSATA)
Battery capacity: 37 Wh non-removable with external battery expansion connector.
Weight: 1060 grams /  2.33 pounds(measured with 37Wh batt)
Ports: HDMI (full size), Full SD card slot. USB3.0 x 2,  headset, extended battery connector.
WiFi/BT4.0 – Centrino N 7260 AGN with WiDi/WiUSB
TPM 1.2
1MP front cam. Stereo speakers. Array mic.
NFC
Price (USA) Starting at $1149.99 and going up to 2599.99 (Sony.com). In Germany starting at €899.
First Impressions
The Sony Vaio Pro 13 looks great and feels incredibly light but there are a few parts of the device that look a bit plasticky. We loved the feel of the keyboard and the screen looked punchy and bright. Keyboard backlight? Check! Screen wobble was noticeable and changing screen angles revealed that this isn't an IPS full-angle screen. That might be an advantage in terms of security and screen power usage for some, a disadvantage for others.
A video presentation is included at the end of this article.
External Build, Ports, Ergonomics
Parts of the Sony Vaio 13 Pro feel a little thin and it gives an impression of cheapness. Flex adds to that feeling but it's one of the trade-offs here. We saw the same on the Toshiba Z830 screen although the Sony Vaio Pro 13 screen is much more sturdy than that. Some of the edges feel sharp too so trying to hold the Vaio 13 up by one corner can be painful, if that's the sort of thing you do!
With every thin design comes the same old issue of port space. Sony have done well here by offering a full-size HDMI port right up at the rear of the 'wedge' along with two USB3.0 ports (one for sleep-and-charge) and a full-size SD card slot. Mobile photographers, videographers take note!
Working fascia (Keyboard, screen,mouse)
Starting with the keyboard we can give top marks. A small left shift-key and small cursor control keys (on this German layout, note) might be a negative for some but accuracy is excellent and comfort is up there with some of the best, especially when this keystroke depth is considered. The screen is good too although it's got some fading away from the optimal center position. That's not as much of an issue with this tablet-top-centric device as it is with tablets although it's enough that the user can see fading to the edges of the screen when face-on and close (30 cm, 6-inches).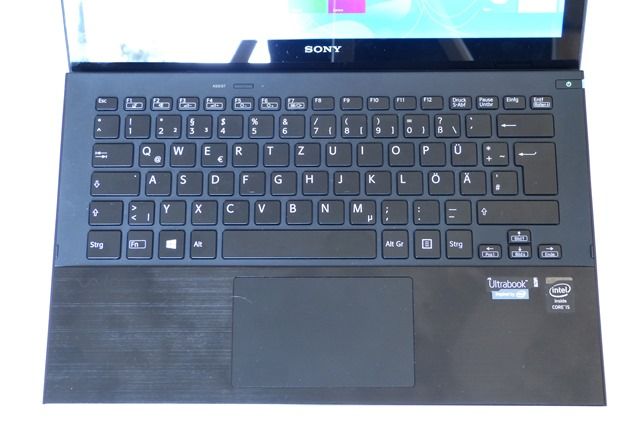 The mouse isn't quite up to the standard of the keyboard. We weren't accurate with the left mouse button during our 10-day test period. For mouse movement it's fine though. One thing to be aware of is flex in the base unit. We can push the center of the keyboard down at least 2mm. No-one can say at this stage if it's going to be an issue over time or an impact absorbing feature. It doesn't appear to affect typing or normal use of the mouse.
More information on the Sony Vaio Pro 13 including news items, videos, gallery and more – in our database.
Continue to Page 2 of the review.
Pages: 1 2