Almost immediately after the release of the W3 8-inch tablet from Acer there have been rumors of and requests for a successor and now finally Acer has officially announced the W4, with improvements that could make this the 8-inch tablet to have.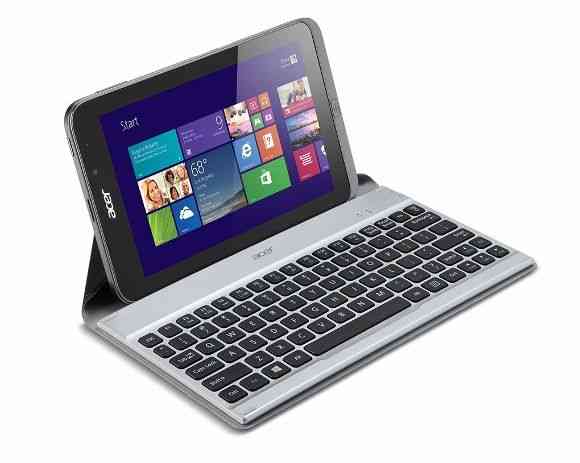 The Iconia W4 looks a lot like its predecessor physically but actually comes in a bit thinner and lighter, at 0.42″(10.75mm)  thin and 0.91 pounds (415g) weight. The real improvements however are with the internals and the display with the W4 now running on a Bay Trail Z3740 CPU and a 1280×800  optically bonded IPS display with Zero Air Gap technology for better readability in sunlight.
Other specs remain the same as the W3, with Bluetooth , wifi, micro SD, micro HDMI and micro USB ports and 32GB and 64GB storage options. The rear camera however has been upgraded to a 5MP one while the front camera has an unchanged resolution at 2MP. Battery life is rated at 10 hours for web browsing and 8 hours video playback.
The W4 will be available with several accessory options including a Crunch Keyboard, which consists of  a Bluetooth keyboard and case,  and Crunch covers which can fold into a stand for the tablet and come in various colors. No mention of a stylus so its unlikely to have a digitizer for pen input.
Prices start at $330 for 32GB and it should be available later this month.
So how do you think the W4 ranks against the other 8-inchers that will be available starting October 18th?