The ASUS Transformer Book T100 looks, before it's available in most countries, to be a hit. Reviews have been good and the interest and buying levels appear to be high. Here on UMPCPortal it's the #1 most viewed product in the database. On the huge Europe-wide price comparison engine Geizhals, it's the #1 (we assume most-viewed product) in the tablet and notebook category. The really significant statistic is that it's the number 5 bestseller in the laptop category at Amazon.com where customers have given it 4 out of 5 stars.
Over in Europe we're seeing a couple of new models in the line-up which will interest those looking to store all their music and videos because they have a 500GB drive in addition to the 32 or 64GB main storage. The model DK007H adds the drive to the 64GB storage and the DK005H does the same to the 32GB model. 32GB + 500GB will cost the same as the 64GB model. The same price hike, 50 Euro, applies to the 64GB+500GB model. The hard drive is in the docking keyboard. (No, there's no hint of a keyboard with additional battery!)
Back to the reviews we see that people are getting in to a few more detailed tests now. Gaming videos are appearing too. Kyle Muel has at least 12, [update 26! now] videos up. Crysis, Starcraft 2, Diablo 3 and Counterstrike are amongst them. FIFA 14 runs surprisingly well. MobileGeeks also have an ASUS T100 gaming video up.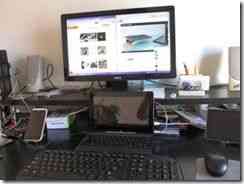 One of my favorite articles about the ASUS T100 in the last few weeks has to be this one from Liliputing where Brad uses the ASUS T100 as a desktop for a day. "…you get a surprisingly capable workstation." I'm using the Acer W510 with an external keyboard screen and mouse right now and although it's fine for blogging, it's got limits.  The ASUS Transformer Book shows just how much of an improvement Baytrail is over Clovertrail. It's a truly dynamic hardware and software combination which shows us the future of PCs.
Our database page has been updated with reviews and other links.