At the Intel Software Summit this week I had the chance to use the ASUS Transformer Book T100 for a day. I was very impressed at the performance level, quality and battery life but handed it back thinking it would work better as a productive device in an 11.6-inch version – as long as the tablet was the same weight.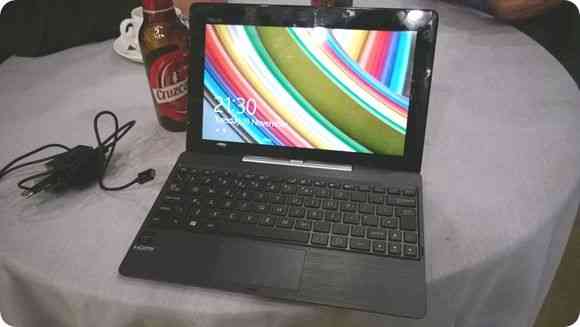 You'll find a lot of praise for the T100 out there both from professional reporters and owners. It's the biggest selling laptop on Amazon.com (currently $379 for the 64GB version) and we're seeing a lot of activity for it here on the site. It's kicking off the 2-in-1 category nicely and will account for a lot of consumer Windows 8.1 sales. Developers take note. (My estimate is that it will sell 0.5 million units before the end of the year if ASUS can keep up with stock demand.)
To add to my previous hands-on then, I was impressed by the USB charging. A lightweight charger is a bonus although charging speeds are fairly slow. It will rarely need charging in the day though because after 8hrs of a 'on' at a conference (with about 4.5hrs screen-on) I had 40% battery free.
I also got the chance to test WiDi. It works!
I will say a word about the keyboard and touchpad. I felt that I was really back in that awkward netbook zone again as I used it. it was cramped and the touchpad was very basic. it's a shame because this platform supports productive working. A boost to an 11-inch screen and a larger keyboard could be the answer for those wanting the best in dynamic-range. Obviously the Dell Venue Pro 11 is a hot contender here, and available very soon.
The ASUS T100 is the rare thing that is a bargain AND a ground-breaking product. ASUS' price is so aggressive that it will, without a doubt, catalyse a big 2-in-1 device category just like it did with the netbook category. This time round though I feel it's going to be a bigger, longer-lasting category. There's no device size or specification restrictions this time round. Where netbooks peaked at about 50 million sales a year, I expect the 2-in-1 category to be much bigger and to last much longer. Developers, pay attention because there are already app opportunities related to the T100.