This is going to be music to some peoples ears because APT-X is now supported on Ultrabooks and notebooks with some Intel Centrino Bluetooth stacks. I heard the news in September but it's only now I'm able to confirm it.

That message just popped up on the Samsung ATIV Book 9 Plus I'm testing as I paired some Sennheiser PX210 Bluetooth headphones.
For those that are interested, APT-X is a protocol that carries audio over Bluetooth in better quality than the A2DP protocol that you usually get with the BT Stereo Headphone profile. The difference is easily noticeable because A2DP is actually quite poor. I'm enjoying Google Play, wirelessly, right now. I might look out for an APT-X reciever for my HiFi now too. For more info, see this CSR APT-X info page.
The big question of course is "Does my Ultrabook or notebook support APT-X?" It's the question that gets asked all the time where APT-X is concerned. More marketing and branding is needed here.
For reference, the ATIV Book 9 Plus has an Intel Centrino Wireless-N 7260 module which includes an Intel BT4.0 + H.S adapter with the following driver.
Date: 01/08/2013
Version: 3.1.1307.364. [The latest Centrino PROSet/Wireless Bluetooth Software for Windows 8 today is 3.1.1309]
I don't think the hardware version is that important as APT-X a software-stack feature but I could be wrong there. I've put a call in to CSR to see if I can get more info. Most Ultrabooks have Centrino WiFi and Bluetooth now because of the WiDi requirement (some, with Connected Standby, may have Broadcom chips as they've licensed WiDi technology) so there's a chance that nearly all new Utrabooks will work.
This is the notification you'll get when an APT-X device connects to your APT-X enabled Ultrabook or laptop. Good luck!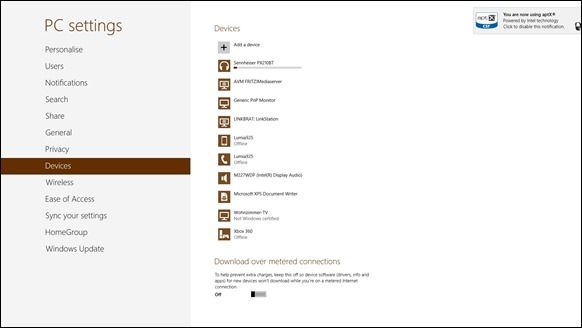 P.S. I can thoroughly recommend the Sennheiser PX210's for sound quality.