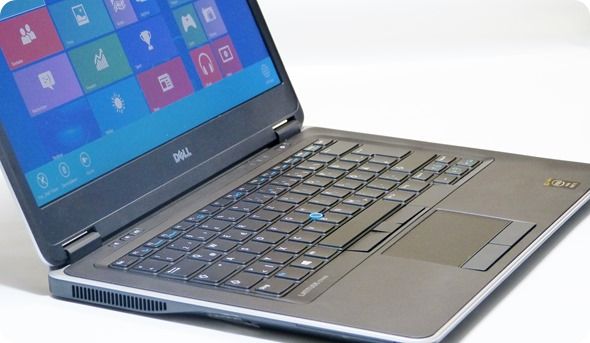 The Dell Latitude E7440 could be the most productive Ultrabook we've ever tested. Working fascia, speed, battery life, ports, options, the list of plus-points goes on, but only for certain versions. Read on for a full review of this business-focused Ultrabook.
Dell Latitude E7440 Test Device Specifications
Production sample in test. (Not final retail build.)
Model DPN:GCp4P A00 (German keyboard layout)
CPU type: Intel Core i5-4300U (Haswell, VPro 1.6Ghz-2.9Ghz)
Graphics: Intel HD 4400
OS: Windows 7 Pro
Display Size:14-inch 1920×1080 (matt, non-touch)
Screen Type: LED-Backlit LCD
Backlit keyboard. Mini cursor keys. Trackpad, mechanical mouse buttons and track pointer.
RAM: 8GB
SSD: 128GB (Samsung SM841 mSATA)
Battery capacity: 34 Wh removable. (45Wh optional) with ExpressCharge.
Docking port
Weight: 1.63 kg / 3.6 pounds (measured with 34Wh battery)
Ports: HDMI (full size), Full SD card slot. USB3.0 x 3, headset, Mini DisplayPort, Gigabit Ethernet, extended battery connector.
Wi-Fi/BT4.0 – Centrino AC 7260 AC/A/B/G/N dual-band 2×2 (up to 867 Mbps) with WiDi/WiUSB
Broadcom Smartcard Reader
VPro, Fingerprint Reader,
Webcam. Stereo speakers. Array mic.
Options include 3G, WiGig, Touch Display, Windows 8, HDD, TPM
US Version highlights MIL-STD-810G testing. (We assume the same standard of product is used globally.)
Price: 1239 Euro (with 47Wh battery) Equivalent US model: Latitude 14 7000 Series ranges from 999 to 1849 (pre configures models.)
Our Dell Latitude E7440 information page here.
First Impressions
With a slightly more 'consumer' look and feel compared to the Dell Latitude 6430U it may look better to some people but we felt it lost a bit of its business look. It feels solid and secure in the hand though and there are no creaks or rattles, the screen hinge feels extremely solid and the port selection on the rear gives confidence that this is going to be ready for nearly all connectivity situations.
The E7440 doesn't feel as light and portable as many Ultrabooks but remember this is a 14-inch unit. First-boot to Windows 7 was a little disappointing to us in terms of time but it would be 'quick' for anyone coming from a Windows 7 hard drive laptop.
External Build, Ports, Ergonomics
The Dell Latitude E7440 is a solid unit that's slightly thicker than some Ultrabooks. The advantage of that is that Dell were able to pack in a lot of ports. Across the back you've got HDMI, Mini DisplayPort (no eSATA port as on 6430U) and two USB3.0 ports. On the right you've got Kensington lock, USB3.0, headset and a physical wireless on/off switch. That can be useful in some situations to ensure the lowest battery drain or provide a flight-mode on Windows 7. On the left-hand side you've just got the fan output, the SD card slot and, if it's fitted, the Smartcard reader. Stereo speakers are on the front/bottom and on the bottom you'll see the docking port and removable battery. (Not hot-swappable as on, for example, the newer Lenovo Thinkpads.)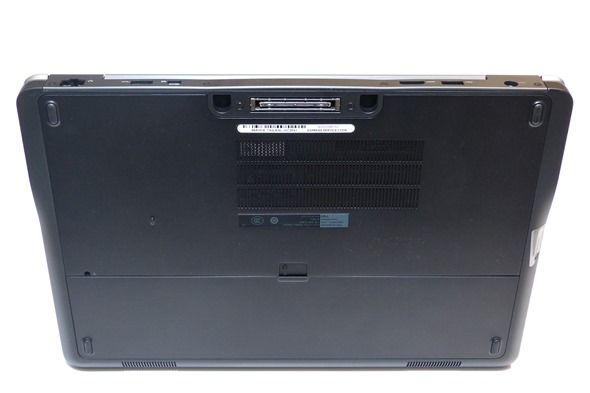 More images in the gallery.
Docking Options
With the WiGig option, the Dell Latitude is one of the few PCs to be able to offer a cable-less docking port. In Europe the docking port D5000 costs a hefty 218 Euros but you should get transparent connections to 3 USB3.0 ports, a DisplayPort, Mic-in, HDMI and Gigabit Ethernet. We haven't tested WiGig bit it's designed for this purpose and we would expect it to outperform any USB3.0-based docking solution.
If you prefer the physical style of docking, which will include power, the E-Port docking solutions fit. For example the 150 Euro E-Port II model with USB3.0, USB3.0/eSATA, Ethernet, Audio, VGA, DVI, DisplayPort and power.


Working fascia (Keyboard, screen,mouse)
The keyboard is a gem. It's big, backlit, has separate touch pointer and mechanical buttons which might attract those that are disappointed by the button-less trackpad on the new Lenovo Thinkpad range. The keyboard had a bit of flex around the J and K keys which is a build-quality issue to watch out for in our opinion. (See section on rear-panel access to find out the reason for the flex.) In use though, we found the keyboard productive and very stress-free to use. There are four backlight levels.
Above the function keys you'll find separate volume control buttons and the power button. (As this isn't a convertible, all buttons are hidden within the clamshell when the screen is closed.)
The touchpad is a very accurate multitouch unit.

More images in the gallery.
The screen, a 14-inch 1920×1080 unit with matt finish, was bright and sharp. Color seems very good to our eyes and viewing angles are excellent. We can't comment on the touch-screen version but it will be glossy and heavier. The 1366×768 model we briefly tested had a poor, washed-out screen unit and in our opinion doesn't do justice to the Latitude brand. For business uses that 1920×1080 matt non-touch version is likely to be the best choice.
Rear Panel Access
It's very easy to get to the inside of the unit and it seems there are many user-upgrade opportunities. Simply remove the battery and unscrew the two screws on the top-left and top-right in the battery bay. (Not the ones marked 'P')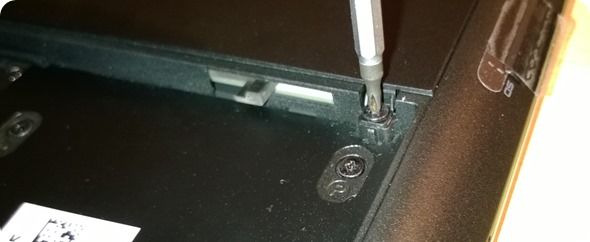 Swapping an HDD for a 2.5" SATA SSD should be easy, dropping in an mSATA drive, additional memory and, worth noting, dropping in a 3G card because the antenna is pre-wired. It's very rare to see that. Here are images of a 4GB HDD version and an 8GB SSD version. Click to enlarge.
In the images you can see the configuration of the PCIe/mSATA ports. We suspect that if you choose SSD +3G/4G you'll end up with a 2.5" SATA SSD and not the Samsung mSATA that is tested here.
With a thought on that keyboard flex we checked to see if the keyboard was tightly screwed down…and found a missing screw.
by stealing a keyboard screw from the second E7440 we have here we were able to correct most of the keyboard flex. The products provided are samples so we suspect that they didn't go through the same QC as production models but the issue will be passed back to Dell.
One more thing while were in the battery bay because it's here you'll find the 3G/4G SIM card slot.
Security and Other Features
We are not equipped or qualified to test the security features on the Dell Latitude E7440. VPro / AMT, Fingerprint Reader, SmartCard reader, TPM and Dell security software are available. Some of the required Dell ControlVault software wasn't pre-installed on our sample either so although we tried to test the fingerprint reader, we couldn't get through the training process.
Intel Smart Connect: Not tested
Intel WiDi / Wi-USB/Miracast : Not tested
Software: Dell Backup and Recovery, Dell Protected Workspace, Dell System Update, Intel Rapid Storage, Intel Anti-Theft (requires registration with 3rd-party), Dell Power Manager
Express Charge: Not fully tested but it appears to be around 2% charge per minute (on a nearly empty battery.) Note, this appears to increase heat and cause the fan to turn on more often.
General Performance.
As we've said before, a Haswell Core i5 and a good SSD is a great combination. This VPro version comes, as always, with additional software running in the background but the extra clockrate helps to push up the performance figures. The 34Wh battery is a little disappointing although efficiency levels are high on this Ultrabook. A 47Wh additional battery is a must for road-warriors.
Disk performance
Using Crystal DiskMarkX64 we see some very impressive scores for a single SSD system. The headline figure is the 4K write score of 76.89. A maximum sequential read speed of over 500MB/s and write speed of 374MB/s will ensure fast file copies and hibernation.
Cinebench
Cinebench 11.5 under battery power shows us that Dell aren't limiting the experience when mains power is unavailable. Scores here are as good as other Core i5 Haswell devices. Of note is the noise under load which is there, but consisting only of air noise. We suspect a large amount of air is being moved but due to the thicker design, there's a lower 'note.' After the tests were finished the fan turned off quickly.
R11.5 CPU test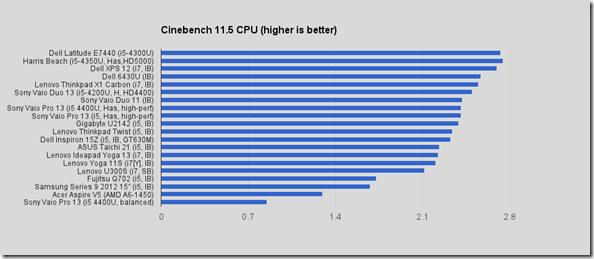 Cinebench CPU Battery Power, Balanced Performance: 2.73
R11.5 OpenGL test
Cinebench OpenGL: Battery power, Balanced Performance: 17.1
Peacekeeper
Peacekeeper is a good test of the way many of us use our browsers – interactively, with web-apps and graphics. Tested here with Chrome
PCMark 7
Scoring 5034 on the PCMark7 test, the Latitude E7440 is the best we've ever tested in this benchmark. It's an important score for business users as it includes tests of disk, graphics and web performance. The Latitude 6430U scored 4697 earlier in the year.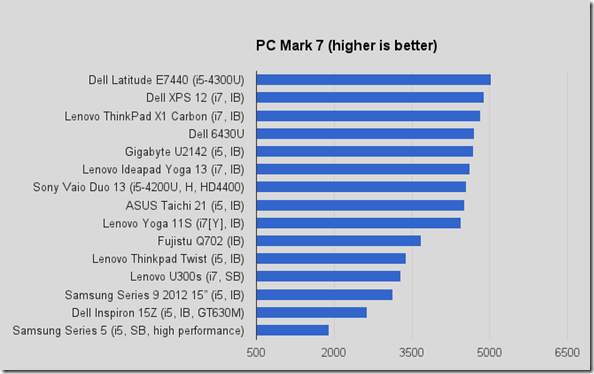 Gaming
The Dell Latitude E7440 isn't targeted at gaming but despite that it produces a fairly good 3DMark score. A good combination of CPU, GPU, RAM, SSD and thermal performance is likely to be the reason. What a shame that Dell doesn't offer a CPU with the HD5000 or HD5100 (Intel Iris) graphics!
3DMark 11 P1001
3DMark06 6230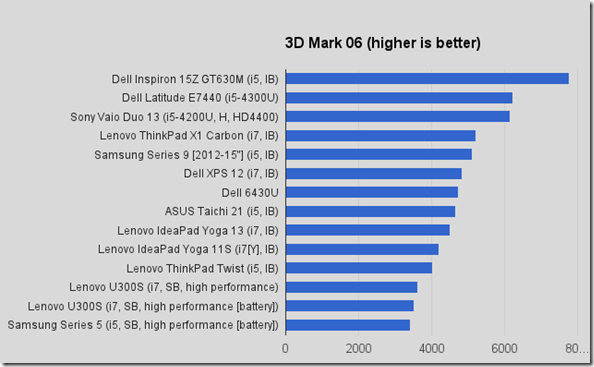 Video Encoding (Handbrake with Quick Sync)
Under Windows 7 the handbrake test with Intel Quick Sync support appears to work as well as under Windows 8 scoring 318 FPS on a 1080p to 720p down-conversion. (H.264, 1080p, 50FPS.) Our previous Harris Beach test Ultrabook (also Haswell) scored 335 but a 1st gen Ultrabook, the Toshiba Z830, scored just 60 showing how QuickSync has improved over the generations of Ultrabook. The Latitude E7440 is good enough for basic 1080p editing and rendering.
Battery Life
Charging rates were fast on the Latitude E7440 which offsets some of the issue of having a smaller battery. Top-ups are quicker than on other devices but it still means you have to bring your charger with you. Alternatively you take a spare battery if you plan to be without power for the day but how much battery life will you get out of the system in general? Using the built-in perfmon we tracked the power drain for various usage scenarios and have determined a battery life based on each condition.
Balanced Mode, Wi-Fi On, Screen On lowest, Idle after fresh boot. 4.18W
Balanced Mode, Wi-Fi On, Screen On highest, Idle after fresh boot. 7.1W (Screen appears to take 3W if set to max)
Balanced Mode, Wi-Fi On, Screen on 50%, Web browsing with Chrome. 7.4W
Above test was completed with no fan noise.
Balanced Mode, Wi-Fi Off, Screen on 50%, 1080p video playback loop in WMP. 10.2W
Windows 8 vs Windows 7 Battery Life
The above figures are all above what we've seen on other Ultrabooks and there was always the suspicion that Windows 7 would not be as efficient as Windows 8 so we took a Windows 8 version of the same Dell E7440 but with the 1366×768 screen, 4GB RAM a hard drive and the non-VPro Core i5-4200U. The difference was huge. In the same test as above
Balanced Mode, Wi-Fi On, Screen On lowest, Idle after fresh boot. 3.8W
Balanced Mode, Wi-Fi Off, Screen on 50%, 1080p video playback loop in WMP. 4.8W (compared to 10.2W)
Some of the difference will be due to VPro additional processes and the fullHD screen processing but we wouldn't expect more than 1W to be added by these extra loads. Clearly Windows 8 helps to get the best out of the new Haswell processor. Under gaming or video processing it's likely that some of the 'advantage' of Windows 8 is lost bringing it closer to the Windows 7 scores but under general office usage, Windows 8 should bring a usable advantage in battery life.
Battery life summary
Based on these figures we would estimate Office usage battery life , standalone with 50% screen brightness as follows:
Windows 7 34Wh battery. Average power usage 9W = 3hrs 45min
Windows 7 47Wh battery, Average power usage 9W = 5hrs 15min
Windows 8 34Wh battery. Average power usage 7W = 4hr 45min
Windows 8 47Wh battery. Average power usage 7W = 6hrs 45min
Video playback on Windows 8 is clearly much, much more efficient than on Windows 7 so if you're traveling and wanting to use the E7440 as a video playback device, choose Windows 8!
Wi-Fi Performance
Although we didn't perform any formal Wi-Fi tests it's clear that the dual-band 7260 AC module works well with 300Mbps connections available in the 2.4Ghz band 2 walls away from a hotspot. File transfers speed seemed as good, if not better than the average Ultrabook we've reviewed. Various Wi-Fi options are available but at least there doesn't seem to be any issues with the antennas.
Heat and Noise
Fan noise is seldom heard on the E7440 under office-like conditions. Under some image editing operations while writing this report we heard the fan for a short time. The SSD version can be silent but the HDD produces a constant fan-like noise which can be heard in very quiet working conditions. Under load the fan noise is well-managed and this is likely to be due to the large aperture fan outlet and relatively thick sizing of the Dell Latitude E7440. Fan noise reduces to zero quickly after working loads have finished.
Note that Windows 8 could be a quieter operating system choice due to to lower average power usage and that ExpressCharge may also increase heat and therefore fan operation.

Other Notes
McAfee trial removed for this review
Occasional Screen disconnect on Windows 7 is almost as if another screen was trying to connect.
Lifting of keyboard frame near bottom right as if it has come unglued. (On two different models.) Note the supplied models are production samples. The issue has been passed back to Dell.
Keyboard flex. See rear panel access notes (and our fix) above.
NFC sign on casing but no evidence of the hardware. (Not available under Windows 7 we suspect)
Speaker quality and loudness very good for this class of Ultrabook
Target Customer
From low-cost to high-end the Dell Latitude E7440 / 7000 Series is there for many customer types but one thing's for certain, the 1366×768 screen is really quite poor. Given the upgrade opportunities, consumers looking for a solid Ultrabook with ports should at least take the non-touch FullHD screen with Windows 8. But it's business customers were really talking about here and there's a little dilemma to deal with. The non-touch Windows 7 version appears to offer exactly the right balance for business users who can then specify the drives, Wi-Fi and security options they want…unless battery life is an issue. In which case the Windows 8 version is going to be a better bet, simply because it's more efficient. But if you've got Windows 8, you probably want a touchscreen and that's going to add cost and weight, not ignoring the fact that IT departments might not be ready for Windows 8 yet. The battery life tests above, however, should be a good argument for IT departments to start testing. For small businesses or one-man businesses the VPro version is not worth it and in that case we'd recommend the Core i5 with SSD, Windows and the matt, non-touch screen. Touch IS productive on a laptop, especially on one that has a lay-flat screen, but you'll lose the matt finish and add an estimated 100-200gm in Gorilla Glass.

Summary
One of best tests of a business laptop is to to simply write the review on it, without additional keyboard or mouse. In that respect the Dell Latitude was efficient, quiet and stress-free at producing this 2700-word report. Plug in an external monitor and it's an instant workstation. Assuming our little keyboard and casing issue (see above) were just pre-product QC issues then the build is solid and the working fascia with the FullHD matte display is superb. Ports are plentiful, upgrade is easy and Wi-Fi performance seems high quality. With those bases covered it's a great starting point. Add your required security (the only option missing on the Dell site were self-encrypting drives) and make sure you buy the battery capacity you need (don't forget the quick-charge feature) and you've got yourself a high quality Ultrabook. Price may be an issue for the privateer but we suspect not for an IT department who will be considering TCO rather than retail price. The Dell E7440 improves on the E6430U and feels like a product that will see you well through a number of Ultrabook generations to come.