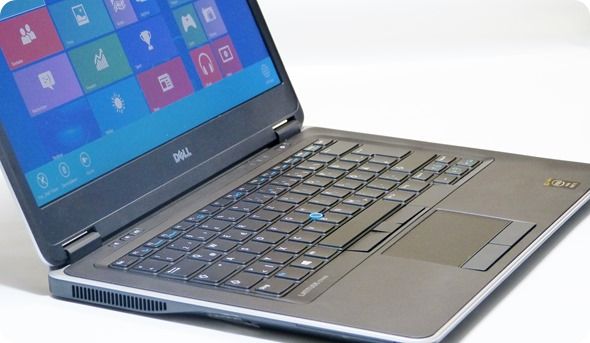 The Dell Latitude E7440 could be the most productive Ultrabook we've ever tested. Working fascia, speed, battery life, ports, options, the list of plus-points goes on, but only for certain versions.  Read on for a full review of this business-focused Ultrabook.
Dell Latitude E7440 Test Device Specifications
Production sample in test. (Not final retail build.)
Model DPN:GCp4P A00 (German keyboard layout)
CPU type: Intel Core i5-4300U (Haswell, VPro 1.6Ghz-2.9Ghz)
Graphics: Intel HD 4400
OS: Windows 7 Pro
Display Size:14-inch 1920×1080 (matt, non-touch)
Screen Type: LED-Backlit LCD
Backlit keyboard. Mini cursor keys. Trackpad, mechanical mouse buttons and track pointer.
RAM: 8GB
SSD: 128GB (Samsung SM841 mSATA)
Battery capacity: 34 Wh removable. (45Wh optional) with ExpressCharge.
Docking port
Weight: 1.63 kg /  3.6 pounds (measured with 34Wh battery)
Ports: HDMI (full size), Full SD card slot. USB3.0 x 3,  headset, Mini DisplayPort, Gigabit Ethernet, extended battery connector.
Wi-Fi/BT4.0 – Centrino AC 7260 AC/A/B/G/N dual-band 2×2 (up to 867 Mbps) with WiDi/WiUSB
Broadcom Smartcard Reader
VPro, Fingerprint Reader,
Webcam. Stereo speakers. Array mic.
Options include 3G, WiGig, Touch Display, Windows 8, HDD, TPM
US Version highlights MIL-STD-810G testing. (We assume the same standard of product is used globally.)
Price: 1239 Euro (with 47Wh battery) Equivalent US model: Latitude 14 7000 Series ranges from 999 to 1849 (pre configures models.)
Our Dell Latitude E7440 information page here.
First Impressions
With a slightly more 'consumer' look and feel compared to the Dell Latitude 6430U it may look better to some people but we felt it lost a bit of its business look. It feels solid and secure in the hand though and there are no creaks or rattles, the screen hinge feels extremely solid and the port selection on the rear gives confidence that this is going to be ready for nearly all connectivity situations.
The E7440 doesn't feel as light and portable as many Ultrabooks but remember this is a 14-inch unit. First-boot to Windows 7 was a little disappointing to us in terms of time but it would be 'quick' for anyone coming from a Windows 7 hard drive laptop.
External Build, Ports, Ergonomics
The Dell Latitude E7440 is a solid unit that's slightly thicker than some Ultrabooks. The advantage of that is that Dell were able to pack in a lot of ports. Across the back you've got HDMI, Mini DisplayPort (no eSATA port as on 6430U) and two USB3.0 ports. On the right you've got Kensington lock, USB3.0, headset and a physical wireless on/off switch. That can be useful in some situations to ensure the lowest battery drain or provide a flight-mode on Windows 7. On the left-hand side you've just got the fan output, the SD card slot and, if it's fitted, the Smartcard reader. Stereo speakers are on the front/bottom and on the bottom you'll see the docking port and removable battery. (Not hot-swappable as on, for example, the newer Lenovo Thinkpads.)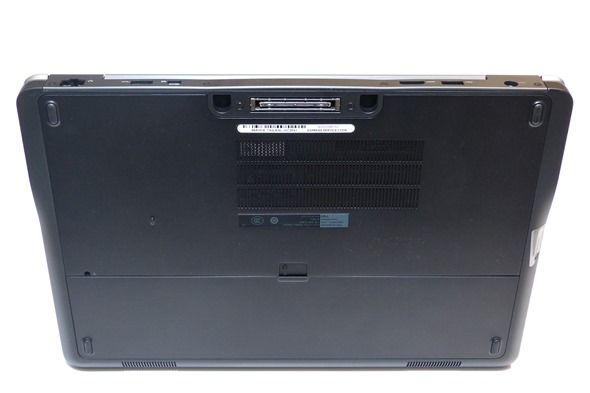 More images in the gallery.
Docking Options
With the WiGig option, the Dell Latitude is one of the few PCs to be able to offer a cable-less docking port. In Europe the docking port D5000 costs a hefty 218 Euros but you should get transparent connections to 3 USB3.0 ports, a DisplayPort, Mic-in,  HDMI and Gigabit Ethernet. We haven't tested WiGig bit it's designed for this purpose and we would expect it to outperform any USB3.0-based docking solution.
If you prefer the physical style of docking, which will include power, the E-Port docking solutions fit. For example the 150 Euro E-Port II model with USB3.0, USB3.0/eSATA, Ethernet, Audio, VGA, DVI, DisplayPort and power.
 

Working fascia (Keyboard, screen,mouse)
The keyboard is a gem. It's big, backlit, has separate touch pointer and mechanical buttons which might attract those that are disappointed by the button-less trackpad on the new Lenovo Thinkpad range. The keyboard had a bit of flex around the J and K keys which is a build-quality issue to watch out for in our opinion. (See section on rear-panel access to find out the reason for the flex.) In use though, we found the keyboard productive and very stress-free to use. There are four backlight levels.
Above the function keys you'll find separate volume control buttons and the power button. (As this isn't a convertible, all buttons are hidden within the clamshell when the screen is closed.)
The touchpad is a very accurate multitouch unit.

More images in the gallery.
The screen, a 14-inch 1920×1080 unit with matt finish, was bright and sharp. Color seems very good to our eyes and viewing angles are excellent. We can't comment on the touch-screen version but it will be glossy and heavier. The 1366×768 model we briefly tested had a poor, washed-out screen unit and in our opinion doesn't do justice to the Latitude brand. For business uses that 1920×1080 matt non-touch version is likely to be the best choice.
Rear Panel Access
It's very easy to get to the inside of the unit and it seems there are many user-upgrade opportunities. Simply remove the battery and unscrew the two screws on the top-left and top-right in the battery bay. (Not the ones marked 'P')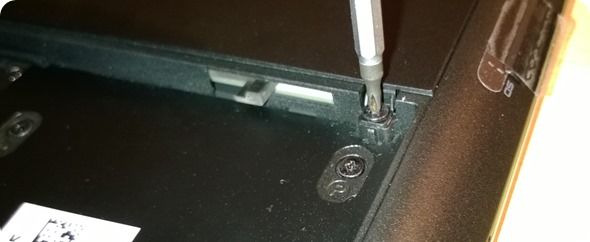 Swapping an HDD for a 2.5" SATA SSD should be easy, dropping in an mSATA drive, additional memory and, worth noting, dropping in a 3G card because the antenna is pre-wired. It's very rare to see that. Here are images of a 4GB HDD version and an 8GB SSD version. Click to enlarge.
In the images you can see the configuration of the PCIe/mSATA ports. We suspect that if you choose SSD +3G/4G you'll end up with a 2.5" SATA SSD and not the Samsung mSATA that is tested here.
With a thought on that keyboard flex we checked to see if the keyboard was tightly screwed down…and found a missing screw.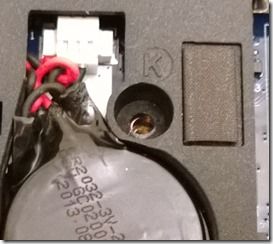 by stealing a keyboard screw from the second E7440 we have here we were able to correct most of the keyboard flex. The products provided are samples so we suspect that they didn't go through the same QC as production models but the issue will be passed back to Dell.
One more thing while were in the battery bay because it's here you'll find the 3G/4G SIM card slot.
Security and Other Features
We are not equipped or qualified to test the security features on the Dell Latitude E7440. VPro / AMT, Fingerprint Reader, SmartCard reader, TPM and Dell security software are available. Some of the required Dell ControlVault software wasn't pre-installed on our sample either so although we tried to test the fingerprint reader, we couldn't get through the training process.
Intel Smart Connect: Not tested

Intel WiDi / Wi-USB/Miracast : Not tested

Software: Dell Backup and Recovery, Dell Protected Workspace, Dell System Update, Intel Rapid Storage, Intel Anti-Theft (requires registration with 3rd-party), Dell Power Manager

Express Charge: Not fully tested but it appears to be around 2% charge per minute (on a nearly empty battery.) Note, this appears to increase heat and cause the fan to turn on more often.
Continue to Page 2 of the review.
Pages: 1 2