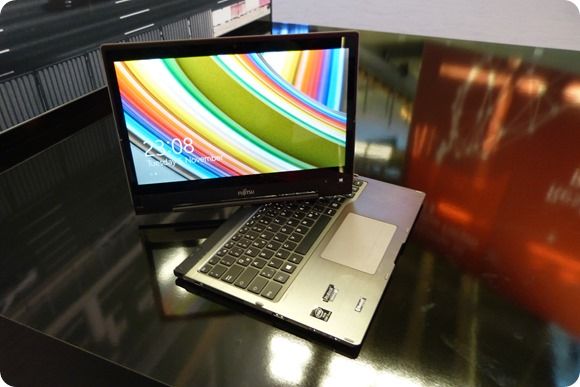 The Fujitsu T904 is my kind of Ultrabook. I'm a big fan of the swivel form factor despite that ever present issue of the flex and possible weak-point that the single-point screen hinge introduces. You wouldn't believe how useful it is to flip the screen round just to show someone an image. With a digitizer you've also got an impressive lay-flat tablet. If you've got a non-slip surface, the T904 even works in easel mode.
At 1.49KG it's exceptionally light for a 13.3-inch convertible but it's not light enough to be a casual tablet.
The base version comes with a 320GB SSD-cached hard drive and Core i5 4200U but you'll also find encrypted SSD's, VPro, smartcard reader and 8GB RAM options. The screen is at 2560×1440 but I can not confirm it's using IGZO technology.  Big trackpad, good keyboard and a good range of ports make this a professional all-round 2-in-1.
Starting price is around 1600 Euros which gives you an idea of where this is being targeted. Like all the latest Fujitsu products, it's business-first.
There's a PDF datasheet for the T904 available here.