We highlighted the Q584 / QH55 a few weeks go. It's the Baytrail tablet that pushes all the specifications to the max. I've added the official specifications to the database and later today I should have a chance to get hands-on. If there's anything specific you need to know, please drop a question in the comments ASAP.
All the specifications for the Fujitsu Stylistic Q584 along with a few ideos, images and links are in the database.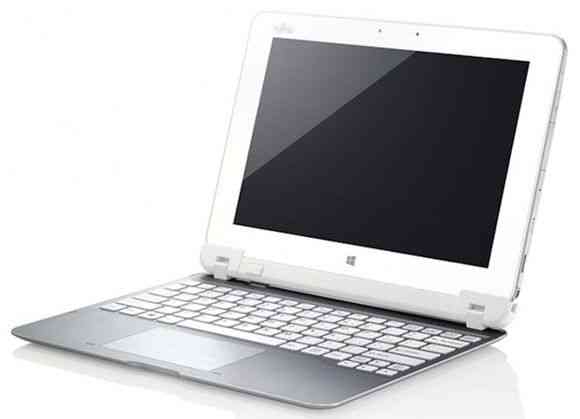 The 2560×1600 IGZO display with multitouch and digitizer layer is impressive enough but it's the 38Wh battery that caught my eye. For a 'rugged' tablet (oh yeah, It's waterproof) that weighs 640gm that's pretty impressive and should give 10 hours of real-world usage. I notice that the 4G version has 6 antennas. (2 WiFi, 2 UMTS, 1 GPS, 1 NFC) so you should expect some good quality when it comes to the rather important act of connecting to the Internet. There's more too because you've got a docking station AND a docking keyboard. I'll try and get more information on those accessories.
This Windows 8.1 tablet uses the top of the range quad-core Z3770 processor. Baytrail-M processors with 64it operation and SATA disk interfaces will be available next year but you may not find that devices using those processors won't match the lightweight build of the Q584. Weight is critical to a usable and mobile 10-inch tablet.
We're waiting on price but of course as this is a business-focused product we're not holding our breath for the lowest price. If, however, you can get the tablet, keyboard and dock for under $1000 I'll be impressed. It's available mid-Dec. Stay tuned for a hands-on post in a short while.
Disclosure: Fujitsu have paid for my travel to the Fujitsu Forum 2013.