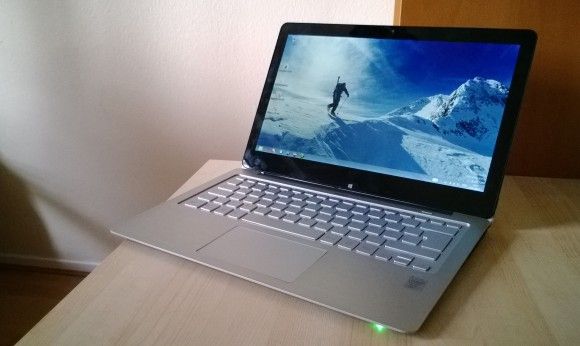 On first glance at IFA in September [article + video] I wasn't overly impressed with the Sony Vaio Fit 13A Flip (let's just call it the Sony Vaio Flip 13 shall we?) The wedge shape felt quite thick in tablet mode and the finish didn't feel like quality. I've got a second chance to look at this 2-in-1 now though and it feels much, much better than the first time around. If you're looking at the Samsung ATIV Book 9 Plus or even the ASUS Zenbook UX301, this is one convertible that should be on your 'research this' list.
I won't be able to do the usual full review of this Sony Vaio Flip 13 as it's a production sample from August and has been used at a number of trade events.  Both the mousepad and power control aren't working as expected and it's a real shame because having had some quality time with the Flip 13 I  really like it.  I've done as much of a review as is possible.
The overall look of the device is good and you'll feel proud owning it but there's quite a lot of plastic. The  keyboard feels a little cheap too. Although I'm able to type fast, I'm not getting great feedback and there's more key rattle than I'd like to see on a $1000 + convertible. There is a great fullHD screen with digitizer layer though which is one feature the Yoga 2 Pro doesn't offer. The digitizer layer uses N-Trig technology.
Pricing, in the US, starts at $1099 for a Core i3 version (4GB RAM, 128GB SSD) but the Core i5 version seems better value with 8GB at $1199. The version I have here comes in at $1599 on the Sony US store today. I don't see any discounts yet so keep any eye out for them. A $999 holiday special in the USA is a safe bet. In the UK you can find the Core i5 version of the 'Multi Flip' for £950 (post-tax price.)
Sony Vaio FIT 13A Flip specifications in test:
Screen: 13.3-inch 1920x1080p Trilumious
RAM: 8GB
CPU: Core i7-4500U
SSD: 256GB
Note: As mentioned, the power control isn't working on this production-sample. The fan never turns on and even after letting the unit cool (it get warm arounf the power-input area) I can't get it to clock above 2Ghz. It should Turbo Boost to 3Ghz. After 30 seconds of hard work the CPU drops down to 600Mhz. That's not normal.  I've checked through BIOS and Vaio settings apps but can't release the CPU and fan. Even a fan diagnostic test doesn't start the fan. Maybe it's broken? Maybe it's disabled?  I hear that a lot of people are disappointed at the noise levels the fan generates. I'm sorry I can't test further, readers.
A small issue that I can confirm though is the battery capacity. 36Wh is small. Despite that, the Haswell processor platform should be able to achieve 6hrs of WiFi-On Web working but be aware that any heavy work will bring that number down considerably. In use today, Windows 8 has measured an equivalent xxhrs of use. [figure will be added from powercfg when available after midnight]
Connected Standby is not supported.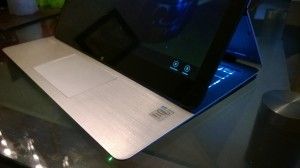 The screen flips fairly easily if you remember to unlock it and you get three, or even four modes of operation. Clamshell (traditional laptop), laptop with reversed screen, tablet and, if you're careful, easel mode. Sony should have provided a way to make the easel mode more stable because it's a good one for seat-back operation and digitizer usage. Unfortunately Windows 8 still thinks the keyboard is available in this mode and doesn't bring up the on-screen keyboard when needed, at least on this production sample.
I suspected the SSD was fairly fast before testing and it looks good under CrystalDiskMark. A 4K write speed of 43MB/s is good.  4K read speed: 12MB/s,  Max read:459MB/s. Max write: 250MB/s
NFC Tap-and-Send works well over WiFi [Tap and Send over WiFi video demo here] but the position of the NFC receiver is awkward. Lifting the device in laptop mode to tap a phone is not cool. It's not even that easy in tablet mode.
Maybe I'm getting fussy about my backlit keyboards but I felt that Sony could have done better here.  On this silver keyboard it's better to keep the backlight off in some low-light conditions because the backlight reduces the contrast between the keys and the translucent printing. To turn the backlight off you have to go into the control centre. Awkward.
Vaio FIT 13A Flip owners. If you spot anything in this article that is clearly fixed in production models, please help us by dropping a note in the comments. Your experiences with the reported fan issue would be helpful too.
Summary
At 1.3KG this convertible offers a lot for the weight. The tablet mode, especially, is great with the digitizer pen. Battery capacity could be better and the keyboard isn't top of the class but there's nothing 'bad' here. All the ports that a consumer would need are available (no DisplayPort though) and the overall style of the Flip is great. The screen looks like a gem too.
The real shame here is that we've got a pre-production model and can't give you a full review because it feels like the Vaio Flip 13 is going to be on many peoples list along with the Lenovo Yoga 2 Pro and perhaps the Samsung ATIV Book 9 Plus and ASUS Zenbook UX301. The Sony Vaio Duo 13 is probably the closest contender though [review here] and the choice between the two is likely to be down to price and hinge preference.
Note: Yoga 2 Pro, Samsung ATIV Book 9 Plus and Sony Vaio FIT 13a will be in a live Q&A session next week. Stay tuned [Facebook, Google Plus, Twitter] for more info.
Video: Sony Vaio FIT 13a Flip / Multi-Flip Studio Overview