Acer must be close to shipping the Iconia W4 Baytrail tablet. Not only has their website leaked the specs and price but Acer Maysia have confirmed the W4 for December.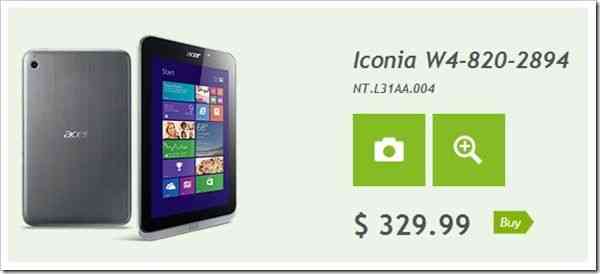 We've added the full specifications to the database here and we'll start tracking and adding more information as we see it. RRP for the 32GB version is $329.99 but there are a couple of things to note. The battery is a 2-cell, 4960mAh unit which would normally be 34Wh but that just sounds way too big. We think Acer have put two cells in parallel for a 3.7V module, meaning 17Wh.  What is certain is there are ports. MicroHDMI, MicroSD and MicroUSB.
Full Acer Iconia W4 specifications here.
View all the Baytrail-T devices together here.
Mentioned on the Iconia W4-820-2894 page is a "physical keyboard." We suspect it will be the same unit as shipped with the Iconia W3 and lets keep our fingers crossed that it's included for the $329.99 price.
Amazon.com have the product in their site (aff.) but it's not linking to a sales page yet.  B&H also have a sales page and are showing the 64GB model for $379.00. Availability here is shown as "End of" Jan 2014.
Source: Google cache.