Dual-OS. It's a possible solution that could bridge the differences between Windows and leading mobile operating systems if it's done right. ASUS already teased us with us the dual-OS ATIV-Q but it looks like there's a smaller tablet offering coming. The M80T has been spotted going through testing at the FCC.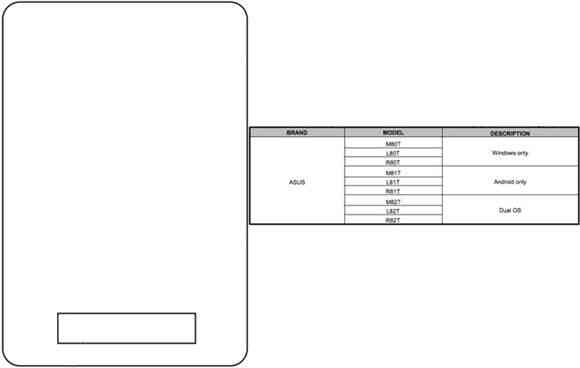 The dual-OS variants are labelled M82T, L82T and R82T 'Dual-OS' and that, my friends, is really all there is to know right now.
The big question is – how is it going to be implemented? There are five possible solutions I know of.
Classic dual-boot. (Requires reboot to change systems)
Insyde style S3 sleep+Memory partitioning for 4-second switch. (Requires 4GB memory.) See video demo below.
Dalvik Runtime solution ( running on top of Windows concurrently) e.g. Bluestacks, Myriad Alien
A fully virtualized dual-OS system running concurrently on a Hypervisor. (Complex, requires lots of memory b/w and a strong CPU)
Dual-CPU system (a-la Transformer Book Trio) which wouldn't fit in a small tablet.
Least favoured, but relatively easy, is dual-boot. Let's be honest though, it's not user friendly. Least possible but potentially the best solution, is dual virtual containers on a hypervisor but that's complex, requires a strong memory bus, lots of memory and strong CPU. It's something that could showcase the strengths of Baytrail-T but would require skilful engineering. In other words, it could be too expensive.
In my eyes, the two solutions that are most likely are Bluestacks (or another Dalvik runtime) or the Insyde BIOS solution (shown in a video below.) The latter does not allow concurrent running. The former, given a Connected Standby build of Windows 8.1, could, but would require quite some work to map-through all the hardware.
Which solution would you prefer? Which do you think is most likely?
Intel are sure to be heavily involved in this. Android + Baytrail is where they are focusing a lot of effort right now. ASUS don't have an 8-inch Windows tablet offering yet.
Source: Engadget / FCC. Via: Mobilegeeks