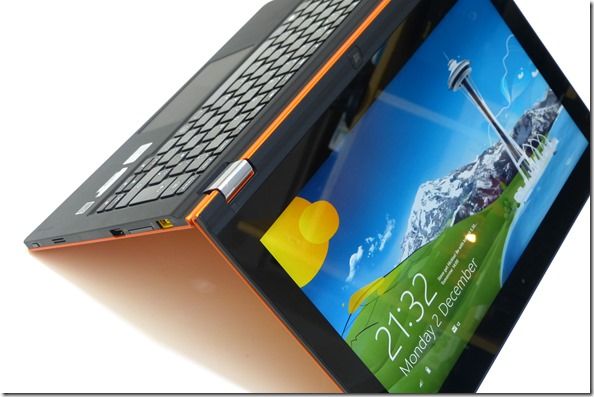 The Lenovo Ideapad Yoga 11S in review here is a current Ultrabook, in previous generation form. The new Haswell versions are feeding-in but this Ivy Bridge version is on offer at $699 so it makes an attractive hybrid of great quality and mobility even more interesting.  Ben reviewed the Core i7 version in July but we have the Core i3 version with 4GB RAM, 128GB SSD, 11.6-inch version here now. It's mostly a great experience but there are, as always,  considerations. Read on to see if the Lenovo Yoga 11S fits your requirements and check out the Core i7 vs Core i3 Yoga 11S comparison.
First impressions
When an orange, ultra-mobile notebook comes looking this good, feeling this good and packing a 'real' CPU and SSD then it's difficult to keep the excitement down. Take the folding screen into account and it's difficult to see how anyone could be unimpressed when unboxing it. We were! The keyboard feels great, as does the silky mousepad. Folding back the screen into tablet mode reveals a far more usable configuration than the same mode on the Yoga 13. First impressions are very good indeed. Mobile, productivity, fun.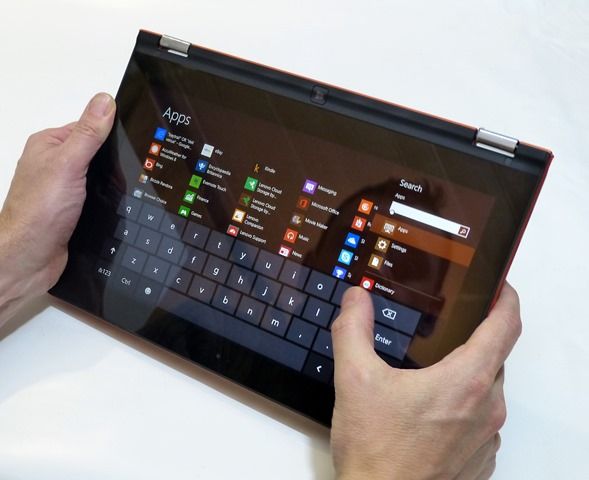 Specifications
A 42Wh battery is packed inside this small 1.3KG device which is impressive in this size and weight class. The 1.4Ghz Core i3 CPU supports Intel Quick Sync, Hyperthreading, operates with a 64-bit version of Windows, supports WiDi, Identity Protection technology, Anti-Theft and more so it's not missing any features apart from the clockrate and Turbo Boost which helps on Ultrabooks with the 'U-Series' CPUs. Obvious to our eyes was a missing keyboard backlight, 'basic' 1366×768  resolution screen, lack of Centrino (needed for WiDi) WiFi module. It's a Realtek 2.4Ghz, dual-channel bgn module on-board. There aren't a huge amount of ports but they're full-size which means full HDMI, full SD card slot and two USB ports, one of which is USB3.0 but not, it appears, with sync and charge.
The screen is a good IPS module (wide viewing angles) and appears to have acceptable contrast and color. It's not as punchy as,say, the Sony Trilumious screens, but overall, it's a good experience.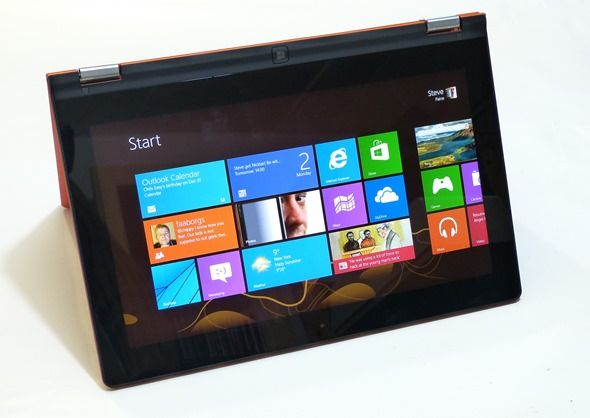 General Usage
If you're going to spend money, spend it on KVM+SSD.  Keyboard – good. Video (screen) – good. Mouse – good. SSD – good. It adds up to a really usable 11.6-inch notebook. But it's more than that. After a few short tests in desktop mode we flipped the screen over into video-viewing mode (perfect for seat-back viewing on flights), transferred some videos and enjoyed good viewing quality and reasonable sound quality. [Having just finished testing the Samsung ATIV Book 9 and experiencing the sound quality there, we're a little unimpressed with the speakers to be honest.]

More images in the Lenovo Yoga 11S gallery.
The Lenovo Yoga 11s, like the Yoga 13, feels more like a great notebook than a tablet. The keyboard works really well (reminding us of the Lenovo Ideapad S205 from a few years ago) and there's enough power and speed that it doesn't hold you back in normal operations. The CPU isn't Turbo Boost-enabled but it does support video encode/decode in hardware. It's actually pretty fast as a basic 720p video editor and we even tested  1080p work with no problem in Cyberlink PowerDirector11. Google Hangouts and Skype should be smooth too but for some reason the Webcam went missing during our review. We suspect a hardware fault here as the Webcam refuses to show in device manager, even after attempting to install new drivers. Maybe the hand-gesture manager, a near useless feature, turned it off, forever? We note that others are reporting this in forums. We haven't upgraded all drivers or moved to Windows 8.1 on the Yoga 11S.
After some time with the keyboard (this review mostly written on the 11S) we were very happy with the results. The accuracy and lack of stress means you'll be able to type for a long, long time. Yes, a backlight would have been really helpful but a $3 USB gooseneck lamp can help here. Larger keys with more travel are available on some notebooks but for this price, size and weight we think it could be difficult to find a better one. The touchpad is nice and silky but obviously doesn't offer the speed and accuracy that a larger pad might offer. Still, it's pretty good for a buttonless job.
Tablet / Yoga Usage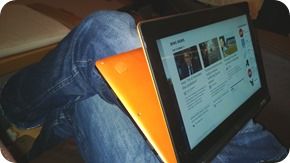 3.1lbs of tablet isn't that nice in casual usage and near impossible to use with one hand. The Yoga 11s is easier to handle than the Yoga 13 but 30% of the weight needs to be lost if it's going to compete in the consumer tablet space. It works as an armchair tablet though where you might find yourself flipping back-and-forth to laptop mode which can often be easier for typing. One mode which works really well is an easel mode. When we tried this on the Yoga 13 the system registered the device as 'in laptop mode' which meant the touch keyboard didn't appear. On the Yoga 11S that's not the case. Watch TV and keep the Windows 8 Wikipedia app up and ready for action. Split-screen with Twitter perhaps? The Yoga 11s is a fantastic TV-buddy.
As a portrait mode reader it's more magazine-style than e-book-style and it helps when there's something to prop the Yoga 11S up on as shown in the images below. We love the Windows 8 Bing News app and spent quite some time reading, again, while the TV was on in the background.
Page 2: Detailed performance report in  Page 2 of the review.
Pages: 1 2