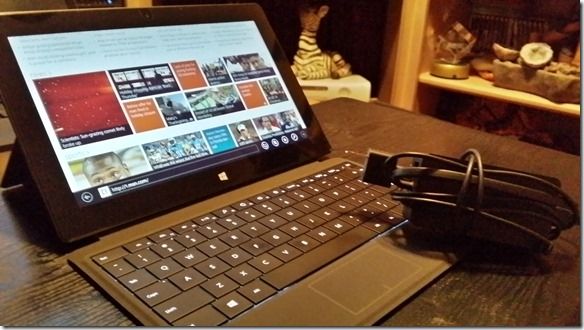 This is a post by Surface Pro 2 owner Hector Gomez who shares his battery life report after one month of usage…
When Microsoft announced the first Surface Pro it got hit with many reviewers claiming battery life was only around 3.5 hours. I personally got a good 5 hours, and yes, if I watched a  lot of videos on it, it did drop down. Though I was able to get a full work day use out of it I accepted I would always have to carry the power supply with me for full-days of usage. That changed with the Microsoft Surface Pro 2…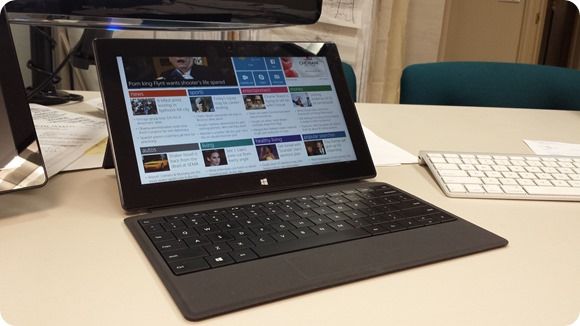 Surface Pro 2 Specs:
Intel Haswell 1.6GHz Core i5-4200U
4GB or 8GB DDR3 SDRAM 1600MHz depends on configuration.
10.6-inch 1920 x 1080 touch screen with 10-Point touch
Wacom digitizer
Graphics Intel HD 4400
64GB, 128GB, 256GB and 512GB SSD available.
802.11b/g/n WiFi
Bluetooth 4.0
Windows 8.1 Pro 64-bit
720p Front and Rear cameras
1 x 3.0 USB port
MicroSD Card slot
Mini Display port
4,200mAh battery
Fast forward about a year later and Microsoft has introduced the Surface Pro 2 with Haswell. Not only will you be getting better battery life in general, in some cases I have been getting up to 9 hours of battery life using "Power Saver" setting. Using the "Power Saver" setting does not impact the performance while using Word, Excel as long as it is not a heavy crunching sheet, web browsing runs smooth and any videos you watch and all your Microsoft store apps that you have loaded on the Surface Pro 2.
After about a month using the Surface Pro 2 on the road and at meetings I can safely leave the power supply behind without the worry that I will run out of battery power. This is big, as I no longer have worry about looking for outlets just in case I will run out of battery power. Yes, you won't be doing video editing without draining the battery but for the most part, if you are using the Surface Pro 2 for Office work, the "Power Saver" setting will be just fine and as a result it gives great battery life. This brings it in par with some of the Atom Clover Trail tablets in battery life, but with the important ability to use the Surface Pro 2 as a desktop replacement with power hungry applications.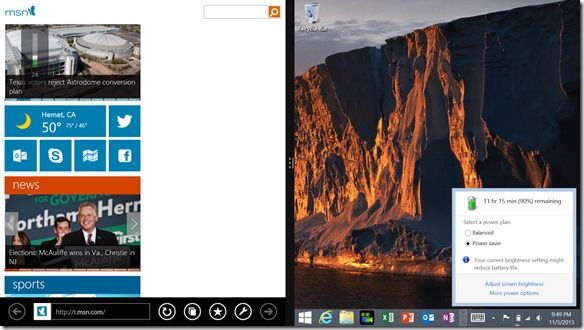 As you can see under "Power Saver" mode under the power profile, it is reporting just a bit over 11 hours. A few times I have used the Surface Pro 2 for about a good 11 hours, with on and off use during this time.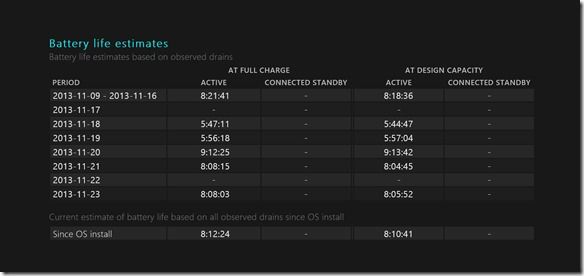 Battery life estimates from the battery report from Windows 8.1 that gives you an idea what your battery life really is. It ranges from just under 6 hours to over 9 hours!
The Surface Pro 2 is a great tablet that also becomes a portable Ultrabook with the Type cover 2 keyboard with back-lit keys. Some have reviewed the Surface Pro 2 and are comparing battery life to other slim tablets that are running either Clover Trail or Bay Trail but this is a fully-capable desktop/tablet that turns in some very impressive real-world battery life.
—————
Hector is active on Twitter and has a YouTube channel where he posts his Surface Pro 2 demos here. Thanks Hector, for your input.
—————