Following on from one of our favorite Ultrabooks of 2012 is the Samsung ATIV Book 9 Plus. It uses the same stylish design as the previous model but offers a few interesting upgrades on the specifications. A QHD (3200×1800) touchscreen and Haswell CPU for example. Read on to find out if the ATIV Book 9 is still up there with the best Ultrabooks of 2013.
Samsung ATIV Book 9 Plus Test Device Specifications
Model DPN:NP940X3G (German keyboard layout)
CPU type: Intel Core i5-4200U (Haswell, 1.6Ghz-2.6Ghz)
Graphics: Intel HD 4400 (Up to 1Ghz clock)
OS: Windows 8 (64-bit)
Display Size:13.3-inch 3200×1800 (glossy, multitouch)
Screen Type: LED-Backlit LCD
Backlit keyboard.  Buttonless Trackpad
RAM: 4GB
SSD: 128GB (Samsung MZNTD128HAGM)
Battery capacity: 55 Wh (52Wh available)
Weight: 1.387 kg /  3.06 pounds
Ports: HDMI (micro), Full SD card slot. USB3.0 x 2,  headset, Gigabit Ethernet (with adaptor cable, included), VGA (with adaptor cable, not included)
Wi-Fi/BT4.0 – Intel Centrino Wireless-N 7260 A/B/G/N dual-band 2×2 with WiDi/WiUSB
Webcam 720p. Stereo speakers. Array mic.
Current RRP Price: 1299 Euro , $1399
Samsung ATIV Book 9 Plus info page here. (videos, gallery, links)
First Impressions
For an Ultrabook reviewer, unboxing a product that looks like one you handled over a year ago (our review of the previous 15-inch Series 9 here) isn't as exciting as it could be but it's not about us, it's about you. You'll enjoy the packaging and the first glimpse of that gun-metal grey. Ours was extremely cold to the touch having been in transport overnight making it clear that the ATIV Book Plus top-side is cased in metal. It's still a great looking design, but that comes at a price – micro-connectors. First look at the screen was impressive, needing prescription glasses for this reviewer to really bring out the clarity. Style is still a 10/10 score.
External Build and Ports
The Samsung ATIV Book 9 Plus is solid, clean and stylish. We welcome a plastic wrist-rest and note that the hinge is solid. The silky smooth metal behind the screen doesn't seem to attract too many fingerprints although it's winter and there aren't many sticky hands around right now.
Micro ports mean cables and dongles and Samsung have only provided what's likely to be the least used adaptor – the Gigabit Ethernet adaptor. Why no VGA or HDMI dongle? It's penny-pinching on a $1399 price and really can degrade the user experience. Thank goodness there's a full SD card slot though because a micro-SD card slot would have been next to useless.
At under 1.4KG the ATIV is light, but not the lightest. Having said that, the large 55Wh battery makes it fairly unique. Battery life testing below.
More images in the gallery.
Working fascia (Keyboard, screen,mouse)
Let's start with the QHD 3200×1800  screen which is bright and offers great viewing angles with surprisingly little fade. 3200×1800 is such a huge resolution too. If you've got the eyes for it, you'll benefit from tons of working area on the screen. There are issue though. With Windows 8 we found it impossible to work with an external monitor because the DPIs were so far apart from each other that either our big-screen, 1920×1080 resolution screen showed everything too magnified. Adjusting that meant that the ATIV Book 9 screen showed everything too small. There are two solutions to this. Either upgrade to 8.1 where you have finer control over per-screen DPI settings, or to drop the resolution on the ATIV Book 9 to 1920×1080, which is where we find ourselves while writing this review. This non-native resolution is sharp so we've left it at that resolution. It also helps with some desktop apps that don't pay attention to Windows DPI settings. It begs the question…do you need QHD?
As for the keyboard, it's short-throw, but accurate and spacious. Our previous review device was the Dell Latitude E7440 and we preferred typing on that but you're looking at 25% more weight and 100% less style with that option. The mousepad is smooth and button presses about average; It's a buttonless pad after-all.
The keyboard backlight is fairly weak and therefore only really useful in low light. It sounds silly but we're getting used to keyboard backlight in normal office lighting now.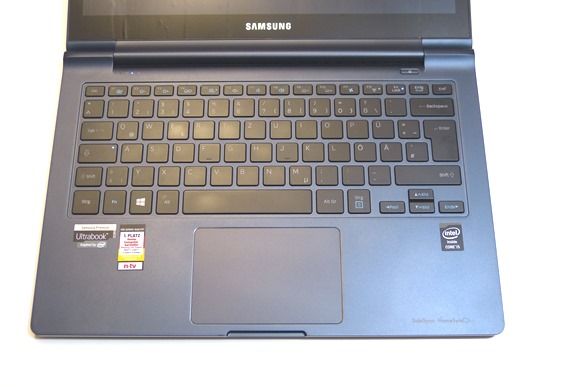 More images in the gallery.
General Performance.
Once again we've got that great combination of 4th Gen Core i5 CPU, Turbo Boost and fast SSD. It really is your baseline for one of the most productive experiences you can get in a notebook and here on the Samsung ATIV Book 9 Plus you've got that big battery too so it means getting work done efficiently, for a longer period between charges. More on the battery life later in the review. Click through for more…
Detailed performance report in  Page 2 of the review.