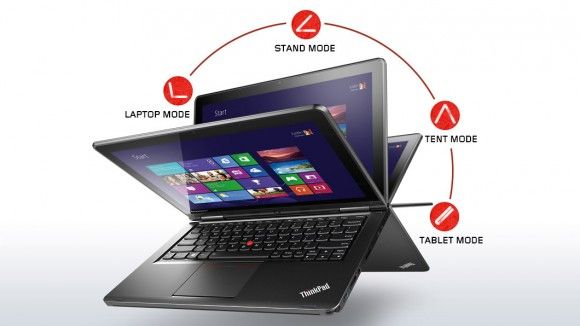 Intel had an impressive showing of convertible devices at the annual CES 2014 convention two weeks ago. Among an array of Ultrabooks was the new 12.5 inch ThinkPad Yoga which I got to check out for the first time. Beyond Lenovo's classic 'Yoga' convertible mechanism is a smart retractable keyboard and an amazing trackpad.
The ThinkPad Yoga is Lenovo's first forray of the Yoga convertible design into their professionally targeted ThinkPad line. In addition to the screen, which can flip all the way back to convert the unit to a tablet, Lenovo has designed what they call the 'lift-and-lock' keyboard. When you flip the screen back to convert to tablet mode, the keys lower to become flush with the keyboard base, like a frightened turtle pulling its head into its shell.
Why do this? Lenovo realized that feeling and pushing the raised keys on the back of other Yoga devices made for a less than ideal experience. Not only is it uncomfortable to feel the keys back there, but in my experience with Yoga devices in the past, it sometimes feels like you're going to break the keys if you happen to be gripping the unit tightly.
The retractable keys of the lift-and-lock keyboard not only become flush with the keyboard base, but they really do feel like they lock in place well; there's no bothersome wiggle and you hardly realize they are there when you're in tablet mode (and fears of damaging them felt largely eliminated in my brief time with the Ultrabook). The lift-and-lock keyboard is only available on the ThinkPad Yoga, but I'd love to see it make its way to the other Yoga devices as well.
Another thing I would love to see on other Yoga devices—and all other laptops for that matter—is the amazing trackpad that's built into the ThinkPad Yoga. Apple is to blame for the widespread adoption of the all-in-one-trackpad among PC manufacturers, where many implementations sacrificed function for form. The Yoga Pro trackpad, on the other hand, has incredible feedback. The entire trackpad is truly floating and can be clicked all over with excellent feedback and travel, unlike many other trackpads where only the middle and bottom of the trackpad offer any good clicking real estate.
If you watched the video above: yes indeed there is a stylus! That one was apparently glued in place.
Starting at $999 with Haswell, convertibility, lift-and-lock keyboard, the best trackpad I've ever used, and options for a 1080p screen and digitizer, the ThinkPad Yoga should be seriously considered for anyone looking for a productivity Ultrabook.
Find out more at the ThinkPad Yoga page in our Ultrabook Database.