Its been rumored for a while but its now official, the Asus  VivoTab Note 8 has been announced by Asus and its set to take on it's 8 inch brethren as it brings with it a feature that's been missing for a lot of users from the current crop of  portable Windows tablets.
Update: ASUS Vivotab Note 8 now in our database. View specs, compare, comment and more.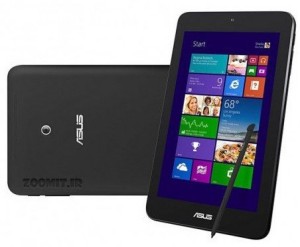 On the surface the Asus is similar to most other 8 inch Windows tablets, with a 1200×800 resolution screen, Intel Bay Trail Z3740 CPU, 32 & 64GB eMMC storage options, 2GB of RAM, micro USB and micro SD card slots and like the Dell Venue 8 Pro has an active digitizer.
However unlike the Dell the digitizer pen comes as standard with the tablet and more importantly uses Wacom technology, which has arguably been the top requested feature for an 8 inch Windows tablet, and additionally has a silo on the tablet to house the stylus. At $299 for the 32GB version it costs the same as the Dell (and Lenovo Miix 2 8) while also including the stylus making it quite a good deal.
Asus also manages to one up the competition again by providing true stereo speakers powered by its SonicMaster technology and includes 802.11 ABGN, Bluetooth 4.0+HS,  Miracast and front and rear cameras. You also get unlimited access to ASUS WebStorage for a year.
Missing from the Asus though is an HDMI port just like the Dell which means you are reliant on Miracast or a USB displaylink adapter to connect the tablet to an external monitor. Size wise its also similar to other 8 inch tablets, with 220.9 x 133.8 x 10.95mm dimensions and weighing 380g. A 15.5Whr battery powers the tablet for up to 8 hours.
Could this be the 8″ Windows tablet to get? If notetaking and sketching are important to you it could well be, though Dell has been updating the Venue 8 Pro to improve its stylus performance so it could still be a worthy alternative in time.
There's also the Lenovo Thinkpad 8 which has a slightly bigger 8.3 inch screen, HDMI, USB 3.0 and a full HD resolution but no stylus and costs $50 more for the 64GB version. You're probably wishing the Asus and Lenovo tablets got together and had a little baby……
The Asus VivoTab Note 8 will be available late Q1/early Q2 priced at $299 for the 32GB version and $349 for the 64GB version.
ASUS Vivotab Note 8 now in our database. View specs, compare, comment and more.