The Lenovo Miix 2 10 is now available in Europe and, lucky for us, in stock near the UMPCPortal office. Here's an unboxing of the little fella which, so far, seems to be excellent value for money. An 18-minute unboxing and overview demo is available below.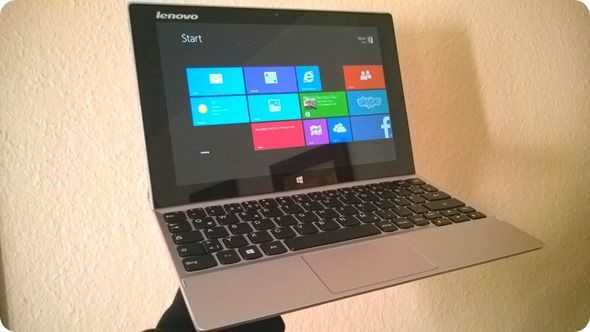 I paid 369 469 Euros at Conrad in Bonn and got the 64GB version with 1090×1200 screen, keyboard dock and Z3740 CPU and so far everything is working nicely. For those that know the Acer W510, a popular 2-in-1 based on Clovertrail in 2014, this beats it in most areas,most notably in browsing speed.
Total weight is 2.3 pounds. The tablet weighs about the same as the W510 at 606 grams / 1.34 pounds. Battery capacity is 24Wh, not much compared to the Acer W510 but good enough for 6 hours of Web work by my reckoning.
As for the keyboard dock it seems OK. There's a slightly abnormal layout due to the lack of a function key row and it's going to need some time to get used to but the keys seem to be accurate. The mousepad is OK but there's no multi-touch. I'm writing this article on the Miix 2 10 right now.
Screen angles are good but the screen could be a little flat in terms of color. Auto-brightness works but it doesn't seem to be that bright at max settings.  1920×1200 is a very high density that could catch you out in desktop mode with some programs. The attachment to the base is easy to use but of course, only at one angle.
Charging is via USB or power port on the tablet. The dock has two USB2.0 ports.
The speakers are loud and accurate on the tablet and the additional speaker on the dock adds a little bit of lower-end range, but not much. It's not what I'd call Bass.
That's it for now. I'll get to work on the full review so stay tuned. Feel free to ask questions below.