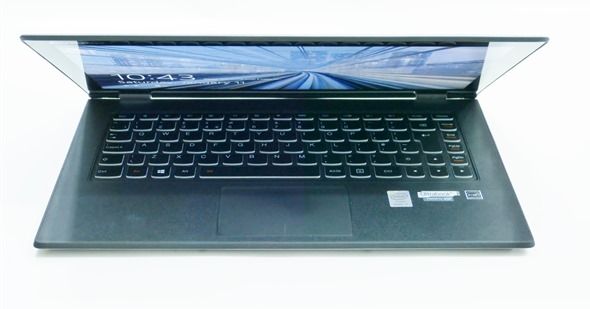 It's one of the most Ultraboooky Ultrabooks out there. The Lenovo Yoga 2 Pro sits with the Sony Vaio Pro 13 and the Samsung ATIV Book 9 as showcase devices that are fast, light, stylish and very very usable. The Yoga 2 Pro, however, differs in that it's a convertible. You wouldn't know it at first glance though because it's under 16mm thick and weighs just 1400 grams / 3 pounds. You can't tell an Ultrabook from it's thickness and weight though so let's get into the full review of the Lenovo Yoga 2 Pro
First impressions
We'll refer back to our first encounter with the Yoga 2 Pro for the first impressions. As we walked into Intel Germany's BlogHuette in the early hours of Day zero at IFA last Sept we spotted the Yoga 2 Pro and it was a complete surprise. We weren't expecting it so we took the chance to get one of the first hands-on. The thickness impressed us but the weight reduction wasn't as much as you'd expect from such a thin device so clearly the density has gone up. The density of the pixels has gone up too and with a 3200×1800 screen you can't say that Lenovo haven't pulled out all the stops where that is concerned.
Take a look at our first hands-on video here.
When we received the retail box it was hard to believe that the Yoga 2 Pro was inside. It was, and here's the studio unboxing.
We're lucky enough to have the Core i7, 8GB, 256GB version here so the performance results you'll see are going to be some of the best possible. Tip: We've had some of the best results ever on an Ultrabook with this Yoga 2 Pro and you can see the performance figures on page 2 of this review.
Specifications
CPU: Core i7-4500U 1.8Ghz nominal. 3.0Ghz max Turbo Boost.
RAM: 8GB
Screen: Glossy, IPS, 3200×1800 10-point touch.
OS: Windows 8.1
Battery: Internal non-removable 54Wh
Weight: 1378 grams (measured)
Graphics: Intel HD4400
256GB SSD. Toshiba THNSNH256GMCT
Ports: 1xUSB2.0 (with sleep-and-charge), 1XUSB3.0 , SD card slot (full size) , MicroHDMI, DC in, headset port
WiFi: Wireless-N 7260 (b/g/n 2.4Ghz only. 40Mhz channel width-capable)
Bluetooth: BT4.0
Camera: 1.0Mp with Lenovo software for voice-activated capture.
Other: Stereo speakers, Dual-array mic, backlit keyboard.
Screen, Keyboard, Touchpad – Working Fascia
Lenovo's showcase specification is the 3200×1800 IPS touchscreen. If you've read our review on the Samsung ATIV Book 9 though you might know that we're not huge fans of anything over FullHD. Why? There are desktop-based apps that don't pay attention to any sizing settings and you end up with tiny text and untouchable menus. Cyberlink PowerDirector 11 is one; Photoshop is another. Steam is another. Try reading the EULAs – it's impossible unless you've got young, healthy 20:20 eyes about 20cm from the screen. For the last 2 weeks of using the Lenovo Yoga 2 Pro we've had the resolution set to 1920×1080 and thank goodness it's sharp and usable. Another downside of the high resolution is the potential for extra load placed on the graphics and screen subsystem. You can argue that it's negligible but we also have a feeling that these super-high resolution screens require more backlighting. At the end of the day, we feel that 1920×1080 is optimal but in some respects a 3200×1800 screen that works well at 1920×1080 is an advantage.
Poor Yellow Performance?
A number of people contacted us to ask about poor yellow performance on the Yoga 2 Pro. Initially we didn't see any issues but sure enough, when loading up Paint if was difficult to even find a yellow color to fill a canvas with. Once we had registered the issue though, it was clear to see. Through some email exchanges with Lance, a photographer, we picked up a new BIOS and Energy Management driver. Although we can say the situation was improved, the problem isn't fixed. Simply put, yellow is more of a mustard color. There's some sort of green element in it that can't be tuned out.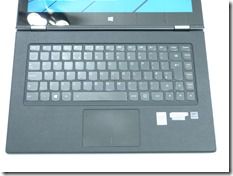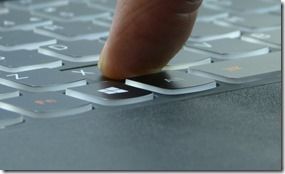 More images in the Lenovo Yoga 2 Pro image gallery.
The keyboard is spot-on. It's not as 'tailored' as the Lenovo Thinkpad and Dell Latitude keyboards but it feels good, is well backlit (on or off. No choice of brightness levels) and is nice and quiet. We also like the 'reversed' function keys. The extra row of Home,End,PgUp, PgDown keys on the right has not affected us as we seem to be homing into the large return key without a problem and 'Delete' is where it always is on the top-right. The advantage of the extra row is that you've got a full-size set of arrow keys. Top marks to Lenovo for one of the best Ideapad keyboards we've ever used.
The touchpad works well. It's silky and the multitouch works well. Maybe the integrated mouse buttons don't feel as good as they could be but that's probably because we recently tested the Lenovo X240 with its floating touchpad.
Finally, we want to mention the rubberized finish on the keyboard frame which is really confidence inspiring. Not only when typing but also when picking it up while in-use.
General Usage
That rubberized finish extends across the back and behind the screen and it deserves another thumbs-up for being confidence-inspiring. It also has the effect of lowering the perceived weight when you carry it because it doesn't require such a tight grip.  The whole package appears to be built to a high level of quality. The specifications, ports and features are targeted towards the pro-sumer which means there's no TPM module, 5GZ WiFi or 3G/4G option and only two USB ports but we think that's going to be OK for most people.
On the Lenovo Yoga Pro 2 you'll find one USB2.0 with sleep and charge, one USB3.0 port, a Full-size SD card slot (not full depth) and a MicroHDMI port. Volume rocker, one-key recovery button and a rotate-lock button that works when in tablet mode.
Chippy opinion: Is the Micro-HDMI port awkward? HDMI is most-often used in desktop scenarios where a cable can be left in the monitor but for those needing to use projectors for presentations it's always an issue.
Convertible Features
As with all 1KG+ one-piece convertible the Yoga 2 Pro is not that well suited to consumer-style tablet usage. There's no digitizer too so one might wonder what they can get out of the Yoga's 360 degree scree hinge. Lay flat, stand mode and tent mode are detected though and you'll enjoy playing around with the new modes. The keyboard is disabled when the screen reaches 270 degrees of fold-back.  Lenovo's Yoga Picks application is then offered to the user as a way to find out more about the apps that suit this mode. It's a a nice feature for first-time users and there's no real disadvantage. What Lenovo have done is provide a big advantage over the Samsung ATIV 9, the Sony Vaio Pro 13.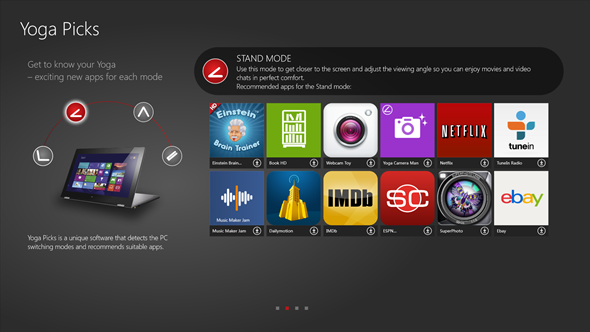 Performance testing results and battery life report can be found below along with other notes on the next page…
Page 2: Detailed performance report in  Page 2 of the review.
Pages: 1 2