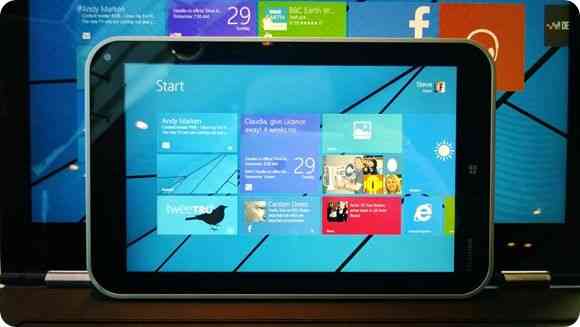 This is UMPCPortal, the site that's been covering handheld Windows PCs since 2006 and as you might imagine we've been quite excited about the return of the small-form-factor Windows PC. The Acer Iconia W3 piqued our interest earlier in the year but the sector has now been completely re-born through products that combine Intel's Baytrail platform with Windows 8.1. The Dell Venue 8 Pro is one of five or six devices already on the market and it will be joining us soon but we've already bought the Toshiba Encore WT8 and our full review is here. There are additional videos on our YouTube channel and even more detail coming soon.
Full Specifications…
Images, links, discussion and more information can always be found through our database on the Toshiba Encore WT8 information page.
For the 64GB version we paid 355 Euro including German sales tax of 19%.
Unboxing and overview
Check out a set of long unboxing, intro and testing videos here if you prefer to sit-back and watch but if you're interesting in all the details, read-on.

Build and ports
The Toshiba Encore WT8 is well-finished and looks good. A hard plastic dimpled rear is functional but because this is a slightly heavy handheld consumer tablet, it's a sensible choice. It does feel 1-2mm thicker than other solutions in the consumer space though. Maybe one of the reasons is the large battery. The 20Wh battery is, based on the info available right now, class-leading. The weight penalty is minimal. I measured 430gm but this tablet isn't going to slip into your back pocket link the 7-inch tablets do.
It's nice to see the USB port, HDMI and SD port although naturally, they're all micro-sized. HDMI is going to be important for those that would like to use the unit as a word processing station on a bigger screen. That's also possible through the USB port via a DisplayPort adaptor. I used the Belkin USB3.0 dock and it was an impressive experience when plugging and unplugging so much functionality and expansion through one tiny connector. The Toshiba Encore WT8 has a USB3.0 hub inside but appears to only offer USB2.0 speeds through the micro interface. (Windows reports that USB3.0 devices would work faster on a USB3.0 interface.) Miracast, the wireless display technology, is the third method of extending the screen although this is more for video and presentation work. (A Miracast, HDMI and DisplayLink demo can be seen on this video.)
Features
The Toshiba Encore WT8 is a Windows 8.1 tablet and as such it has some unique features over Android and IOS tablets. We'll talk about the desktop later but here are a few of the other interesting features first.
Connected standby (or InstantGo as it's now known) is a screen-off state similar to that on Android and IOS devices. Windows Store applications can remain active and connected while the tablet goes into low-power mode that can last for days. See important battery life notes below.
Camera  and microphones. The 8MP Auto focus (no lamp) rear camera uses the standard Windows 8.1 camera interface. Touch focus is available and a series of images is taken in a very short timeframe to allow the user to select the best one. Results in daylight are more than good enough for social sharing and prints. Low-light tests have not been made. The front camera appears to have reasonable low-light qualities for Skype and other video chat services.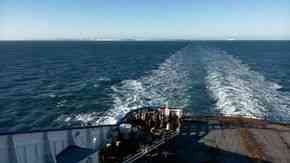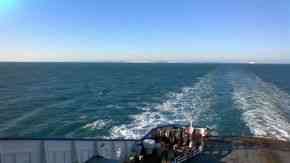 Rear 8MP Cam (left), Front 2MP Cam (right.)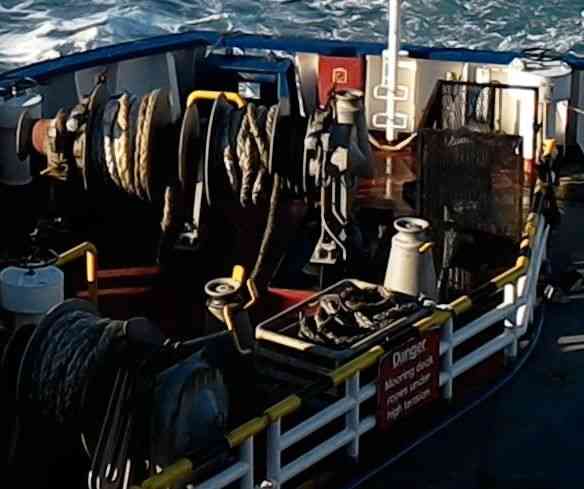 Rear 2MP cam crop (from image above)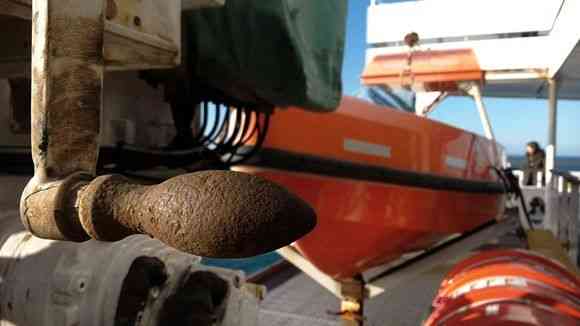 Touch-focus on the Toshiba WT8. (Rear 8MP Cam)
Beam-forming array microphones. To assist with noise reduction in voice applications such as Skype. Not fully tested in this review.
USB host. A standard USB port allows connectivity to all Windows-compatible USB devices. Some external devices will need external power and there's no way to use the USB as one might do with an Android tablet (as a USB drive) Despite USB3.0 internals it appears than only USB2.0 is offered at the port. The adaptor cable required is not provided. (We used a cable from an Acer W510.)
Security: The Toshiba Encore WT8  offers some unique and advanced security features. Naturally Windows 8.1 offers multiple user logins and a guest mode but there are some important hardware features. TPM2.0 is an off-chip storage unit for security keys, for example. More interesting for users might be the Bitlocker encryption that can be enabled for the main partition if you use a login with a Microsoft Live account. The Live account allows remote control of your password, a security log (including locations and alert levels) and trust levels for connected devices, control of two-step authentication (if needed. Can use an offline application available on a Windows Phone.)  Windows Defender anti-virus is built-in and offers free updates. Most of these features are available on other Windows 8.1 tablets.

GPS Sensor. A quick and accurate GPS sensor is built-in to the unit. According to some reports it covers multiple geo-location systems. E.G. GPS, GLONASS. (Chipset: Broadcom GNSS 4752)
Usability
8-inches, 430 grams, 11mm thick is, with respect to Windows PCs, very impressive. In terms of consumer tablets it's a fatty though and the obvious comparison is the iPad Mini at 331 grams and just 7.5mm thick. After using an iPad Mini this tablet is going to feel like last years tech. Still, it's good enough for a long-term reading session and absolutely fine as a sofa companion and with 8-inches of screen you get much more usability in landscape mode as a mini PC with a Bluetooth keyboard.
One thing that does expose itself more than on any other recent Windows 8 PC is the presence of the desktop. Regular reboots to install patches are awkward. Pop-ups from security software and the occasional feeling that you might have left something running on the desktop constantly remind you that this isn't a simple tablet. A 'desktop off' mode could help here. [Connected Standby has the ability to turn off the desktop when going into sleep mode and it should be exposed as an option to users and product designers in my opinion.] Also obvious is the immature Store. You can find nearly everything you need (turn-by-turn navigation is still on the want-list though) but the quality is poor. Tunein Radio takes so long to start streaming for example. Some apps just seem to re-start occasionally and there's poor use of screen space in many cases. This will improve if there have been good Q4 2013 sales numbers (a number of Windows-based touchscreen PCs looked like they were selling extremely well. The ASUS Transformer T100 was an Amazon best-seller for many weeks for example.) but it will take time for developers to see that opportunity. Developers, there are opportunities there.
Portrait mode use is best for thumb-typing and auto-correct in Windows 8 applications is very good. There doesn't seem to be a way to turn on haptics when typing, if that's something you like.
Battery life is covered in detail below but worth mentioning is that screen-on time is good. 7hrs 30m is the average so far over two weeks although initially I was getting even more than that. 'Standby' time (InstantGo, Connected Standby) is disappointing though. More details on that below.
Performance
The performance advantage over previous, Clovertrail-generation tablets really shows up in web browsing. It's close to a desktop experience in terms of speed and quality and perfect for guaranteeing  that you don't miss any of those dekstop links that reach you over social networks. Program startup times are good too and after measuring the SSD, an eMMC-based soldered module, We were pleased to see an improvement over many Clovertrail-generation test results.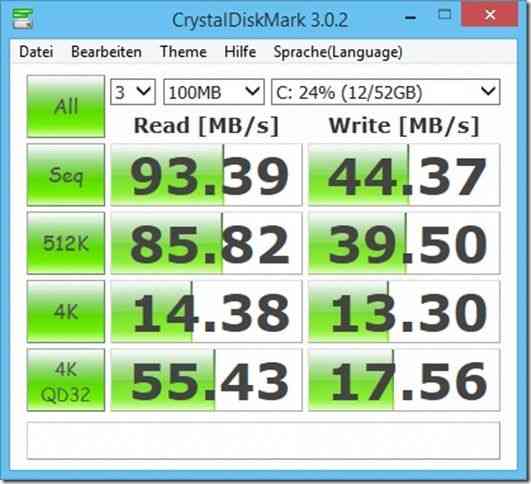 Cinebench tests results for CPU and OpenGL are nearly as good as an Ultrabook we tested recently although in general the CPU performance is 50% that which we see on current Ultrabooks under the same test. A CPU result of 1.25 is very good for this class of device though.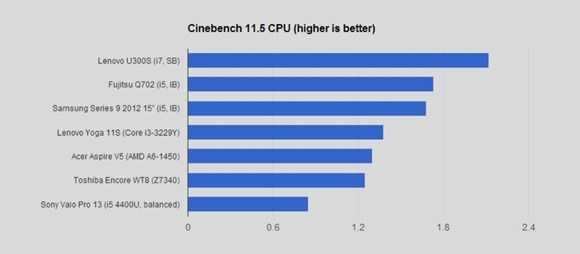 The OpenGL result of 5.9 isn't anywhere near the results we see from Ultrabooks tested on our sister site Ultrabooknews.com where results of 20 still don't equate to barrier-free gaming. Some games will work but you'll need to choose carefully.
A PCMark7 score of 2481 is good. The Lenovo Lynx, a Clovertrail tablet from early 2013 returned just 1438 points.
Peacekeeper, a useful score to note if you're interested in working within a browser, returned a score of 1143 using Chrome on the desktop and 638 using IE11 under the Modern UI. The Chrome-based score beats every Android and IOS device out there according the the Futuremark score table. It's also more than double the result obtained with a Clovertrail-based Windows tablet. The graph below shows some comparisons with recent laptops we've tested at Ultrabooknews.com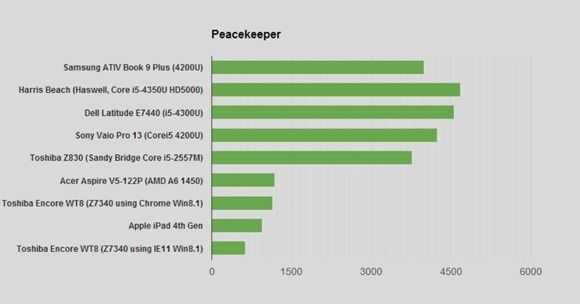 In an Intel-Quick-sync video conversion from  50fps, 30Mbps fullHD video down to 25FPS and 720p a framerate of 80 was returned by Handbrake. This is impressive and given the relatively fast SSD, good enough for some basic video editing using a Pro-sumer editing package. A test with Cyberlink PowerDirector proved that the Toshiba Encore WT8 is good enough for simple and fast 720p video editing as long as
Just for fun, the CrystalMark04 scores are 10 times the first netbook I ever had and about 4 times that of a good quality netbook from 2010.
Battery Life
We've been keeping track of battery life and in general web-based and app-based online usage it looks like you'll get really good battery life.  the report below shows a minimum projected battery life of over 7hrs and a maximum of 11 hours is possible given that days usage scenarios.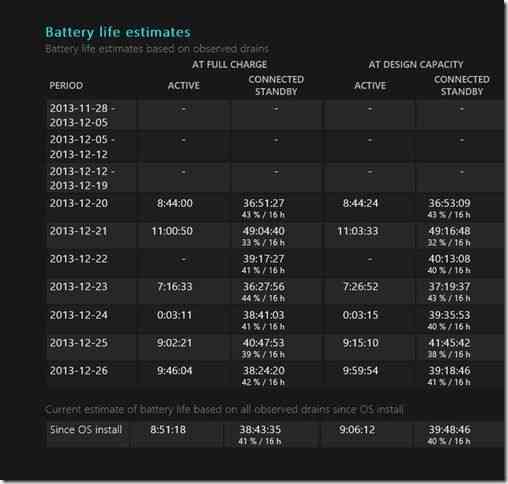 Update: After 2 weeks of usage the recorded average battery life is 7.5hrs.
Video playback (FullHD, 50fps, 30Mbps) used about 2W of battery for 10hrs of video viewing (lounge-level lighting, 30% volume, aircraft mode.)
Idle (aircraft mode, min screen brightness) uses 1.1W of power, the lowest we've ever measured for any screen-on, running PC.
Web and Windows App usage (non-desktop) – 10 minutes. (WiFi on, screen 30%) – 2.3W (about 9hrs)
How to get a battery life report on Windows 8
The Connected Standby (InstantGo) battery life, however is terrible and way out of spec. Microsoft permits just 5% battery drain in 16 hours. The Toshiba WT8 is draining nearly 10 times that amount and it is a reason to say "Wait. Don't buy the Toshiba Encore WT8." We've tried removing apps, rebooting, installing Windows updates, checking for BIOS updates and running the Toshiba Service software. If Connected Standby is something you need (it's something that every consumer-focused tablet should do well) then watch this space before buying.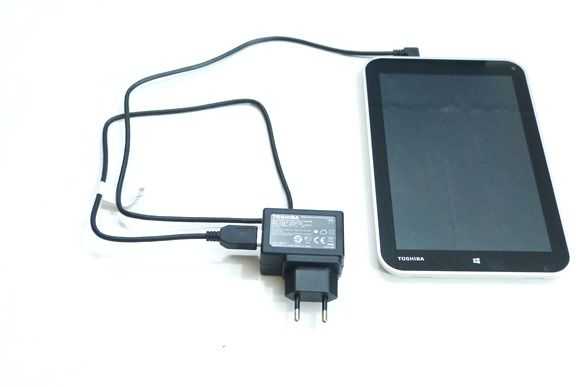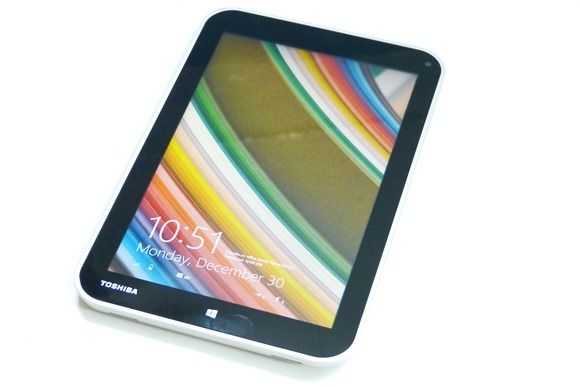 Other notes
WiFi performance is good (about 6/10 compared to the best laptop solutions out there) but is only 2.4Ghz capable. Is dual-band. 40Mhz channel width is supported for 300Mbps connections.
There is no NFC on the Toshiba Encore WT8. Tap and Send would have been a useful option given that the tablet can not be used as a USB drive. Naturally, Windows Homegroup / Shares work over a local network and FTP clients are available.
The touchscreen bends if pressed hard which hints that this is a cheaper plastic touchscreen. If you push it hard you can feel it touch the next layer. Is that good or bad? We don't know but it doesn't feel like scratch resistant touchscreens seen recently. Note that other tablets in this bracket may also use lower-quality touchscreens. We haven't done detailed tests on other Windows 8 handhelds yet.
Toushscreen issues in portrait mode: There are issues to note. 1) closing apps by swiping down (in Windows 8 Modern UI, portrait mode) does not work. 2) Continuous touch movements are often broken which means that lasso-selecting and drag and drop doesn't work will in portrait mode. 3) The Windows start button does not work 100% of the time in portrait mode. Calibrating the screen did not fix the issue. This is clearly a fault. We'll be waiting for the first firmware update before we return the device for replacement.
No converter cables included.
USB devices tested: USB3.0 SSD (no external power required) USB Audio device, USB cam, USB Gigabit Ethernet adaptor, DiplsayLink adaptor.
The camera saved to SkyDrive by default which is potentially a nice feature. Local cache ensures offline usage is covered.
Microsoft Office enabled, but not tested.
Heat and Noise: This is a fanless tablet with SSD so there's no noise at all. No heat was detected during the two-week test period.
Target customer
The Toshiba WT8, and by definition, all Windows 8 8-inch tablets are not purely consumer tablets due to the presence of a desktop mode which is, in the case of the average Winter 2013/2014 customer, a distraction, confusing and a disadvantage. For the more adventurous user, the experienced Windows 8 user, the 'boy scout' PC user and 'experimenter' it's an advantage and brings capability that far exceeds tablets with mobile-first operating systems. Security, networking features, user accounts, media subsystem, storage flexibility, a huge range of applications and language support allow scenarios that are not possible on other devices. Having said that, the desktop is hard to navigate with a finger. Thank goodness the interface elements can be adjusted for size. The Toshiba does a good job with camera and mic and could, given a Skype-in number, be used as a phone, computer and tablet, if it had 3G/4G support. It seems silly to say this but as one point during testing we used a cheap 3G-capable Android tablet as a hotspot.
The ideal customer is one that requires mobile flexibility in a home and office scenario where Windows is established. With full-disk encryption and multiple accounts it's a secure tool too. Running a full-featured video editor shows just how fast and powerful this tablet is. The only problem for Toshiba is that the competition offers almost exactly the same features. Almost…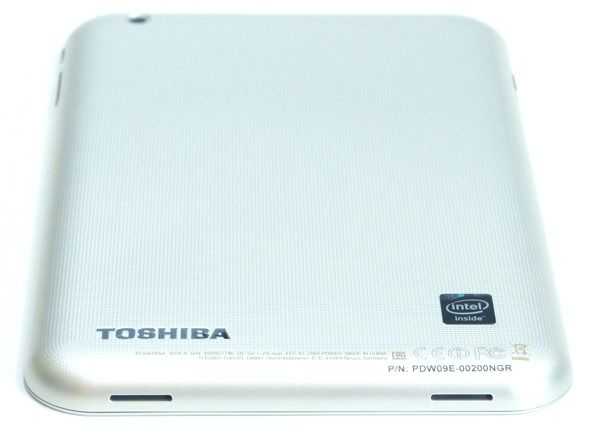 Summary
Overall the Toshiba Encore WT8, and this could apply to all Windows 8.1 8-inch tablets, doesn't quite feel like a polished consumer tablet. It's a little too big and there are avenues of usage that can lead to problems unless the user has experience with Windows 8. The desktop isn't something that should be exposed to the average tablet consumer. For adventurers and advanced users though this is truly inspiring tablet that offers an incredibly complete and fast browsing experience, long, long screen-on battery life, flexible connectivity and external expansion options. The cam and mics should be considered for Skype users. It needs a companion keyboard and mouse to make it the Swiss Army Knife of PCs but there are already options out there for that. If you can put together a USB and HDMI-based docking 'station' then the WT8 offers you a great deal more than the average consumer tablet. Watch out for that portrait-mode touch issue and comparatively poor InstantGo/CS battery life. 40hrs in standby is unacceptable and, in theory, not compliant with the Microsoft requirements for CS.
Is it better than the other 8-inch Windows 8.1 tablets? That's a question we can't answer fully but if the CS and touch issues get sorted out it's going to be up there as one of the best, if you're OK with the weight.