I ran a last-minute Google Hangout this evening which worked out well because not only was I able to present 5 Windows 8.1 tablets, I was also able to answer questions from the viewers. During the session I recorded a higher quality video for YouTube and both videos are embedded in this article.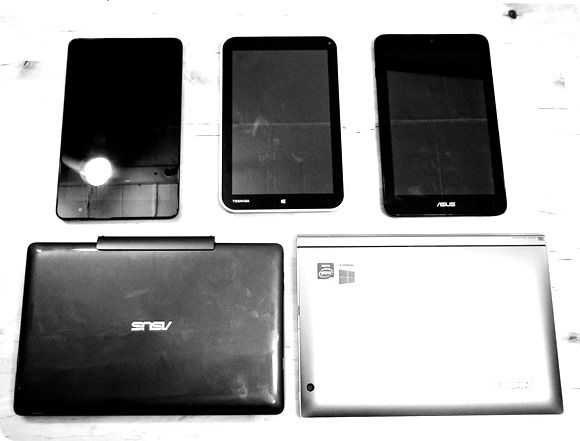 You'll see (from top left) the Dell Venue 8 Pro, the Toshiba Encore WT8, ASUS Vivotab Note 8, ASUS Transformer Book T100 and the Lenovo Miix 2 10. In the video I also talk about some differences between the 8 and 10-inch devices and why you might choose one of these great ultra-mobile PCs over another. They all have their place.
If you missed it on the YouTube channel yesterday I also published a video showing the digitizer on the ASUS Vivotab Note 8 – a unique feature. The video is here.
I'm working hard on my YouTube channel right now so be sure to subscribe and register for email notifications.  If you're on Google Plus, follow me and you'll get notifications of Hangouts when they're planned.
Here are the two videos from the live session. One is the raw hangout video which includes viewer questions and some additional thoughts from me and the other is the shorter high-quality 'made for YouTube' comparison video.