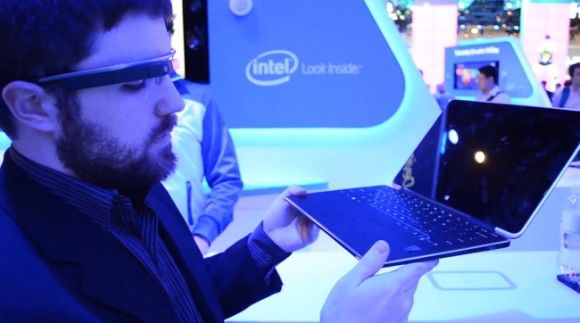 At first glance, the Dell XPS 11 has it all. It's sleek, convertible, and has a 2k screen! It's one of the thinnest and, dare I say, sexiest, Ultrabooks ever released. But will a novel keyboard design be its Achilles' heel?
The Dell XPS 11 might be the nicest Ultrabook I've laid my hands on. Real carbon fiber gives the unit an unmistakably svelte and sturdy feeling despite its minimum thickness of just 11mm and weight of 1.13kg.
The 11.6-inch touchscreen display has a whopping 2560×1440 resolution which is particularly remarkable when you see how thin the screen is. The screen also flips back, Yoga-style, to convert the unit into a tablet.
The unit can be equipped with the i3-4020Y, i5-4210Y, or i5-4300Y (all Y-variant processors being slightly lower power than their U-variant counterparts seen on the XPS 13 and 15). The ports are understandably (albeit regrettably) thin for such a thin and small device: full size HDMI (finally), 2x USB, and full SD (also finally!).
In an effort to protect your keys and to avoid the annoyance associated with feeling a keyboard on the back of your tablet, Dell opted for a capacitive touch keyboard, similar to that found on the Microsoft Surface touch cover. Presumably they also did this to keep the unit thin. But I feel as though anyone serious enough to drop ~$1000 on the Dell XPS 11 is going to want the typing experience that can only come from a proper keyboard.
The touch keyboard that Dell has opted for has zero key travel. It literally detects your input like a touchscreen. Sure, you can feel the keys a bit because they are ever so slightly raised, but there is no movement or click to them. Do a fake typing motion on your bare desk—typing on the Dell XPS 11 feels just like that. As someone who uses my computer every single day for work and entertainment, I couldn't get by with a compromised keyboard.
With how beautifully engineered the rest of the unit is, it's a shame that Dell couldn't find a way to fit a true tactile keyboard in the XPS 11. True, there's always the larger XPS 13, but that means adding footprint and weight and it can't equip the 2k display of the XPS 11. And there's the XPS 15, but it isn't a proper Ultrabook (and is quite big for my taste!).
Dell's original XPS 13 Ultrabook was one of the first on the market and has long set the bar for thickness and style in the Ultrabook category. Sadly it's always had only 2 USB ports, and that hasn't changed for the latest XPS 13 or XPS 11 (though they finally got an SD card slot and full HDMI on there which is a huge improvement). With one more USB port and a proper keyboard, the Dell XPS 11 would probably be the #1 Ultrabook on my list. Maybe next year they're finally get it all right.