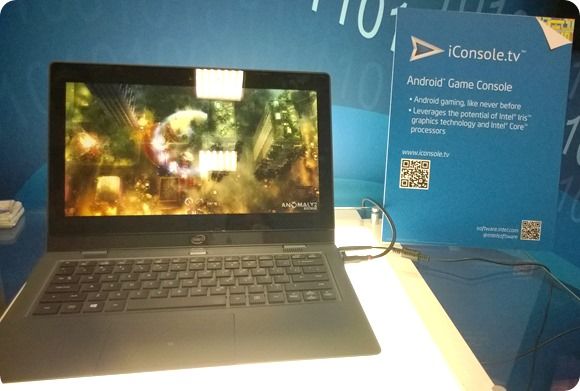 "We want Android to be your primary OS"
iConsole demonstrated a very high quality game on an Ultrabook at MWC this week and it wasn't what you might expect. As a partner of Intel they've been working with recent releases of Android 4.x for i86 and have put together a thought- provoking demo of high-power Android. You can see it in the video below.
Interestingly Christopher Price references 'high performance Android devices from Intel that will be on the market late this year." What devices is he talking about? The Samsung ATIV Q got stomped-on by Google. The ASUS Duet is also, reportedly, having problems getting out the door. Are other dual-boot devices, or even pure Core-based Android devices, being worked on?
If Google continue to put their foot down, are these dual-boot devices doomed? No, because now that Nokia and Amazon have succeeded in porting services over to Android (Nokia X, Kindle tablet) there are some interesting options out there. Google either has to play the dual-boot game or risk getting completely ignored in a potentially large market for high-powered Android devices that could even have an impact on the notebook market.
For the time being though, enjoy the demo and add iConsole.TV to your watch list if you're interested in Android gaming. Ifyou've got thoughts on Android as a desktop, I'd love to hear them in the comments below.