Over at UMPCPortal last week I wrote some detail about the possibility of dual-OS systems in 2014. As 2-in-1 devices evolve they are leaving Windows 8 behind because the consumer-focused Windows applications store isn't developing as fast as it needs to. This leaves an opportunity for Android on i86 as the primary OS or as a dual-OS solution. Samsung and ASUS have both been blocked by Google from doing this but American Megatrends (AMI) have come up with Duos which is an Android-on-Windows solution that any user could download and install.
I'll be testing DuOS as a Beta tester soon and at CeBIT this week I had a chance to get a demo, ask questions and produce a video for you.
Duos is not a dual-boot system and it's not a quick-switch system either. It's a Windows runtime in the same style as Bluestacks. The Widows executable runs as an app and provides an environment in which Android apps can run.
American Megatrends were working with a manufacturer to bring this solution to the market but because of a 'non-fragmentation agreement' it got canned. (ATIV, cough!, Q, cough!)  AMI now has to think about alternative markets for its system and while Microsoft (under the Nokia X project) and Amazon could provide solutions to the missing Google services and store layer, AMI have also decided to make the software available as a download for consumers.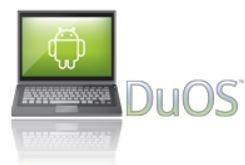 When DuOS is released you'll need an Intel processor (it leverages VT-x technology) and a reasonable amount of RAM. 1Gb is a no-go and 4GB is recommended. (We saw a minimum of 200MB in use during our hands-on.) It won't have any Google Play components in it so you'll need to find another store to install but if you've already got apps on your phone then sideloading is an option while you test.
Hardware and peripherals are shared and mapped-through to Android and both systems run concurrently. Given that, you should expect a little performance and battery life hit on Windows although AMI tell me it's minimal. A Core processor would be my recommendation which means that the 2-in-1 Ultrabooks would be a nice option here. The Dell Venue 11 Pro with Core i3, Sony Vaio Tap 11, Lenovo Yoga 11S, Acer Aspire P3, HP Split X2 and the Microsoft Surface Pro would make a perfect contender.
Now that Bluestacks development has gone under AMDs control (we're assuming as they're an AMD Invest company now) it looks like AMI DuOS'  no-Google approach could be the best bet for a while. Stay tuned for some testing notes from us soon. 
Note on x86 Android: DualOS is an interesting option for 2014 but x86 Android gaming is another interesting possibility too. Given what we've seen from Intel recently we're confident that they're investing heavily in this area. While i86 Andoroid was really meant for smartphones and tablets, the slow take-up of Intel-based devices in this area could mean that they take a closer look at DualOS and 'Android-first' high-powered gaming laptops in the near future. A recent interview with iConsole appears to confirm work in that area.